More Features
ST PATRICK'S DAY 2020
by Captain Archie Cosby
Irish Guards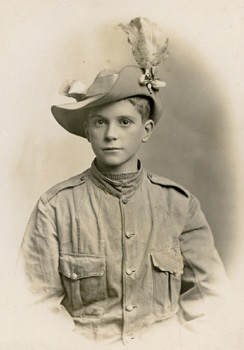 Bugler James Dunne, Royal Dublin Fusiliers
On 19th of February 1900, Queen Victoria received a fourteen-year old bugler from the Royal Dublin Fusiliers. His name was James Dunne and he had been wounded in the arm and chest at Colenso, South Africa, on 15th December 1899, where he had also lost his bugle in the Tugela river. The Queen thought he was 'a nice-looking, modest boy' and presented him with a new and inscribed bugle. Shortly after her encounter with Private Dunne and following news of the bloody battles and heavy losses in the fighting to relieve the Boer siege of Ladysmith, the Queen's heartfelt reaction, dated 28th February 1900, was telegraphed to General Sir Redvers Buller. It was published in Natal Army Orders on 5th of March 1900:

'I have heard with the deepest concern of the heavy losses sustained by my brave Irish soldiers. I desire to express my sympathy and my admiration of the splendid fighting qualities which they have exhibited throughout these trying operations. V.R.I.'

On 14th of March 1900, Natal Army Orders promulgated an instruction stating:

'Her Majesty The Queen is pleased to order that in future on Saint Patrick's Day all ranks in Her Majesty's Irish regiments shall wear as a distinction a sprig of shamrock in their head-dress to commemorate the gallantry of Her Irish soldiers during the recent battles in South Africa'.

And so began a tradition which the newly formed Irish Guards were quite literally born into, wearing their shamrock for the first time on St Patrick's Day in 1901. The presentation was made at The Tower of London where the 1st Battalion was at that time stationed, by Queen Alexandra (Queen Victoria had died barely two months earlier, and Edward VII was now on the throne). Since 17th March 1901, it has fallen to the Regimental Quartermaster Sergeant at Regimental Headquarters to fulfil Queen Victoria's order that 'all ranks…shall wear as a distinction a sprig of shamrock'.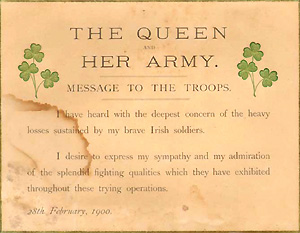 And for St Patrick's Day this year, WO2 (RQMS) O'Neill had his work cut out. It was his job to see that fresh shamrock made its way from a family-run farm in Co Kerry in Ireland to Guardsmen (and Chelsea Pensioners, Junior Soldiers and Trainee Guardsmen) in England, Cyprus, Iraq, Kuwait, South Sudan and Belize; four different continents and as many time zones plus two very different operational tours. There was even a delivery of fresh shamrock to the Queen Elizabeth Hospital in Birmingham where Lieutenant Finn Riall and Second Lieutenant Max Brewer were recovering from injuries sustained in Iraq. Because the Feast Day this year fell on a Tuesday, it was decided that for serving and retired Micks at home, there would be an early celebration, held at Wellington Barracks on Sunday 15th March. Lady Carleton-Smith presented the Shamrock and a march to the Guards' Memorial followed. The Government was poised to move to an unprecedented lockdown. Life in the UK was about to change dramatically, but Covid-19 wasn't going to scupper Paddy's Day for the Micks in London.

Meanwhile, about 2,500 miles east of Wellington Barracks, the Irish Guards Battlegroup in Iraq were contemplating a very different St Patrick's Day to be celebrated on 17th March. Trays of shamrock daintily sheathed in individual sleeves and carefully stacked upright in a special gel to keep them fresh, were ready in fridges across the sub-unit locations in theatre. The RQMS had performed a superlative feat. However, recent rocket attacks on Camp Taji, home to the majority of deployed Micks, where Lance Corporal Gillon was very sadly killed, had altered the threat level and the nature of the tour. And so it was with a particularly reflective and simplified parade in body armour and helmet that the Irish Guards in Iraq marked St Patrick's Day 2020. Irish Guardsmen upcountry in the Kurdish Region of Iraq marked the occasion in a similarly muted fashion.
| | |
| --- | --- |
| St Patrick's Day, Iraq | St Patrick's Day, South Sudan |
For No 1 Company in South Sudan, festivities were underway at two separate locations: Malakal and Bentiu. In the scorching Sub-Saharan heat at Camp Malakal, Guardsmen of 'Shiny One' paraded in their blue berets and received their shamrock from Hazel de Wet, Head of the Field Office and the most senior UN official in the Upper Nile State. Recent events in the Middle East had shaken the Battalion, and the thoughts of those in South Sudan were with their fellow Micks and attached Arms in Iraq, but their own tour happened to be drawing to a close and there was much to be positive about. The Company would all be home in a number of days and this St Patrick's Day was also a celebration of a job well done and the end of an era: this was the final Operation TRENTON.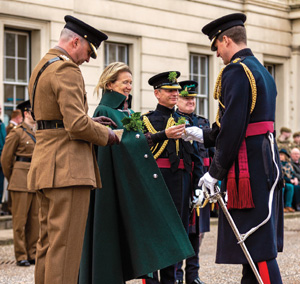 St Patrick's Day, London.
Lady Carleton-Smith presents the Shamrock
It's fun to imagine whether Queen Victoria could have possibly conceived how her Order dated 14th March 1900 would be fulfilled one hundred and twenty years later, around the world, by an Irish Regiment of Foot Guards she had not yet formed. That it was actually made possible by the inventions of aviation, electronic refrigeration and, of course, WhatsApp, is possibly a bridge too far. An extraordinary number of things will have happened by this time next year but it's probably safe to say that St Patrick's Day 2021 will be slightly more local to Hounslow, colder and marginally less exotic. I shouldn't think the RQMS will be complaining!