More Features
OPERATION RESCRIPT, JOINT MILITARY COMMAND (LONDON)
by Lieutenant Colonel Guy Stone
Welsh Guards
Brigade Major (SO1 Plans, Operation RESCRIPT)
The ghosts and portraits in Horse Guards will be alarmed and confused by current activity in and around the building: cessation of the 11 o'clock Queen's Life Guard change, seven day weeks, additional staff, Skype meetings, and obsessive, monitored hand-washing, which, with low infection rates in evidence, appears to have worked so far….

We are two months into Operation RESCRIPT, Defence's part in the national fight against Covid-19. The Chief of the Defence Staff outlined his intent in mid-March that our role is in support: support to the National Health Service, principally through expanding capacity, and support to the Ministry of Housing, Communities and Local Government. As a result, on 19th March, and just following the Major General's Inspection of 1st Battalion Grenadier Guards, Headquarters London District transformed into 'Joint Military Command (London)' in a swift manoeuvre, ironically and fortuitously practised only days earlier on a CAST-led UK Operations Exercise.
| | |
| --- | --- |
| Operations Room, Horse Guards in May 2020 | Visit by The Secretary of State in April 2020 |
Our mission has been to support the London Resilience Forum and deliver multi-agency planning across London: Military Aid to Civil Authority (MACA) tasks. Supported by around sixty additional staff from Headquarters Allied Rapid Reaction Corps, Joint Military Command (London), in order to provide resilience, currently comprises two headquarters, one in Horse Guards and the other in Wellington Barracks. The Major General sits in Horse Guards, with the Deputy Commander, Brigadier Andrew Wright, operating from Wellington Barracks. The ARRC support has been exceptional with very high-grade staff officers being parachuted into the team, including a multi-national element with Commandants Franck Deleporte and Emmanuel Tournier from France. We are indebted to Colonel The Life Guards (COMARRC) who made this happen and even gave us Captain Johan Kjellgren LG, his ADC! It has been frenetic at times, rewarding, forced new practices, demanded efficiencies, and tested stamina; as one officer recently observed. 'it's similar to an operational tour except there is no end of tour date and no R&R...' However, the Senior Chaplain has ensured that, despite the closure of the Guards' Chapel, our spiritual needs have been addressed through outstanding podcasts every Sunday. High profile visits have included the Secretary of State, who also took the chance to give an interview for this magazine, the Chief of the Defence Staff, the Chief of the General Staff, and the Commander Home Command.
Throughout the operation, the Senior Chaplain has provided spiritual guidance




Military Testing Units across London provided by soldiers from
the Household Division in May 2020
1st Battalion Grenadier Guards, 1st Battalion Welsh Guards, supported by the Household Cavalry Mounted Regiment, and The London Regiment, became and continue as 'Covid Support Forces', directly assisting the government's response to the global pandemic. Tasks have principally focused around testing, although all troops are prepared for support to prisons, mortuaries, or care homes. The leadership of Commanding Officers and hard work of Quartermasters has ensured that infection rates have remained exceptionally low, through clinical hygiene procedures and wider force protection. It has been really impressive, says a significant amount about the Troopers and Guardsmen and is testament to Household Division discipline.

Mobile Testing Units have been a particular focus with newly commissioned young officers finding a very unique place to lead their soldiers for the first time; the sense of purpose is palpable, and it has been rewarding to be involved at staff level or on the ground. No reader of this magazine will be surprised by the resourcefulness and professionalism of Household Division soldiers turning hands to any task.

Troopers and Guardsmen continue to impress, illustrated by a letter that was received in Horse Guards: 'the civilian staff at the testing centre clearly did not want to be there. By contrast, a group of soldiers wearing Household Division flashes were friendly, encouraging, and polite, even empathetic to the people receiving the intrusive test….a credit to the Household Division and to the Army. Really encouraging to know that our people are performing so well in their duties and making the ordeal easier for the public'.

Second Lieutenant Simon Fisher, Grenadier Guards, escorts the Major General at the Mobile Testing Unit,
Lambeth in May 2020


Guardsman Heffernan, Welsh Guards, mobile testing in south west London in May 2020
In conjunction with the Lord Chamberlain's Office, Ministry of Defence, Home Command, Historic Royal Palaces, and the Metropolitan Police, the decision was also taken on 19th March to cease the Changing of the Guard ceremonies for Queen's Life Guard and Queen's Guard due to the national situation, public mood and the soldiers' force protection. Reduced detachments, providing Quick Reaction Forces and mounted and dismounted sentries, remain at Horse Guards, Buckingham Palace, St James's Palace, the Tower of London and Windsor, the latter as the focus due to Her Majesty The Queen being in residence at the Castle. As many would expect, the Ceremony of the Keys continues at the Tower of London every night, at social distance between the Guardsmen. There is a certain pride from those involved that they will be part of something that has remained rock solid through difficult days.

Without Guard Change ceremonies, the plot for those finding the Guards has been designed by the Staff Captain in a way not trialled for decades, if ever. Their profile is always under review but the task they provide is necessary, proportionate, and appreciated. The Queen's Life Guard is a 28-day rotational duty and Queen's Guard and Windsor Castle Guards are now seven-day duties. There are some interesting observations and potential lessons that we are learning. Soldiers are being paid a little more as they are away from barracks for over 7 days and they can fall into a satisfactory routine over longer periods, but there is a risk to standards with fewer formal inspections and the potential for complacency over longer periods on guard.

State Ceremonial events have ceased temporarily, but this does not stop plenty of planning for the minute that we receive the green light to return. There has been a temporary suspension of all Ceremonial Gunfire from Primary and Secondary Saluting Stations, with a few exceptions. Our eyes are fixed on three military skills that must remain a focus during this period to ensure no degradation: drill and turnout, music, and equine proficiency. We hope to find an appropriate way to mark Her Majesty's Official Birthday on 13th June, a position in time when we may be in the next stage of the Prime Minister's roadmap. Initial thoughts have the backing of the Ministry of Defence and a modest parade, which follows government guidelines, could offer a discrete opportunity to thank Her Majesty for guidance through this challenging period, at the same time as ensuring Her birthday does not go without traditional recognition from the Household Division. It may also, if the time is right, provide a powerful symbol of hope that we are emerging from the crisis and beating the virus. The Welsh Guards would certainly like to swap their masks for bearskins on 13th June!
Ceremony of the Keys, Tower of London in April 2020


Victory in Europe 75. The Major General lays a wreath
at the Guards Memorial during Operation RESCRIPT
in May 2020
The government guidance has been 'Stay Home, Protect the NHS, Save Lives' and the great majority of people have done so. With force protection at the front of minds, civil servants and military were directed to work from home where possible; almost all civil servants and 43 (of 81) military staff at Horse Guards are at home. The Covid-19 results appear to illustrate, so far, that the isolation has been worth it.

Those working from home have managed to fulfil their normal work output; what is not possible, and so very important in the Army and our Regiments, is human interaction. Leadership through Skype and Zoom is not the same; visits from senior officers, and having the Major General in Horse Guards, have therefore been valuable. One area that did suffer was the delivery of the Spring Guards Magazine (Edition 197) which was caught in the lockdown. A number remain at Horse Guards for distribution at the first chance. However, even this has been circumvented for desperate subscribers since, quite fortuitously, the first digital copy of the Guards Magazine went on sale in Autumn 2019 (full details in the magazine and online). An added bonus is the access that is now available to the entire archive back to the 1860s. Our Treasurer claims the biggest challenge with 'home-working' has been to establish both office and general routine. A man of considerable wisdom, he has advised that an optimal way to ride the crisis has been 'to imagine oneself being in a small yacht on a long ocean passage…'
| | |
| --- | --- |
| Bands of the Household Division, VE75 on 8th May 2020 | Socially distanced Queen's Guard activity, Operation RESCRIPT. Jigsaws for the officers and War and Peace for the Guardsmen (Guardsman Osbourne, Coldstream Guards), St James's Palace in April 2020 |
No piece on Operation RESCRIPT would be complete without mention of the exceptional Bands of the Household Division. On call as Covid Support Forces, the musicians were also centre stage for VE75 commemorations on 8th May in the gardens of Number 10 and at Buckingham Palace, socially distanced. Under Lieutenant Colonel Simon Haw, and the BBC's Sophie Raworth, they achieved praise 'for brilliance' under challenging circumstances. Their ability to raise morale is immeasurable and we remain very fortunate to have such talent in the Household Division.

Much good will emerge from the current situation. The Household Division is illustrating its utility across a range of tasks, together with our modest but important continuation of Public Duties through challenging times. Horse Guards now has a much wider knowledge of our resilience partners across London, the National Health Service, the Metropolitan Police, the London Ambulance Service and many others; this is so valuable as we move into future challenges across London; many are far better educated about what LONDIST can deliver. Opportunities have been taken, and the 'pause' will enable us to implement transformation sometimes hampered by the pace of ceremonial activity.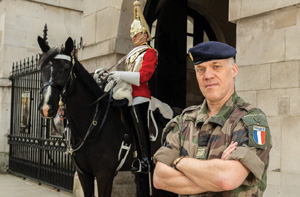 Commandant Franck Deleporte, French Army, supporting Joint Military Command (London), Operation RESCRIPT
in May 2020
Throughout this period opportunities have also been sought to make improvements in certain locations normally delayed by the pace of duties; the Quartermaster London Central Garrison, Major Jake Baillie, SCOTS DG, has been ruthless and determined with the Defence Infrastructure Organisation and contractors to improve the Royal Guardrooms, matched by the efforts of Colour Sergeant Johnston, Grenadier Guards, in the Queen's Guard Officers' Mess.
We remain hopeful that the worst has passed in London, but we are ready to deliver support should there be a second or third spike in the pandemic. The last few months have meant different things to different people and their families; no situation is the same but our troopers and guardsmen whether on guard, in support of MACA tasks or dispersed have continued to be excellent ambassadors for the Household Division. Our return to the 'new normal' or, for the more pessimistic, the 'new abnormal', particularly for State Ceremonial and Public Duties, is conditions based. However, for planning purposes, we have plotted against four potential timelines. The Defence Task that we deliver, and are famous for, draws crowds. This poses a challenge with social distancing, although not impossible to overcome, but we must not be a catalyst for groups of spectators. Above all, we must remain 'in step' with the nation, which is surely a task for the Garrison Sergeant Major…!

Beyond the virus, we are seen by significant proportions of the population as a symbol of calm and steadiness. As one passer by remarked, 'thank you to these soldiers; they provide enormous reassurance and stability in confusing times'.