More Features
General The Honourable David Hurley
formerly Australian Army and Governor of New South Wales
Governor General Designate of the Commonwealth of Australia

In conversation with The Editor
It is over twenty-five years since I visited Australia, and it was wonderful to be back there over Easter, when I had the opportunity to spend some time in Sydney. Much has changed, but there are still many parts that still look the same, as in any great city. Like Government House, built in a Gothic revival style in 1847 and nestled among the trees, just beyond the Royal Botanic Garden, a stone's throw from the Opera House, and as iconic as ever. The first time I saw Government House from a distance was back in early 1975, as I walked up Macquarie Street from Circular Quay to an interview for a 'jackaroo' position in Northern NSW. I was given the job (I was probably the only candidate), although it was not quite what I had expected, just me and a farm manager, and no 'jillaroos' at all. All rather disappointing!
Now I was back for another, and considerably more enjoyable, interview, with the Governor of New South Wales. A few weeks before my departure from England, I sent an email around to the Household Division Regimental Adjutants, asking for names of former Guardsmen in Australia. There are some, of course, but Australia is a big country, and so my chances seemed slim. Imagine my excitement when Major Niall Hall, Regimental Adjutant Irish Guards, offered to email an old chum, General David Hurley, who had served with the Irish Guards in the mid-80s and later became chief of the Australian Defence Force. Now Governor of New South Wales and the next Governor General ('GG'), there was just a chance that he might be in Sydney with an hour or so to meet me for a chat. I was lucky, and did not need to wait long for the invitation to visit Government House.

Leaving London on 29th March, it was a good time to be away from home, and it was a particularly good time to be in Sydney, with autumnal temperatures at around 25-degree, low humidity, and the sun glistening across one of the most beautiful harbours in the world. So it was, on 8th April, that I sauntered through the Royal Botanic Gardens for my interview, feeling rather more important than the twenty-year-old back in 1975! Knocking on the door of Government House, within a just a few minutes I was sitting with The Governor in an open-plan, contemporary office, with a view of the bridge and harbour beyond.

David Hurley was born in 1953, in Wollongong, an industrial city some 50 miles south of Sydney. Reaching the age of eighteen, he decided that he didn't want to work in that kind of heavy industry. He had been a school cadet, had a scholarship for the Army in his last two years at school, 'and so I thought I would give the Army a go'. It was an attractive option, taking him away from the heavy steel industry, to the Royal Military College Duntroon, where he would have the opportunity to also complete a degree. And if things did not work out, he could always leave having completed his 'return of service'.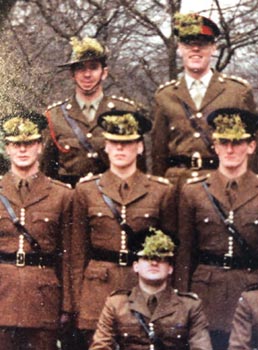 Captain David Hurley with the Irish Guards
Graduating in 1975, David Hurley joined the Royal Australian Regiment as an infantry officer, followed by several years of regimental and staff appointments. Then, in the early 80s, he was selected for the 'Guards Exchange' posting, a scheme designed to give Australian infantry officers the opportunity to learn about mechanised infantry in Germany. Although he had been to the UK, for a short visit to Sandhurst, this would be his first overseas posting, and he was naturally a little apprehensive. He was, however, very happy to be posted to the Irish Guards, since he had some Irish connections.

The posting began in London, where the Micks were just coming to the end of a period of public duties before moving to Münster. And then, a rather surprising and alarming thing happened. Having only been with the Battalion for a very short time, he was appointed Unit Movements Officer by the Commanding Officer, Robert Corbett. It was perhaps a strange job for an exchange officer to be given, particularly as this had a clear and imminent purpose: to move the Irish Guards to its next posting. As he says, 'I didn't know about the Australian system, let alone the British one, and having to move the whole battalion, the families, everything, across to Germany, it was a big job, and high risk' given that he was a complete novice in the business of Army Movements.

However, Robert Corbett had good reason to appoint this newly arrived Australian officer as his Unit Movements Officer, as he confirmed to me in an email on my return to England: 'I was never in any doubt about David's ability and he handled this early responsibility brilliantly, as I knew he would. For the same reason, in his second year in 1IG, I also gave him command of a Rifle Company; identical result'. As David Hurley recalls, once they had all arrived in Germany, with the move successfully completed, Robert Corbett asked him 'How many officers and guardsmen did you meet in that process?' and the answer of course was everyone. Clearly a wise choice, and one that gave David Hurley an opportunity to establish himself early on within the Battalion, and to get to know everyone.

What were David Hurley's first impressions of the Irish Guards? Well, he says, 'you need to step back a bit and begin with the Australian Army's perception of the British Army; you bring that across with you. We have similar regimental customs, it's an environment you recognise, but in the Guards battalions there's a huge difference as well'. He recalls small details like the way salutes are returned, or why it is useful to be senior to the adjutant, thus avoiding morning parades! But on a more important level, it could be easy to misunderstand what one sees. 'The lifestyle, it has a very casual look about it, but don't take that for what's going on. It's very serious. There are some extraordinarily professional officers here, and if you let yourself be deceived or misled by all of this, you won't understand that there are two worlds here. So, the Australian perception may be to see just one level, but not the depth of it'.

Serving with the Irish Guards gave David Hurley a real sense of being part of a battalion that seemed relaxed and able to have fun, while at the same time being thoroughly competent and professional. He also soon discovered the strength and qualities of the Warrant Officers and Non-Commissioned Officers, for whom he had the highest respect. Everything 'from drinking my last bottle of whisky with them at three o'clock in the morning and saying "Gentlemen, I don't know any more Irish songs, and we've got to go home"…' to the more professional relationships. These are an exceptional group of soldiers, like, for example, 'Hovis' Brown, David's Company Sergeant Major when he later commanded a company, 'the most professional warrant officer I have seen in any army….a real character, good with the soldiers, good in barracks and in the field'.

There was also another dimension to David Hurley's time with the Irish Guards: serving with a 'big army'. As he says, when he joined the Australian Army in the 1970s, it was just the end of the Vietnam era. 'We were reduced by 50% over the next five years. No one deployed for 15 years. So being with an army that had many battalions and brigades, and that structure' was a broadening and novel experience. This was an army that 'had people deploying around the globe and frequently to Northern Ireland', fulfilling many different tasks. All of this 'builds a richness of what your profession is about'.

Being in Germany during that 'big army era' was something new for an Australian officer from a much smaller army. Manoeuvring with armoured vehicles on huge field exercises, taking part in some of the 'counter-stroke' experimentation in the early 80s; all experiences he would not have had back home. Also, although the British Army might have seemed overly hierarchical to an outsider, actually it was not, and particularly below divisional level. Officers tended to be on first-name terms; the only person referred to as 'Sir' was the Commanding Officer. There was also plenty of all-inclusive discussion in the form of training conferences and exercises, an opportunity to explore new concepts. He recalls, when the new 'counter-stroke' concept was introduced as part of the 'Bagnell' initiatives of the early 80s, that his brigade commander, Charles Guthrie, brought all the officers together 'to discuss how we are going to do this; it was a very informed way of doing business'.

His time with the British Army also coincided with the Falklands War, and although he would not have been allowed to go himself (he received a phone call from the High Commission at a strange time of the day just to make sure he was not already on his way south!), serving with the British Army at the time gave him a fascinating insight that he would not have had back home, hearing about the conflict and the fighting, and some of the personal experiences during that short war.

There is also an interesting comparison between the larger British Army of the 1980s and the smaller Australian Army, and it about geography and space. The British training areas in Germany in the 1980s, for example Sennelager and Soltau, were tiny when compared to vast areas available to the Australians back home, like Shoalwater Bay, 'three times the size of Singapore'. And yet, as David Hurley says, there were some pretty imaginative exercises conducted across these small areas. 'I enjoyed going to Soltau because I saw people being innovative about how to do exercises and how to create pressure and stress on commanders'. It was a useful lesson that he used time and again back home.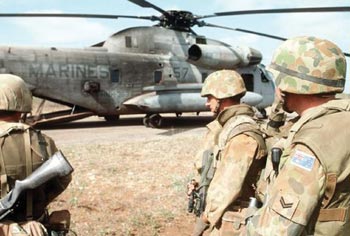 Australian soldiers of the 1st Battalion Royal Australian
Regiment prepare to board a United States Marine Corps
helicopter in Somalia. 1993
At the end of a happy and rewarding tour with the Irish Guards, David Hurley returned to Australia, to command Support Company and as Operations Officer in a mechanised battalion, an opportunity to pass on some of the experience he had gained in Germany. Following Staff College and some staff jobs, he took command of his battalion, taking it to Somalia in December 1992 for Operation Solace, a UN humanitarian operation aimed at creating a protected environment following a bitter civil war. A successful tour, it proved to be a water-shed for the Australian Army. This was the first time a battalion had deployed beyond Australian shores since the end of the Vietnam war, and since then there has hardly been a moment when Australian forces have not been deployed somewhere around the globe; in 2019 there are 12 concurrent operations running, most notably in Afghanistan, where 1500 Australian personnel are serving. Given that the Australian Defence Force has an active strength of just under 59,000, with over 3000 deployed personnel, this is an impressive ratio.

Like all defence forces around the globe, the Australian Defence Force faces some big challenges in the future. First and foremost, as David Hurley says, 'it's the geo-strategic relationships in our region….what's developing there'. But there is also another, more intangible challenge: 'the influence of technology, which is just running rapid…. particularly in the IT space and how you fight in that space ….. how it's changing the nature of what we do'. This is something that is posing 'some big questions about who actually pulls the trigger, because you have soft systems now that can kill as many people as hard systems. And some of this goes well beyond the conventional military sphere... what's happening in cyber now just complicates it all', and of course well beyond the sphere of traditional military operations.

David Hurley retired from his last service appointment, as Chief of the Defence Force, in 2014, following over 40 years of service. This was then followed by five years as Governor of New South Wales, a vice-regal appointment which consists of constitutional and ceremonial responsibilities, as well as community engagement, something which takes up around 90% of his time. In a few weeks, at the end of June 2019, he will take up his appointment as Governor General, only the second Governor of New South Wales to go on to the top job. The first was Lord Gowrie, who joined the Welsh Guards in 1915, and served as Governor General throughout the Second World War.
| | |
| --- | --- |
| General David Hurley | The Governor General Designate |
By the time this edition of The Guards Magazine is published, David Hurley and his wife will be on their way to London, where he will be having an audience with HM The Queen, prior to taking up his new appointment. He will also be taking the opportunity to catch up with some of his friends from the Irish Guards regimental family. While his time with the Micks was a comparatively short attachment in a much longer career, it is clear that this tour has left its mark. He remembers the friendships, the great fun, the parties, and even being required to wear black tie to watch a video in the officers' mess! And, of course, St Patrick's Day, the visits by Queen Elizabeth the Queen Mother, and the quiet and understated professionalism that remains the trade-mark of the Household Division. For both David Hurley and his wife, this was a 'life-changing experience'. As he says, to live in two countries, England and Germany, similar military culture but different, the opportunity to travel, and more importantly, to be a member of something very special.