More Features
From the Household Brigade Magazine, Autumn 1966 Edition
AN OLD SOLDIER RETIRES
by Lieutenant R C Wilkinson
Royal Horse Guards (The Blues)
There is nothing unusual about horses ending their military careers due to old age or infirmity. However, sometimes one is missed more than others; such a horse is Black Velvet. At the age of twenty-nine Black Velvet is probably the oldest horse ever to have served in the Household Cavalry, and it is for this achievement that he will long be remembered.

Officially Black Velvet was reckoned to be twenty-six years old and it was not until recently that his true age was discovered. Mr H K Andreae, his previous owner, was under the impression that he had been bought immediately after the War by his cousin, but in May this year, he found that the horse had in fact been bought as a five-year-old in 1942!

Black Velvet hunted for many years with the HH until, in 1957, Mr Andreae very kindly gave him to The Blues. In December of that year, he went to the Remount Wing at Windsor, where he underwent two months' basic training before joining the Mounted Squadron as an officer's charger. During the last nine years Black Velvet has appeared on virtually all the Ceremonial Parades and although too old to hunt, he was always a useful performer at the Regimental 'At Home' days and at Camp. We had hoped to make Black Velvet's final parade this year's Trooping the Colour, but after the two rehearsals it was felt that the strain would be too much for him, and the idea was reluctantly abandoned. On 4th July 1966 the Squadron said farewell to this remarkable old horse. Black Velvet returned to his former home in Hampshire, where we hope he will graze in retirement for many years to come.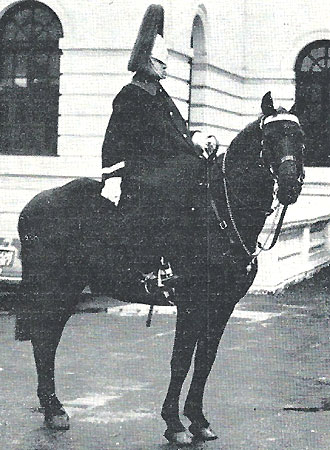 Black Velvet before his last Guard