More Features
PLATOON COMMAND DURING COVID-19
by Lieutenant M D Brewer
Irish Guards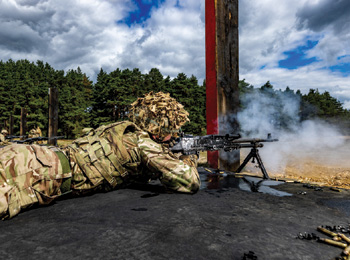 An Irish Guardsman on the ranges
My starting point in the Irish Guards was rather unorthodox. Having completed the Platoon Commander's Battle Course in early December 2019, I arrived at Cavalry Barracks Hounslow to discover a vacant camp, due to the Battalion's various operational commitments. Nonetheless, I was swiftly put to task with the Rear Operations Group (ROG), gaining the briefest of insights into what one could expect as a new platoon commander. This was supplemented by a copious amount of picquets, something I discovered would prove invaluable to a junior Ensign. At this point the Coronavirus pandemic seemed remote and in a faraway land, something with which we were not concerned.

My time with the ROG came to a rather abrupt end, when I received word to undergo pre-deployment training and pack for Iraq. With the platoon I was earmarked to command busy in South Sudan, I was to be despatched on Operation SHADER 10 with the purpose of aiding (or perhaps hindering) the Intelligence Officer as his second in command. This was not something I felt I was particularly qualified to do, however it was a rare opportunity for a junior officer to experience the inner workings of Battalion HQ as well as to delve into the seemingly murky depths of Intelligence.

In my five weeks at Camp Taji I learnt a huge amount, due largely to the patience of the Intelligence Officer and the J2 personnel of the Five Eyes intelligence alliance (Australia, Canada, New Zealand, the United Kingdom, and the United States). During this period, the J2 branch were expected to keep our fingers on the pulse of Coronavirus, as the virus began its inexorable sweep through the Middle East. It was a difficult phenomenon to grasp, due to the lack of reporting, however it was already clear that Covid-19 was going to present a serious threat to our mission in Iraq. Just as I had settled in, my tour was truncated by a rocket attack launched by a local Shia Militia Group, during which I managed to sustain an injury to my left arm, aptly described by a brother officer as 'having my wing clipped'.

By the time I arrived back in the UK, the country was firmly in the grips of the pandemic, the lockdown was soon enforced, and the Battalion was dispersed to commence a transition to a home working regime. I was also informed I would be taking over No 2 Platoon, No 1 Company, and while I was delighted to be a platoon commander, this was tempered by the 'virtual' manner in which I would be assuming command. Sandhurst had taught me about the need for a strong and symbiotic relationship between platoon commander and platoon sergeant, and so I was disappointed that my first meeting with Sergeant Dowie would be over a crackling Zoom call. This was followed by my platoon interviews, which did at least put a face to the names of the Guardsmen in my platoon.

Having overcome the frustrations of conducting an online handover-takeover, the Platoon began the business of everyday routine working from home. The Company seized the opportunity to adopt Defence Connect, the Army's online platform, similar to a blend of Facebook and Bloomberg. This tool proved absolutely pivotal in conducting a working from home routine. It allowed a fluid and efficient passage of information from the Commanding Officer to all ranks, as well as the ability to upload documents, interest pieces, and daily details, without fuss.
| | |
| --- | --- |
| An Irish Guards Mobile Testing Unit | Exercise SHINY ONE |
There was a deliberate attempt to maintain a semblance of normality to the day-to-day schedule. For example, for Monday to Thursday, the day started with Zoom PT, ably led by our Company PTIs, who made huge efforts to make the sessions interesting and engaging. On Fridays, we had Company PT, with 100 people on a group Zoom call, led from the front by the Company Commander, Major Sprake.

Sections, under their respective section commanders, conducted military knowledge lessons and tests, which provided a well-needed chance to brush up on at least the theory of green soldiering, having spent the previous year preparing for task specific roles for the upcoming operations. Within the Platoon there were a few newcomers who were fresh out of training; these lessons allowed the section commanders to explain the SOPs and TTPs, ensuring that the Guardsmen had a fundamental understanding of the mechanics of platoon and section attacks; all invaluable lessons for when we would return to real soldiering.

Furthermore, on a weekly basis the Company Second in Command, Captain Rory McGrath, would issue mandatory reading/watching of a documentary, film, or article. The sections were then expected to conduct either presentations on this topic or engage in a debate held on Zoom and chaired by the Platoon HQ. This was a fruitful activity that helped individuals to actively digest and engage with current topics, themes and issues as well as developing public speaking skills. To illustrate how wide ranging these were, the sections covered topics ranging from 'Pussy Riot' in Russia, real life infringements of Rules of Engagement on Operation HERRICK, and the tactics employed during the Falklands campaign. This sequence culminated in a phenomenal presentation written and delivered by the Guardsmen on the Irish Guards' involvement in the Battle of Narvik, and the lessons extracted from that conflict which are applicable today.

Just as the Company had settled into a seamless and effective working from home routine, the Battalion was called back in to assist with the UK's response to Covid-19. With two weeks' notice, the Battalion was re-mobilised and back in barracks where we were informed we would be running Mobile Testing Units (MTUs) throughout the south east of England. This was not a task that we had been expecting, however, as is often the case with Guardsmen, they relished the challenge and took to it with characteristic gusto and professionalism. 2 Platoon underwent two weeks' intense training in Hounslow before heading out to man MTUs in Surrey and subsequently Kent.

The testing units ran smoothly, a testament to the training conducted by Colour Sergeant Hockley and his team in the training wing. I was struck by the ease and patience with which the soldiers engaged with the general public, dealing with individual problems and sometimes anxious members of the public, and doing so with professionalism and quiet competence throughout.

After nearly two months of running MTUs, the Company was taken off this duty and deployed on its first green exercise for 18 months. This exercise consisted of 11 days on Longmoor Training Area, conducting live ranges and finally moving into a dry phase of platoon and company actions.
Long forgotten bergans and webbing were pulled out from the back of cupboards, the cobwebs blown off, and the hunt for those Gore-Tex socks stashed months before, began in earnest. On a personal note, printing out and flicking through the Brecon Battle Book as a 'remind and revise' was entirely necessary. With our kit at last prepped, we left Hounslow to conduct some green soldiering, my first since leaving the Infantry Battle School in December 2019.

I would be lying if I said there wasn't any personal skill fade over the last 18 months, but given the distractions listed above, the Platoon did well. We completed range work, a very tough individual navigation test was carried out, with some excellent performances. Finally, the dry phase took the form of section level training for two days, followed by three days of platoon level actions.

Section attacks were hammered out, night recces were practised, and the basics such as establishing a harbour area and conducting routine were also honed. The Platoon went on to perform a successful night ambush and strike operation. The exercise culminated with an epic company attack with the support of Chinook helicopters that transported us to our objectives where we conducted a 'hot HLS' and carried out a successful company attack. This marked the end of a great company exercise but also the start of a return to 'service as normal' for the Irish Guards as the focus has been firmly re-shifted onto soldiering and the art of being an infantryman.

Whilst the last nine months have not been what anyone would have expected for a platoon commander fresh out of training, the challenges and opportunities of the current situation have been both valuable and immensely enjoyable.