More Features
HENRY WADE
SIR HENRY LANCELOT AUBREY-FLETCHER Bt
LATE GRENADIER GUARDS
A SHORT LITERARY APPRECIATION
by Crispin Black
formerly Welsh Guards
Between 1926 and 1957 Henry Wade wrote twenty detective novels, many of them bestsellers, nearly all of them praised by the critics of the day, including the presiding geniuses of the genre, Dorothy L Sayers and Agatha Christie. In real life, Wade was Sir Henry Lancelot Aubrey-Fletcher Bt. Educated in the family tradition at Eton and New College, Oxford, he joined the family regiment and became a fighting Grenadier Guardsman of the Great War and second-in-command of the Guards' Depot throughout the Second. In 1925 he became High Sheriff of Buckinghamshire (he also played cricket for his county) and was Lord Lieutenant from 1954 to 1961 (as shown in the 1962 portrait by Norman Hepple). Most of his books have withstood the test of time and read well even ninety years on. They enjoyed two new leases of life with reprintings in the UK in the early 1970s and across the Atlantic in the mid 1980s. A group of prominent American critics rightly took a shine to him. And yet today he is forgotten.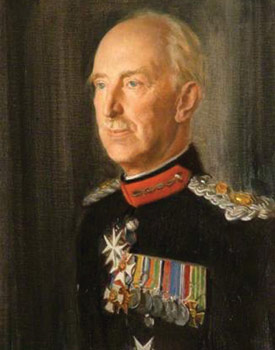 Sir Henry Lancelot Aubrey-Fletcher Bt
Norman Hepple, 1962
Wade was the most successful and well known of the crime writers to emerge from The Great War. Wounded twice and with a DSO and a Croix de Guerre, he ended the war on the staff of the Guards Division. Promoted lieutenant colonel on 6th December 1918 he was the Division's AA and QMG as it marched from the Belgian fortress town of Maubeuge to be part of the army of occupation in Cologne. Elements of the Division rested at Fosses-la-Ville just outside the Belgian city of Namur. There, Wade attended a talk on 'Detective Fiction' by Valentine Williamson, an Irish Guardsman who had written a detective novel while recuperating from a wound on the Somme. Even though the war was over, life was grim. The weather was icy, progress often difficult and billets were difficult to find, but the lecture made a great impression on Wade. His first novel The Verdict of You All (1926) was dedicated to Williamson.

In 1930 Wade was one of the founding members of the Detection Club, a dining society to which all the great names of the Golden Age belonged - the first president was G K Chesterton. Its elaborate initiation ceremonies are still top secret but its famous fair play promise was made immediately public:
Do you promise that your detectives shall well and truly detect the crimes presented to them using those wits which it may please you to bestow upon them and not placing reliance on nor making use of Divine Revelation, Feminine Intuition, Mumbo Jumbo, Jiggery-Pokery, Coincidence, or Act of God.

Wade has been classified by some modern critics as 'humdrum' - a light-hearted but pejorative label applied to the sort of books filled with irascible, heavily moustachioed Indian Army majors, port-stealing butlers and fiendishly complicated provincial railway timetables that at the very last minute are able to provide an unbreakable alibi to the leading suspect. But he is actually very different, and I doubt many modern critics have made a sustained effort to read his works. I read and enjoyed a couple a few years ago, but for this article I read eight in a (highly pleasurable) row.

You can tell Wade was a Guards officer. He is never cynical (how refreshing is that), but not without the wry military observation of an officer who spent a long time in the trenches and was wounded twice. In The Duke of York's Steps he mobs up the over smooth Major-General Sir Hunter Lorne KCB DSO who appears to have done well out of the war:

'Not since, as a brigadier, he had been sent for by the Corps Commander and, instead of receiving the praise he had expected for a "successful" raid, had been frigidly rebuked for squandering lives, had he been so thrown off his balance. He grew red in the face, his moustache bristled, and a line of small bubbles appeared on his lips'.

This novel which includes a prominent and sympathetically drawn Jewish character is also interesting because Wade appears to have been entirely free of the kind of casual anti-Semitism that can be found in many Golden Age writers. Although he is not without prejudices - a number of his villains are cavalry officers and one especially thuggish character is an old Harrovian.

Taken individually his novels are diverse and striking. The Hanging Captain (1932) is a fine version of that most difficult subset of the detective novel, the locked room mystery - in which a former officer is found dangling from the curtain rod in a country house, Ferris Court. There is even a Cluedo-like plan of the house at the front. The characters and setting are absolutely believable. Unlike many other writers who imagined the country house setting, Wade had been brought up and lived in the Aubrey-Fletcher seat, Chilton House, outside Aylesbury.

The High Sheriff (1933) draws upon Wade's own experience in the office (in those days often supervising criminal investigations and always present at judicial executions) but begins with an extended flashback to the Western Front during the Kaiser's Offensive of March-April 1918 - a frightening account of what it must have been like to be an infantry company cut off from your battalion and trying to obey Field Marshal Haig's 11th April Special Order of the Day, 'With our backs to the wall and believing in the justice of our cause each one of us must fight to the end.' The company commander cracks up, briefly, and the novel grapples with the lethal results of this single episode in the post-war world.
But Wade was more than just a good detective novelist - he was a pioneer. In many ways he can be regarded as the father of the English police procedural - a form well known today but revolutionary to start with. Instead of a gifted amateur like Poirot or Wimsey, the police procedural relies on proper serving policemen who take on their cases because they have to, and not in some lucrative consulting role. Alibis are proved or disproved not by gifted insight but by legwork. Seven of Wade's twenty novels feature the unassuming but quietly intelligent, Detective Chief Inspector John Poole, of Scotland Yard. Suspects are interrogated in police stations; statements taken and the paraphernalia of police work are on display - blackboard, notebooks, tobacco and plain wooden tables. Poole predates Ngaio Marsh's Inspector Roderick Alleyn by five years and can properly be regarded as the model for a whole succession of educated English policemen culminating in Chief Inspector Morse.

He was also one of the first authors to produce a crime novel - a tale where the puzzle remains important but more attention is given to the motivations and lives of the characters. In Mist on the Saltings (1933), whodunit is still important to the story, but murder plays second fiddle to bleak and impoverished post-war lives in a Norfolk fishing village, particularly those of John Pansel, a struggling but talented painter wounded in the stomach during the war, and his lovely wife Hilary - the Army nurse who got him through the worst of it. The Norfolk coastal scenes are atmospherically done and the minor characters beautifully drawn. I suspect some of them are based on the Guardsmen he knew, led and fought alongside; they have that intimate feel. The unexpected climax is extraordinarily moving and sad. Wade was also ahead of his time by trying to cause emotion in his readers. This was detective fiction about real people and above all the baleful effects of The Great War both on the country as a whole and on individuals. It still packs a punch.

The surprise endings of Agatha Christie are part of general knowledge - the cast of The Mousetrap (in its 53rd year and currently at St Martin's Theatre) still make an appeal after the show not to give away the final twist. Dorothy L Sayers, a close friend of Henry Wade's, could also pull off a bravura ending. But the most extraordinary ending of all by a Golden Age writer comes in Wade's penultimate effort, A Dying Fall, published in 1955 long after the Golden Age was over and after another German war. Set against a background of rural Buckinghamshire, before motorways and Heathrow barged in, the plot revolves around the hunting field. Wade had been an enthusiastic member of the Bicester whose country stretched from Aylesbury all the way up to Daventry. The method of murder is clever, to say the least - fiendishly clever and would only occur to someone who understood hunting well. But the novel is famous principally for its extraordinary ending. Not even Agatha Christie would have attempted such a trick, but in Wade's hands it works. On Match of the Day they can say 'look away now if you don't want to know the result'. It would be unfair to reveal it - suffice to say that if it is ever made into a feature film (and I hope someone will) don't leave until the credits roll.

Thanks to the re-printings here and in the United States, most of the novels are easy enough to pick up from second-hand bookshops - all are available online to download onto Kindle or something similar. Do read them. The great Golden Age writer and fighting Grenadier Guardsman, Henry Wade, is overdue for a revival.