More Features
MAJOR THE LORD WESTBURY MBE
Former Guardsman and now Chairman of the Chelsea Group
'A modern-day frontiersman still at full throttle'
by Paul de Zulueta
formerly Welsh Guards
'It surprises me that so few people who leave the Household Division feel they can be entrepreneurs'.

'Well, perhaps we've been regimented to conform, to avoid risk', I replied. Richard took a long puff on his Hoyo de Monterrey cigar, but before he could respond, his mother, Lady Westbury, in whose house I had come to see Richard, came in to talk about the new Bulgarian caretaker.

There followed a conversation which only Evelyn Waugh, a masterly observer of upper class mores, could have played out. With the Bulgarian caretaker put to rest, Lady Westbury, now 93, asked whether I'd like a glass of champagne or builders' tea. I could see at once from where Richard had acquired his resilience, style and tenacity.

As a soldier, Richard knew his trade. I first met him in 1981. He had been my company commander at the Guards Depot where he commanded what was then the largest company in the British Army, Caterham Company, with some 1800 recruits. As platoon commanders, we were in awe of him. He was 31, ex-Guards Parachute Company and G Squadron 22 SAS with an MBE. If he was not the finest officer I had served under, he was certainly the best soldier. Creative and visionary, he would design exercises such as memorable night live firing exercises at Thetford which were both exhilarating and experiential, with tracer winging over the recruits' heads. I also learnt that if you were upfront about a mistake, Richard would never admonish you providing he felt you had learnt something. Loyalty comes easily to most in the Household Division, but Richard saw loyalty as a code of conduct and generosity to others as a natural way of behaving. And like many people who set great store by loyalty, he expected it in return.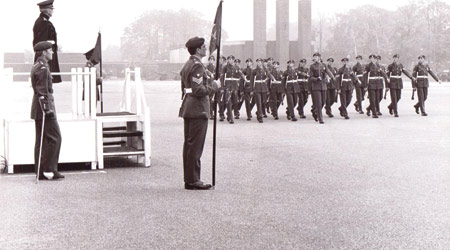 A young Captain Richard Bethell, on the disbandment parade for No 1 (Guards) Independent Parachute Company, 24th October 1975. The salute is being taken by Field Marshal Sir Gerald Templer KG GCB GCMG KBE DSO, Colonel, The Blues and Royals. The Company Commander, Major Robert Corbett (later Major General Sir Robert Corbett KCVO CB) is standing by the dais
I asked Richard why he'd joined the Army and the Scots Guards. 'No option', he said. I smiled as I remembered my mother saying to me, when I was 16, that Oxbridge was clearly out of my grasp so she'd have a word with Bernard Gordon Lennox, my grandfather's godson.

'So, who were your formative influences early on in your career', I then asked. 'Well in that, I was very fortunate. RHQ Scots Guards were a powerful bunch: Murray de Klee, known as 'Pop' because he'd been wounded in Malaya, had white hair before his time, and had gone for SAS selection at the age of 36; Frank Smith who was the Regimental Sergeant Major, and Lochie McLean'.

Richard went on, 'later, I had Robert Corbett (IG), who became the Major General, as my company commander in the Guards Parachute Company and, of course, Alastair Morrison (SG) OBE MC who was 2IC of 22 SAS when I commanded G Squadron. At Staff College, my Directing Staff was Rupert Smith, a Para by cap badge, but a Guardsman in style, who went on to be a four-star general - brilliant on the psychology of his students, and who helped me later, after the Army, at the Leadership Trust; and, of course, Mike Rose CG, (later General Sir Mike Rose KCB CBE DSO QGM) from whom I took over command of G Squadron. Oh yes, I was blessed with some great mentors and they were good fun as well'.

'Still' I said, 'experience matters as much as mentors, so what were your formative experiences in the Scots Guards that helped shape you as a soldier and inspired you to become an entrepreneur later on?' Richard leant forward and said, without hesitation, 'I started to really look at soldiering in Belfast in October 1971. I was commanding an independent platoon observation post on a roof at 240 Cooper Street, overlooked by the monastery at Clonard near the Falls Road. I had a feeling for what the IRA was up to, and events proved me right. It taught me an invaluable lesson which I've never forgotten: trust your instinct, trust your own judgement, and be forceful in making your views clear'.

I was glad that Richard had brought up Northern Ireland where the Army lost 763 men and sustained 6116 wounded. Comparisons are churlish, but I had always been mildly irritated by Patrick Hennessy's book about his time in Afghanistan, The Junior Officers' Reading Club where he had dismissed our generation as 'Getting drunk on the Rhine and rioting in Ulster'. He had a point about BAOR but not Northern Ireland, or the Falklands.

Richard now hit his stride. 'Resilience, tenacity, learning the basic skills as a soldier, well that was in Oman in 1975/76 where I was an SAS trooper for three months. The first two are traits you develop in the Household Division, but I was eternally grateful for my time as a trooper as soldiering is something you have to learn the hard way, and for me that was Oman'.

I thought I'd throw in an observation and remarked to Richard that his sense of humour was a little too coarse grained for some people and had he picked this up as a trooper? This was met with a wintry smile and a cursory response, 'I formed life-long friendships there'.

The Falklands campaign in 1982 was for Richard, as well as for many who fought there from the Household Division, a defining moment. I sensed in Richard a touch of frustration as he served there as HQ company commander, an important enough role but one which did not make the best use of his experience and gifts as a soldier. His Commanding Officer, Mike Scott (later Major General Mike Scott CB CBE DSO) was gracious in his praise of Richard and his ability to think laterally. Richard who, seeing the proposed plan for the battalion attack on Mt Tumbledown had some potential flaws, came up with a plan for a diversionary attack. Tumbledown was taken and Richard recommended for the Military Cross. The loss of a much-loved warrant officer, Danny White, in the diversionary attack, added controversy to the action. It was a blow to the Regiment and a personal blow to Richard who knew Danny well, but he draws comfort from the fact that Danny was awarded, ten years ago, a posthumous Queen's Medal Commendation. Richard keeps in touch with Danny's widow, Sheena.

Now in his late 30s, Richard felt he had done everything. He went to Staff College at Camberley after the Falklands, enduring its 'learning by rote and dreary focus on BAOR'. The British Army, except in wartime, does not encourage its officers to 'speak truth to power' and I have no doubt that Richard would have come unstuck if he had stayed; he made the right decision. It was only natural that Richard was drawn initially to work for the Leadership Trust where he persuaded Rupert Smith, then Deputy Commandant of the Staff College, to give him the tutors' programme to help develop the Leadership Trust's staff. Richard designed a five-day leadership programme which still attracts and inspires people today.

Richard Westbury on his yacht off the
coast of Cyprus

Richard Westbury reflecting at his pool as the sun
sets over his Cyprus villa
As he reflects on his achievements since he left the Army and surveys the diverse operations of the Chelsea Group from Mozambique to Ross-on-Wye, Richard remains eternally grateful to his time in the Household Division. 'It taught me to assess and manage risk; it helped me build resilience and tenacity, to pick myself up after setbacks; and it gave me confidence in my own intuition and judgement about people, and the tricky situations I've found myself in; and it allowed me to have fun with, on the whole - there's always the odd blinding shit - like-minded people'.

As Lady Westbury entered the room asking if I'd now like something stronger, I glanced at Richard and wondered how, as he approached his late 60s, he could put up with travelling 130,000 air miles a year. As Richard told me about the breadth of Chelsea Group's operations from gold mines, to power generation plants, to cyber, physical and maritime security, and the Leadership Trust in Ross-on-Wye, I saw that punching directives into a laptop from his Cyprus headquarters, or from his Aicon 72 yacht, was neither in his temperament, or leadership style.

Where I admire Richard is that, after a military career in the Scots Guards, the Guards (Independent) Parachute Company and the SAS, he never shirked the question: 'What sort of life could possibly follow'?

Russia 1992. Yeltsin's Russia, the Wild West, a hundred years on. The security of the Russian State Depository was at risk, and Russia's diamond vaults, like Aladdin's cave, was a target for every gangster and racketeer in Moscow. There was also the risk of Russian diamonds flooding the market which, given the complexities of African politics at the time, was giving de Beers and the Oppenheimer family a nasty headache. Richard, now employed with Defence Systems Limited (DSL), began his first foray with his Russian partners in the security business and, though DSL never made as much money out of the deal as their partners, it gave Richard confidence as an entrepreneur to build a career in the uncertain but exciting lands of a modern-day frontiersman.

Richard was fortunate in his partner at DSL, a former Scots Guards officer and SAS colleague, the much-respected Alastair Morrison. Richard would be the first to acknowledge Alastair's steadying hand, calmness and integrity. It's a commonplace observation that former SAS officers love to be rude about each other's warrior credentials in public, but privately share an unbreakable loyalty. They built the business from £2.2m to £80m, selling to Armor Holdings in 1997.

It wasn't a marriage of minds with Armor Holdings and, in 1999, Richard formed Hart Security with Alastair and two others. They hit the ground running with a contract for fisheries protection in Somalia. 'The problem was', Richard said, 'It was like Afghanistan, too little and too late, we could have sorted the place out then for $10m, now the UN is spending $3bn and it's still a shambles'.

9/11 saw the security industry soar, and, like the Klondike gold rush in 1847, it attracted its fair share of desperadoes and adventurers. Ironically, there was a strong former Scots Guards officers' presence (Murray de Klee's influence?), with Simon Mann, Tim Spicer and Mark Bullough enjoying mixed fortunes and a mixed press. But Richard had the experience, tenacity and contacts to ensure 'First mover' advantage and by 2003, Hart's turnover was $12m a month.

Security is a volatile and harsh business. The intuition and judgement which Richard first developed with the Scots Guards in Northern Ireland allowed him to 'sniff the wind' and recognise that future profitability would come from diversification. It's also a measure of his ability to think laterally, an SAS attribute, that Richard could quickly see the link between Iraqi and Afghan security and the infrastructure needed to make a country work. It was a theme that General David Petraeus, architect of US strategy in Iraq and later Afghanistan and the 'Surge', readily understood. It was hard graft though, navigating the twin ravines of internecine politics and greed that have bedevilled those two countries. Richard drew on all his experience and ability to bounce back and come out just ahead, but much the wiser for it all.

I'd now been with Richard over two hours and for some reason I kept thinking of the hit programme Game of Thrones and the character Tywin Lannister, the ruler of Westeros, played by the actor Charles Dance. It was perhaps the way Richard spoke, a mixture of gravitas and youthful enthusiasm.

'Iraq down, Africa up', he said. 'We have three new power plant projects on the go. One in Madagascar, two in Rwanda with a government contract and guarantee, and one we sold in Nigeria. Building the plants is the easy part but that's nothing new. There's the goldmine in Tanzania which is now shooting the lights out. And, of course, there's the cyber security company I've just bought'.

'And the turnover now of the Chelsea Group?' (Hart Security had been renamed to reflect the change of emphasis), I asked. Richard flicked the ash from his cigar and said, 'Close to $500m'.

Such a figure attracts more than its fair share of envy. Richard knows he has his detractors and those he's fallen out with. But he's also made a lot of people a good deal of money. Successful entrepreneurship, tough decisions and envy are uncomfortable bedfellows.

Last year, Richard bought the Leadership Trust in Ross-on-Wye with whom he had worked in the late 80s. 'So, in a sense you've come full circle: leadership, everything you've learnt, to benefit others in an environment where technology, today's complexity and the pace of change can often overlook the importance of leadership.' 'I hadn't thought about it quite like that, we have to make the thing profitable but, yes, it's a subject very close to my heart'.

Lady Westbury came into the room and asked if I might be free for one of her dinner parties. She then expressed her excitement about going to the Scots Guards Presentation of New Colours with Richard the next day. There can't be many 93-year olds planning dinner parties, her zest for life still at full flow. Once again, I saw where Richard got his drive, enthusiasm and generosity of spirit from.

'So what next', I finally asked. Richard lit another Hoyo de Monterrey and said, his eyes narrowing, 'tomorrow, you're only as good as the next day'.
I like to think that people stepping into civilian life will find inspiration in Richard's story and that being an entrepreneur sits easily with time spent in the Household Division, which remains a byword for resilience, and being the best.