More Features
THE WELSH GUARDS IN THE FALKLANDS WAR
THE 40TH ANNIVERSARY OF THE CONFLICT
by Brigadier J F Rickett CBE
formerly Welsh Guards
During early April of 1982, 1st Battalion Welsh Guards, together with 2nd Battalion Scots Guards, were ordered to come under command of the 5th Infantry Brigade in Aldershot for possible deployment to the South Atlantic. The initial Task Force consisting of Royal Navy surface ships, submarines and civilian ships, with the Commando Brigade spread amongst them, was already on its way south. We proceeded on a pretty demanding exercise in and around Sennybridge in South Wales; the weather was idyllic, totally different from what we were to face in the Falklands; complete chalk to cheese as the saying goes.

| | |
| --- | --- |
| Welsh Guardsmen embarking on the QE2, bound for the Falkland Islands, 12th May 1982. The ship was carrying 3,000 troops and 650 volunteer crew | Welsh Guardsmen prior to landing at St Carlos Bay, Falklands Islands, 1982. Left-to-right: Lance Sergeant Crowther, Guardsman Horner and Guardsman Evans 09. Gwyn Evans 09/Welsh Guards United |
After a nail biting pause of three or four days at the completion of this exercise, the decision was made that the Brigade should join the Task Force, which by this time was well south of Ascension Island. What it's role should be one could only speculate; was it to reinforce the Commando Brigade or simply to be a garrison force after the fighting was over? Time would certainly tell, but it was frustrating not to know and we spent countless hours while sailing south planning various possible scenarios. Our send off from Southampton on May 12th aboard the Queen Elizabeth 2 (QE2) was extremely moving with countless people cheering us on our way and the Regimental Band playing in full swing; our departure must have seemed somewhat reminiscent of former days when troops were sent off by ship to far flung corners of the empire!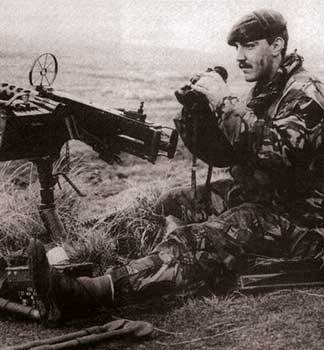 Guardsman R Gill, Heavy Machine Gun Platoon,
Falkland Islands, 1982. Welsh Guards Archives
When we reached South Georgia we trans-shipped to the SS Canberra, as it was considered that the QE2 should not be risked in the event of any long range Argentine air sortie. We landed at San Carlos and dug in about 5 kilometres away, awaiting orders as to what we should do and where we would eventually end up.

After much coming and going and orders and counter orders the Battalion attempted to set off on foot towards Goose Green. As no support vehicles, in the form of tractors, were available to lift our heavy support weapons and the promised snowcats sent to us from HQ 5 Brigade in Darwin had run out of petrol, the move was abandoned; the only light tractor, which we could find at the San Carlos settlement was useless as it repeatedly bogged down. Our mission was to fight, not to carry out any raid and without our mortars, Milan missiles and our heavy Browning machine guns the Battalion would not have been able to serve any useful purpose. Reluctantly we returned from whence we had started and waited patiently for someone to provide proper means of getting us all forward to the battle zone.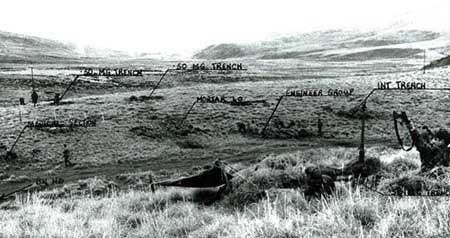 Battalion Headquarters, San Carlos Bay, Falklands Islands, 1982. Welsh Guards Archives
After some 24 hours or so it was decided that we should go round to Bluff Cove by sea and we duly set off on HMS Fearless. When Fearless reached the RV, where two landing craft should have met up with us, there was no sign of them. The decision was made by the HQ staff, who were also on board, that half the Battalion should carry on with Fearless's integral landing craft, while the other half returned to San Carlos to join us the following night.

The leading elements of the Battalion landed at Fitzroy and were ordered to take up positions south of the Commando Brigade, which was up in the mountains to the north. Two days later the remainder of the Battalion arrived, unbeknownst to us, in Fitzroy Sound on board the RFA Sir Galahad. It was full daylight when she arrived and she would have made an ideal target for any Argentine air attack, which duly came after two or three hours. We suffered 38 killed, and 97 who were badly burnt; it was truly a disaster as far as we were concerned and certainly gave the powers that be in London some serious considerations.

In the event the Battalion was reinforced by A and C Companies from 40 Commando, which was guarding the rear of the Commando Brigade at San Carlos from any possible Argentine attack from West Falkland. From then on we were very much involved in the final battles for Stanley, sustaining one soldier killed and four of our Royal Marines wounded in the process. Just as the Argentines surrendered the Battalion took Sapper Hill, the nearest feature to Stanley itself. The war was over but sadly not for us; we took on the duty of garrisoning Port Stanley with the aim of sorting out the appalling debris of the war, together with guarding and transporting the Argentine POWs back to Argentina. It was during this period, before we were all shipped home, that the Battalion sustained still further casualties when a rogue sidewinder missile from a harrier aircraft fell on to the runway at Stanley airport and badly injured 11 of our soldiers, who were in the act of clearing it of snow.

| | |
| --- | --- |
| RFA Sir Galahad on fire, Bluff Cove, following the Argentinian air attack, 8th June 1982. Imperial War Museum | Guardsmen arriving at Bluff Cove following the attack on RFA Sir Galahad, 8th June 1982. Imperial War Museum |
After our return home and a spot of well-earned leave, the Battalion marched through those cities and towns, which have given their freedom to the regiment. This was a very moving experience and the people of Wales truly took us to their hearts. Later in the year a parade was held for us and the Scots Guards in the grounds of Buckingham Palace. HRH the Duke of Edinburgh, together with our Colonel, the Prince of Wales, presented us with our South Atlantic medals. All our wounded soldiers were also able to be there, which was truly fitting. Their Royal Highnesses spent a long time talking to them individually, which was so much appreciated by us all.

Our total casualties during the Falklands War amounted to 39 men killed and 108 who were either badly burnt or wounded, the most that any other unit had sustained. Two Memorials mark the actions of the Battalion; one is situated at Fitzroy in memory of all our soldiers who were killed when the Galahad was bombed in Fitzroy Sound; it also includes the names of three members of the Regiment, who were serving with the SAS at the time. The other is a plaque mounted on a stone plinth at the foot of Sapper Hill to commemorate the capture of Sapper Hill at the time of the Argentine surrender.

A large number of our veterans have returned to the Falklands over the years since the conflict. It has been an emotional experience for them all as they retraced their moves, searching for the positions they had manned and generally breathing in the atmosphere of what they had felt during the fighting. The Falkland Islanders we have met during our many visits have been so helpful and generous in their hospitality. Here we must mention Tim and Jan Miller, Kevin and Hatti Kilmartin and Sheila and Ian Stewart, who have shown infinite kindness to all our veterans on so many occasions. Tim and Jan Miller particularly have gone out of their way for us and have been instrumental in obtaining planning permission and putting up our monument at the base of Sapper Hill. In addition Welsh and Regimental flags always seem to be flying outside their house at the Fitzroy Settlement on St David's Day, when our veterans return at that time of year.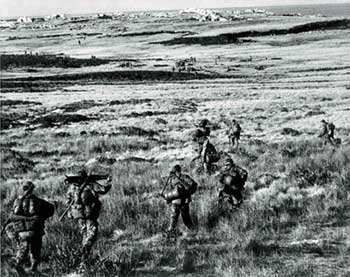 Elements of 1st Battalion Welsh Guards move into position around Mount Harriet, Falklands Islands, 12 June 1982
Imperial War Museum
The South Atlantic Medal Association (SAMA) with its Welsh Branch, SAMA Wales, has been very active and supportive to all the veterans who fought there and has organised countless reunions and commemorations. The Association was largely responsible for the construction of Liberty Lodge in Stanley, where all veterans can stay when they revisit.

The Falklands Families Association was formed after an initial visit to the Falklands by a number of bereaved families soon after the conflict; they meet on a regular basis. The Falklands Chapel was built at Pangbourne College, which was considered a comparatively central place for veterans to come and visit; the annual service of commemoration is always held there in June. Finally, we as a regiment, hold our annual service of remembrance at Wrexham, where there has always been a tremendous turnout of our veterans over the years. 2022, the 40th Anniversary of the war, will certainly be a memorable one.

The Regimental Memorial, Bluff Cove, Falkland Islands. Imperial War Museum