More Features
YUKON 700
8 GRENADIERS WITH 15 EYES, 13 LEGS AND 99 YEARS' SERVICE…
by Lieutenant Colonel Guy Denison-Smith and Captain Ben Stephens
formerly Grenadier Guards
This is the law of the Yukon, and ever she makes it plain,
Send not your foolish and feeble,
Send me your strong and your sane
Robert Service, The Law of the Yukon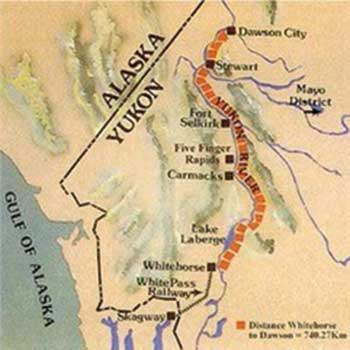 At midday on 8th June 2022, a team of eight Grenadiers set off in open canoes from Whitehorse in the Yukon Territory, Northwest Canada, heading down the R
iver Yukon. The plan was to get to Dawson City, which is located about 740 km north, having paddled the whole way without any support, through one of the world's last great wildernesses. What is remarkable about this adventure is that five members of the team have mental or physical injuries, susta
ined on various operational tours during their service in the Regiment.


The expedition was the brainchild of Major Jon Frith (still serving and the team's only veteran of the Yukon) and Lieutenant Colonel Guy Denison-Smith (who served 1991-2017). It was 18 months in the planning, with the 'sword of Covid' hanging over us throughout; we didn't know until two months out if we could proceed. Then the green light was given and proceed we did; the start date was set for June this year, when usually all Guardsmen are settling down in front of the telly to closely watch and inspect the Trooping the Colour. We didn't have that luxury!
Along with Jon and Guy, the others in the team were Paul Richardson (PTSD; served 1984-95), Captain Ben Stephens (1990-97), Alex Harrison (blindness; 2003-09), Dougie Adams (PTSD; 2005-14), Captain Garth Banks (double amputee; 2009-14) and Tony Checkley (single amputee; 2009-15). We ranged in age from 32 to 58 and, between us, have served on deployments to Northern Ireland, Bosnia, Iraq and Afghanistan, across 99 years of service.

Jon and Guy made up the advance party and left for Whitehorse, via Vancouver, a day before the others to prepare the canoes, purchase final essentials and gather the teams' rations. The remainder arrived a day later, in time to give everyone a chance to test and adjust before getting on the river for a training day, the last opportunity before the big off. The training day saw us getting to grips with our paddles, working out how to manoeuvre our canoes, keeping our balance and practising some much needed 'action-on' drills. Cold water shock (the Yukon is glacial melt water) was experienced during capsize drills. Basic first aid training, action-on bear attack, fire lighting and a few other basic survival skills were also dusted off.  After all, we were heading off into the wilds where the nearest help would be 24 hours away, at best.  Our last evening in civilisation was spent in the aptly named 'Dirty Northern Bastard Bar' in Whitehorse where, on emerging after dinner, we were to discover that the sun never sets this far north in June.

The launch day arrived and last-minute administration and purchases were followed by packing canoes and final kit checks. On the strike of midday, we launched our four, two-man canoes into the current and began the downstream journey North.

| | |
| --- | --- |
| Fort Selkirk. Ben, Alex, Jon, Garth, Guy, Rita, Dougie, Paul, and Tony | The Yukon at Fort Selkirk |

The first two days were hampered by high winds, the odd squall of rain and the seemingly endless Lake Labarge, a 60km long mill-pond. It is a vast expanse of water, bounded by snow-capped mountains that never appear any closer, even after hours of paddling. We began to feel very small in Mother Nature's wilderness.  The distance covered in these early days was limited to 110km but, by the evening of Day Two, we had made it to the northern end of the lake where we were joined by a moose and hordes of mosquitoes. The moose moved on, but the mosquitoes were to become a permanent feature when near or on the riverbank.  This was also the only occasion when we successfully cast a fly, catching a couple of (very) small grayling on a 'little brown job' normally associated with a classic English chalk stream. Thankfully, we had not relied on fishing for our supper!

We woke on Day Three to clear blue skies, but they weren't to last. We set off early, saw our first brown bear and were stalked by an osprey for several kilometres. After a peaceful start to the day, the weather quickly turned.  The wind and the rain attacked relentlessly for several hours. 'Not quite what I signed up for' was muttered more than once. It is safe to say that the conditions were miserable, similar to Sennybridge on a bad day!  We rafted together, hunched up against the elements at the junction of the Teslin and Yukon Rivers. The merging of these two rivers saw water levels rise significantly. The Teslin brought with it higher volumes of water due to the late snow melt further upstream and considerable rainfall. These higher water levels turned the river chocolate brown and sped up the current. It would continue to cause problems for the remainder of the expedition.
| | |
| --- | --- |
| Jon, Ben, Guy | The Millpond - Lake Labarge |
Having completed over 120kms, we established our camp on a small island in the river, safe from bears and without vegetation, so it was nearly mosquito free.  However, we soon realised that the river hadn't finished rising! With the water level steadily increasing, it became apparent that we might be washed away and so we 'stagged on' throughout the night, to ensure that we were not caught out. By 5am it was time to abandon our much-reduced island and to head off, whilst we still had time to pack up the camp first.

Day Four saw us heading for Carmacks, roughly the mid-point of the expedition and the only significant occupied settlement along our route. The river level continued to rise. We reached Carmacks in the late afternoon and grabbed some fresh rations, in the guise of burger and chips! Suffice it to say that it looked far better than it tasted!

After an hour and some quizzical looks from the locals at our able as well as limbless, motley crew, we pushed off into the now very fast flowing Yukon, to search for our next camp further downstream. This was no easy task, as any islands had by then mostly disappeared underwater and the steep riverbanks would make extraction difficult for the able bodied, let alone the limbless.

Day Five saw our four canoes heading for Fort Selkirk, a distance of around 110km, and the meeting point of the Yukon and Pelly River systems. First though we had to contend with Five Finger Rapids. In anticipation the nervous energy across the team was noticeable. Of course, this was also the day that we put the two amputees in the same boat and, with one leg between them both, they took on the rapids first. The remainder would have no excuses if they made it through unscathed, which fortunately they and the three boats that followed all did!  We then headed on towards Fort Selkirk, arriving there in the early evening.

We were warmly welcomed by Rita and her family, all members of the Northern Tutchone people. The Fort had been established in 1848 by Robert Campbell for the Hudson's Bay Company and it housed a detachment of the Royal Canadian Mounted Police until 1952. Since then, Rita and her family have cared for the site alone, maintaining it as it had been left 70 years before.

| | |
| --- | --- |
| The Moose crossing | Lake Labarge |
Leaving Rita proudly flying a Grenadier flag that we had donated to her and wearing one of our caps, we bade farewell the following morning to tackle Day Six. The water level was still rising as we headed for the junction of the Yukon and White River. Along the way, we were joined by a moose who had decided to swim across our path. At this point the river was at least one kilometre wide; so it was a truly sensational sight and the noise it made was also extraordinary. We camped that evening at a place on the map called 'Thistle' finding a navigable exit that some local gold prospectors had forged into the dense forest. Many still search for 'Yukon Gold', hoping to make their fortune. For us the evening passed without incident and we left the following morning, knowing that we had only 200 kms remaining to cover before we would reach our final destination.

However, this was not the time to relax and danger was never far away on our penultimate day. The high and faster water brought with it huge amounts of deadwood and debris flowing downstream; everything from fully grown trees to small logs with much also submerged. This had to be avoided at all costs; we didn't want any damaged canoes. Fortunately, we managed to dodge any major issues. However, that wasn't the end of our troubles as later on we seriously struggled to find somewhere dry to set-up camp. Having already paddled 140 kms, we were forced to consider the prospect of pushing on to Dawson City! Covering a distance of 200 kms in one day wasn't ideal at this stage of the expedition – but if you can't get off the river there isn't another option. Fortunately, with tension mounting at the thought of having to remain alert for much longer and the inevitable paddling, we found a partially hidden landing spot where a logging track met the river. It was the ideal location for our last night in the wilderness.  Bear and moose footprints greeted us, but we were not going anywhere.

| | |
| --- | --- |
| Our last camp 50 kms to Dawson | The team at Thistle |
We woke on our last morning with 50 kms to go to Dawson City and were joined for breakfast by several inquisitive beavers. After packing up our camp for the last time, the canoes were made ready and we headed off, arriving at our destination by midday, feeling tired but elated.  The sense of achievement amongst us was huge. The team had overcome every obstacle together – every man played his critical part.  For the briefest of moments it felt like we were all serving again, working together in a close-knit team, dependant on one another and only ever having to think about food, shelter, survival and the task at hand.  Living under the never setting sun, in a vast, unfamiliar territory with every sense straining to distinguish if the noises of the wilderness were friend or foe, we had come out the other side.  We had taken on Mother Nature and learnt to go with the flow... literally. This was a truly memorable experience for all of us and it shows that, disabled or not, together extraordinary things can be achieved.

We were all truly humbled by the level of support we received from so many and for the generosity shown towards our fundraising attempts.  Thank you.  When all is said and done, we have raised enough to cover all the costs of the expedition and also to make donations of £15,000 to each of our chosen charities: The Colonel's Fund Grenadier Guards, SSAFA, and Combat Stress.