More Features
HIS ROYAL HIGHNESS THE PRINCE PHILIP,
DUKE OF EDINBURGH KG KT OM GBE AC QSO
SOME GRENADIER REFLECTIONS
by Major J P W Gatehouse
formerly Grenadier Guards
In 1974 Major General Sir Allan Adair began discussions with The Queen about when he should give up being Colonel of the Grenadier Guards. Of his illustrious predecessors, only one had neither been a Duke nor an Earl and, apart from The Duke of Wellington, only one other since 1770 had not been a member of the Royal Family.

By then aged 76, the former wartime GOC of the Guards Armoured Division was a very popular and distinguished Grenadier and had already been Colonel for 14 years. Most Colonels of Line Regiments were then appointed for only five years and another important consideration was that HRH Prince Charles was now old enough to succeed his father as Colonel of the Welsh Guards. So, change was agreed and on 1st March 1975 Prince Philip became our 22nd Colonel. He would go on to hold the Colonelcy for 42 years until 1st December 2017, almost the longest period in our history.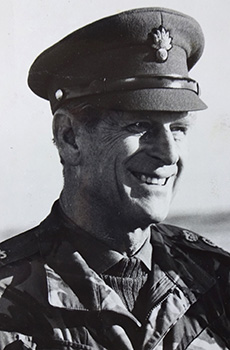 Colonel of the Grenadier Guards 1975-2017
Prince Philip already knew the Regiment well. In April 1942, Princess Elizabeth, on her 16th birthday, had been appointed Colonel, and both before and after the Coronation, Prince Philip had accompanied The Queen on parade and on most of her visits to the Regiment. Within the first few months of his appointment, Prince Philip had visited both battalions, attended Regimental Remembrance Sunday and the First Guards Club dinner, and chaired the Regimental Council, establishing a pattern that would be interrupted only rarely over the following decades.

In June 1975, the 1st Battalion, newly arrived in Chelsea Barracks after three years in Munster, was providing the Escort and No 2 Guard on the Queen's Birthday Parade. Just before this, The Queen and Prince Philip attended a garden party in Ranelagh Gardens, meeting many of the families. Further afield, the Colonel also found time to visit the 2nd Battalion in Hong Kong, settling in to life at Stanley Fort and discovering all that the Far East still had to offer.

Later that summer Prince Philip visited the 1st Battalion again, this time at Knook Camp on the edge of Salisbury Plain, on its first major live firing exercise since Germany. The Guards Magazine reported that 'during his visit The Colonel witnessed some enthusiastic training'. An officer present at the time recalled 'Bernard Gordon Lennox was commanding. I was commanding No 2 Company and was challenged to give The Colonel a "realistic experience of ambush drills". With the whole Company deployed, I used an open top Land Rover which I drove, with him as passenger. I had laid out a series of ambushes and improved realism by adding 1lb primers to the various "bangs areas". Although sitting beside me on the last drive, there was blinding smoke and deafening explosions and I lost sight of him for a second or two. When the smoke cleared, there he was with a big grin on his face and holding a sizeable branch of wood which had landed on him!'

On another visit to the 1st Battalion, then in South Armagh, the Commanding Officer remembered that 'owing to a hitch in the visit programme, aged 78 he ended up climbing up five flights of stairs and a vertical ladder into a sangar to visit the sentry. He loved it! Coming down, I went first to catch him if he slipped in his highland brogues. I wasn't going to have him falling down 6 flights of stairs, taking my career with him!'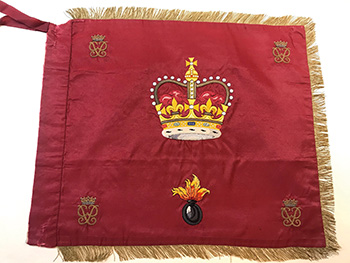 The Colonel's Colour for HRH The Prince Philip, Duke of Edinburgh which hangs in Regimental Headquarters
In January 1991, Grenadiers were about to be heavily involved in front line fighting in the Gulf War. It was a worrying time, particularly for their families left in Munster. 'The Colonel came and sat amongst us', recalled a Grenadier wife, 'he was very good, sympathetic and constructive, not "gung-ho". He laughed and joked and cheered everyone up, a brilliant morale booster. 'He asked one wife what were the worst aspects of the sudden deployment of the husbands to the Gulf. She replied that the wives had all cleaned their ovens thinking they were about to return to London and, now they were remaining in Munster, they didn't want to dirty them again by cooking. So cooking was quite tricky! He thought this was so funny and asked the wives about this saying "Have you cleaned your oven?"'.

Throughout his Colonelcy, Prince Philip kept a very close eye on the Regiment and always found time to know about and help with any problems or issues as they occurred. In the mid-1980s, one Regimental Lieutenant Colonel noted 'I had a difficult and important issue which needed resolution by the Colonel. So, I waited until he had left for New Zealand before writing a letter for him to consider in due course when he returned a week or so later. To my astonishment, within 48 hours, I had his response. It was obvious that my letter had been flown out to New Zealand and that he had dealt with it the moment it arrived. I felt that this demonstrated two of his key characteristics: his very strong commitment to the Regiment and his great personal efficiency, no doubt from his naval days. I learned later that he never went before he had cleared his in-tray'.

Prince Philip continued to ride on the Queen's Birthday Parade until 2003 and then, in the years following, he accompanied Her Majesty in a carriage. In 2012, a week after he was discharged from hospital and looking in good spirits, he accompanied The Queen on the Birthday Parade in the coach which they had first used on their wedding day when they travelled from Westminster Abbey to Buckingham Palace on 20th November 1947. During his time as Colonel, the Grenadiers Trooped their Colour on twelve occasions.

Prince Philip was held in enormous respect and great affection by all who met or knew him. He has left an indelible mark on the Regiment and we are immensely proud of the fact that for 46 years he was a Grenadier.