More Features
RECOLLECTIONS OF HIS ROYAL HIGHNESS THE PRINCE PHILIP,
DUKE OF EDINBURGH KG KT OM GBE AC QSO
Colonel, The Welsh Guards 1953-1975
by Paul de Zulueta
formerly Welsh Guards
On a bleak, bitterly cold February day in 1975, the Welsh Guards, both past and present, said farewell to HRH Prince Philip as Colonel of the Regiment. It was a day of conflicting emotions. There was sadness and regret that, after 22 years as Colonel, Prince Philip was relinquishing his appointment. But there was also a sense of anticipation and excitement that The Prince of Wales would become Colonel. Prince Philip had always made it clear that he was merely keeping the seat warm for his eldest son.

The Regiment would, once again, have a Prince of Wales as Colonel. Edward VIII, as Prince of Wales, had been the Regiment's first Colonel, an appointment he carried out with distinction from 1919 to 1937. The prince's natural empathy and compassion, borne from his experience of the Great War and the loss of many close friends, had made him a popular Colonel. Many regretted, as the prince himself did, that he was no longer able to be Colonel after his abdication.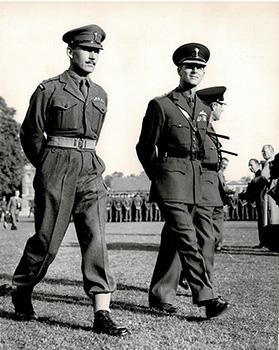 Prince Philip's first engagement with the Regiment: inspecting the Battalion before their deployment to Egypt in September 1953, accompanied by the Commanding Officer, Lieutenant Colonel Archie Noel MC
As the youngest Regiment of Foot Guards, the Welsh Guards had always felt vulnerable. When Prince Philip took up his appointment in 1953, the year of Her Majesty The Queen's Coronation, the Regiment had yet to celebrate its 40th birthday. In 1920, a War Office document had recommended that the Welsh Guards should be disbanded. The report had the full support of the Colonels of the Grenadier, Coldstream, and Scots Guards. It was only after the intervention of a former Major General, Sir Francis Lloyd, a Grenadier of Welsh ancestry and the Prime Minister, the 'Welsh Wizard' Lloyd George, that the plan was scotched. The post Second World War defence review was also a cause for alarm. The appointment of Prince Philip as Colonel gave the Regiment a much-needed sense of reassurance that here was a man who would fight their corner if it ever came to that.

Nonetheless, there was a degree of suspicion, particularly amongst the old guard, on his appointment. This may have been for historical reasons, misguided comments on Prince Philip's German ancestry, or more likely the old antipathies of inter-service rivalry as Prince Philip was an operationally tested Royal Naval officer in his own right. As a naval officer, Prince Philip entertained his own suspicions, particularly when confronted with the old walruses from both world wars. The two Colonels who succeeded Edward VIII were Colonel William Murray-Thriepland DSO, a Grenadier who married a Welsh heiress, and Brigadier the Earl of Gowrie VC, a Highland Light Infantryman who had won his VC in the Sudan. They were two of the Welsh Guards 'Founding Fathers' in 1915 and like most 'converts' were fiercely protective of the Regiment's ethos.

Whatever suspicions were held on both sides, they were quickly dispelled. Prince Philip had seen his share of battle. He understood the demands of service, and he had met and worked with people from every walk of life and background. His personal experience from his own upbringing and his wartime service shaped his relationships with all ranks. He never stood on ceremony and knew that, even in the most carefully choreographed visit to the Regiment, things would go awry.

On a visit to the Battalion in 1962, the atmosphere at lunch in the officers' mess was a little strained. The starter of smoked trout was placed before Prince Philip with the skin still on. Prince Philip looked momentarily alarmed. Seeing the Colonel's puzzled expression, Tony Leatham, the Regimental Lieutenant Colonel, summoned the officers' mess colour sergeant and barked, 'you cannot expect His Royal Highness to eat a goldfish wearing a gas cape'. Prince Philip burst into laughter.

Few people remain who can bear witness to Prince Philip's 22 years as Colonel. His Welsh Guards equerries, however, and their anecdotal recollections, paint a colourful picture of Prince Philip as a man and as the Regiment's Colonel. Without exception, all the equerries felt they had grown in the job. They also grew in admiration for Prince Philip. They were all given just two pieces of advice when taking up the appointment, 'first, don't worry if you're given a rocket for no apparent reason. HRH may well have been irritated by something he's seen, or someone he's met, and you're the only person he can take it out on'. Secondly, and this was advice given by Sergeant George Tribe, Welsh Guards, Prince Philip's valet, 'if you're invited to shoot at Sandringham and you're standing on his right, do not attempt any birds to your left; HRH will account for all of them'.
| | |
| --- | --- |
| St David's Day 1960. The Colonel of the Welsh Guards having a leek pinned to his cap by Captain (QM) A Rees MBE, during the St David's Day celebrations of the 1st Battalion Welsh Guards at Pirbright | Prince Philip playing polo against The Prince of Wales who succeeded him as Colonel of the Welsh Guards |
It may be a commonplace observation that Prince Philip took a great interest in the advance and application of technology, but less apparent was his willingness to tackle those who were reluctant to embrace change. A visit to Lee Enfield in the Royal Small Arms Factory in Essex caused consternation amongst management when he told the Board how they could better use their assembly lines. The managing director was also put on the spot when challenged about the technical specifications of the new L1A1 self-loading rifle adopted by the Army to replace the .303.

Prince Philip's sense of humour, often unintentional, was never far away during his engagements. After a visit to the Battalion training in Wales, Prince Philip as Chancellor of the University of Wales in Cardiff gave an address to the university's students. The students seemed a little comatose until Prince Philip said 'what this country needs is brains'. There was a small cheer from the students. Encouraged by this response and warming to his theme, Prince Philip went on to say, 'and the more brains the better'. The cheers grew louder and louder. It was only later that the university's vice-chancellor told Prince Philip that 'Brains' was South Wales's largest brewery.

What remained in people's minds were the small gestures of kindness: the Welsh Guards wife who was upset that her beloved Jack Russell was to be flown back to the UK in a crate to begin quarantine, only for Prince Philip to offer to take the dog back in his aeroplane and hand it over to the safekeeping of the kennels in the UK; the families' day arranged when Prince Philip visited the Regiment in Munster where he took part willingly, and with good grace, in all the activities, the more knockabout the better; and his memory for names and facts that showed his genuine interest in Welsh Guardsmen, their wives and families.

'He was so down to earth and easy to talk to' was a common remark from all who met him, bringing to mind Rudyard Kipling's famous poem If, and the line of verse, 'to walk with kings nor lose the common touch'.

Those who found themselves travelling with Prince Philip, or in his company, for any length of time, always learnt something new which would challenge their world view. It was a given, because of his position, that Prince Philip would be well informed. Few realised, however, how extraordinarily well read he was. One equerry remembers driving across London with Prince Philip who spoke about the 1956 Clean Air Act and how it would help health, the environment, and people's appreciation of architecture. At the same time, Prince Philip expressed his concern about the fast growth in car ownership and travel, and how that would affect air quality in inner cities. He was a man well ahead of his time.

The extraordinary success of Welsh Guards polo owes a great deal to Prince Philip's leadership and drive. He started the Guards Polo Club in 1956 and regularly played for the Regiment with John Miller who later became the Crown Equerry, Richard Watt, father of General Sir Reddy Watt, Mervyn Fox-Pitt, Bob Sale, and Charles Guthrie, later Field Marshal Lord Guthrie of Craigiebank. Lord Guthrie would recall that if Prince Philip missed a shot, he would exclaim, 'where the hell's Guthrie?'.

Prince Philip was not allowed to play in the Inter-Regimental Cup, though it was suggested at one Army Polo meeting that Colonels of Regiments should be allowed to play. The cavalry regiments who dominated the game in the 50s and 60s thought this was a splendid idea until they fluffed that Prince Philip was a five-goal player. The cavalry 'backed up' pretty quickly, although the Welsh Guards went on to be unbeaten in the Inter-Regimental tournament in the UK between 1976-1991, winning the tournament every time that operations allowed them to enter.

Just seven years after Prince Philip relinquished his appointment as Colonel he was reunited with the Regiment in circumstances which visibly moved him. As Senior Colonel, he presented members of the Battalion with their Falklands medals. Characteristically, he went out of his way to talk to those Guardsmen who had been wounded in the conflict and their families.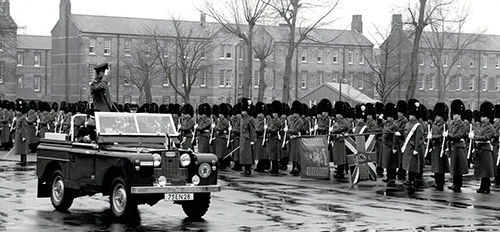 Farewell Parade as Colonel of the Welsh Guards. February 1975
Our final farewell to HRH Prince Philip, Duke of Edinburgh took place at his funeral in Windsor Castle where the Battalion lined the Quadrangle at Windsor Castle. On 5th May, HRH The Prince of Wales, Colonel of the Regiment, visited the Battalion at Combermere Barracks in Windsor where he thanked them for their role in the funeral, telling the Regiment they 'did him proud'. In his 22 years as our Colonel, Welsh Guardsmen, past and present, would simply respond that Prince Philip had done us proud.