Book Reviews
BEARSKINS, BAYONETS AND BODY ARMOUR
Welsh Guards 1915-2015
by Trevor Royale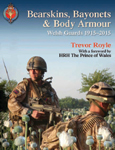 Field Marshal Montgomery once described one of his corps commanders as a 'good plain cook'. Monty meant, in a rather unkind way, that his corps commander had neither the imagination nor the flair to be an army commander. In writing a centenary history of the Welsh Guards, Trevor Royle has avoided the stodge of so many regimental histories by producing an engaging and well written biography of a family regiment. His book's great virtue is that it can be read by anyone who has a connection with the Welsh Guards or has an affection for Wales and its people.

Any organisation, whether a business or a regiment, owes much to its 'Founding Fathers'. The Grenadiers, who had always recruited from Wales, were generous in providing officers, senior non-commissioned officers, and much of the manpower. The officers were certainly not cast-offs, an estate on the Welsh borders was considered a strong enough Welsh connection, but they were a colourful and eclectic bunch. One such officer, Charles Romer-Williams, the Williams part of his surname establishing his Welsh credentials, kept a pack of hounds behind the lines in France, was gassed and narrowly escaped death on two occasions, won the Croix de Guerre, only to lose his life in a gun battle with Chicago gangsters in 1925.

All good regimental history has to have context, both political and strategic, but it soon becomes hard work unless the reader can experience or visualise something close to their own humanity. Trevor Royle, to his credit, doesn't overlabour the 'left flanking, bags of smoke, creeping barrage' side of things and peppers his accounts of battles and campaigns with tales of courage, humanity and Welsh humour. And there is much to amuse: a painting of Welsh Guardsmen enjoying the distractions of a French bordello; a beautifully drawn pen picture of RSM Arthur Rees, heavyweight boxing champion, famous for having a size 8 cap; the story of the Welsh Guards rugby team, 13 times winners of the Army cup; a photograph of a gargling parade at the Tower of London; and for the economic historian, a picture of a subaltern wearing Guard Order, Austerity tunic 1921.

It is as a biography of a family regiment, with all its shared memories and collective remembrance, that Royle does lasting justice to this centenary book. If 1915 saw the birth of the Welsh Guards, then the Second World War marked its coming of age. Much of this was down to the unsurpassable Colonel 'Chicot' Leatham, another former Grenadier who, from his office in Wilton Crescent, and mindful of the principle that 'there are no bad soldiers, just bad officers' selected the officers. 'I know an officer when I see one and I don't need to be told by one of these new-fangled Officer Cadet Training units whether he is any damned good!' Leatham rejected the novelist Evelyn Waugh on the grounds that he was a 'shit and wore suede shoes', but chose the brilliant decorative artist, Rex Whistler, who wrote an illustrated letter of application outlining the military value of his artistic training.

Whistler was no natural warrior but he brought a warmth and humanity to a desperate business. He famously broke strict radio silence whilst the 2nd Battalion was training in Yorkshire for the Normandy Campaign, commenting 'What a beautiful sunrise, the most wonderful I've ever seen, all those blues and golds'. Rex was killed on 1st July 1944, in Normandy.

All families have their fair share of sadness and no more so than during the Falklands Campaign where the Regiment lost 42 men, of which 32 were killed when Argentinian fighters bombed the RFA Sir Galahad. It was, as Trevor Royle writes, 'deeply dispiriting', but he treats the episode sensitively and is right, on balance, to come down on the side of causation: just a lot of unfortunate variables with the end effect of many Welsh Guardsmen being in the wrong place at the wrong time.

The continuing global war on terror has inevitably defined the current generation of Welsh Guardsmen. Trevor Royle describes the intensity of the Regiment's three tours of Afghanistan well, with the second tour in Helmand in 2009 being the bloodiest. The loss of eight men, including the Commanding Officer, Rupert Thorneloe, was hard to bear.

Good leaders should educate as well as lead. Although Royle draws factual portraits of the outstanding Welsh Guards officers, he fails to infer why the Regiment has produced so many winners. Field Marshal Lord Guthrie served under Peter Leuchars and Philip Ward - both later to become generals - and Lt Gen Sir Christopher Drewry and Gen Sir Redmond Watt both served as Charles Guthrie's adjutants. The Regiment currently has two serving generals with a depth of talent at one star and below. It is good to see there are currently 43 Commonwealth soldiers serving with the Regiment, a number of who are Fijian to bolster the rugby team.

Poor proof reading and basic factual errors such as the Regiment's tour to Cyprus 'which lasted from October 1976 to May 1977' (the Regiment was in fact in Caterham before deploying to Berlin in January 1977) along with some haphazard positioning of photographs out of sequence were avoidable, though understandable, with a centenary book committee of 12 people.

Trevor Royle wrote in his preface that he followed the advice, given by Rudyard Kipling in the introduction to his remarkable book 'The Irish Guards in the Great War', to tell the story 'soberly and with what truth is possible'. Trevor has done this, and much more, in writing a centenary history of a regiment which, like the Welsh rugby team on its day, could carry all before it.

- Paul de Zulueta

Bearskins, Bayonets and Body Armour, by Trevor Royale, is published by Pen & Sword and is available at a special discounted price of £15 + p&p at: www.pen-and-sword.co.uk/welshguards or 01226 734 222 (quoting Welsh Guards Early Bird Orders). You can also download a PDF order form here.