Book Reviews
THE AGONY OF BELGIUM
THE INVASION OF BELGIUM; AUGUST-DECEMBER 1914
by Major Frank Fox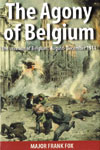 Frank Fox was an Australian born in 1874. A journalist from the age of 18, he came to London in 1909, where he was soon warning of a European war. He covered the Balkan War as a war correspondent on the staff of the Morning Post, and in August 1914 was sent to Belgium to cover the German invasion. This remarkable little book, published in 1915, was the product: a contemporary account of the bravery and suffering of the Belgian population and the Belgian Army, and the stoicism of King Albert.

Although the newspapers at the time made much of the ghastliness and brutality of the Germans, to the extent that this was later regarded as shameless propaganda, there can be no doubt that the Germans were responsible for some terrible atrocities in Belgium. It is one of the tragic features of war that invading armies, however rapid and successful their advances are, tend to attack populations with unnecessary ferociousness. The Germans, with all their sense of discipline and order behaved this way in 1914, and did the same in 1940. Twice in the same century, Belgium suffered greatly before this small country was quietly forgotten as the battle moved on.

The Agony of Belgium is good reportage and written by one who was there. So much of the First World War was about the trenches, no man's land, and the big offensives, so it is perhaps not surprising that later generations assume that this is how it was. This short book, written just over a century ago, proves that this was not the case. Dr Charles Goodson-Wickes, formerly The Life Guards and Frank Fox's great grandson, has done today's readers a great service by re-publishing this excellent account of an aspect of the First World War that could so easily be forgotten.
G.H.Q.
(Montreuil-sur-Mer)
by Sir Frank Fox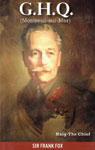 Following Frank Fox's time in Belgium, witnessing the German invasion and writing The Agony of Belgium, he was keen to get into uniform with a combatant role. In those opening months of the war he had seen the German Army through a very different prism, and what he saw must have had a profound effect on him. Commissioned into the British Army at the age of 41, he was back in France by December 1914. He suffered severe injuries during the Battle of the Somme, and spent a year recovering in hospital back in England. Yet still, he wanted to be back to the front, and succeeded in getting himself a job at Haig's HQ at Montreuil-sur-Mer. As Dr Goodson-Wickes describes in his foreword 'he must have cut a curious figure on crutches having lost part of his right foot, and having a withered left arm. His profound deafness cannot have added to the overall impression'.

Montreuil-sur-Mer is a charming walled town that is not exactly 'on the sea' because its estuary silted up many years ago. GHQ moved to Montreuil in March 1916, and given its strategic role and important link to the War Office in London, there can be little doubt that its location made perfect sense, despite the occasional swipe delivered by polemic historians of another era. GHQ's web of communications stretched out and along the Western Front, and the scope of its responsibilities were truly vast. Frank Fox's account of GHQ provides a vivid picture of what it must have been like here, and it was certainly not an easy life. Staff officers routinely worked late into the night, weekends really did not exist, leave was intermittent, and those who worked here would have suffered from that additional sense of guilt about being away from the real action.

There are many stereotypes about Headquarters in the First World War, not helped by Oh What a Lovely War and Blackadder. For a considerably more balanced insight into GHQ and its workings, Frank Fox's book has filled another important gap.

The Editor

The Agony of Belgium and GHQ are published by Beaumont Fox and are available to purchase via http://sirfrankfox.com/author-books/