Book Reviews
SALUTE ME WHEN YOU SEE ME!
by Michael Fass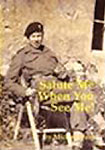 When, in 2002, a memorial was unveiled in the Guards' Chapel, Michael Fass overheard a stage-whispered question: 'who is John Fass'? Michael, his son, has answered this in his privately published Salute Me When You See Me! subtitled 'An Affectionate Portrait by his Son of the Father He Never Knew'. Michael was born on 22nd June 1944 while his father, Johnny, crossed to Normandy with 1st Battalion Welsh Guards. While digging in at Cheux on 29th June, West of Caen in Normandy, during Operation EPSOM, mortar or shellfire wounded the Battalion's Commanding Officer, Second in Command and several others, and Fass became Commanding Officer. Twenty-four hours later, this accomplished Regular Officer was also killed by mortar-fire, aged 33: tragically, Johnny Fass never saw his son.

Fass had, however, had an interesting career and a 'good war' from 1939 to 1944. Commissioned into the Royal Berkshire Regiment in 1931, he served with them in Palestine before instructing at the Royal Military College Sandhurst. He transferred to the Welsh Guards in October 1939 when new Footguards Battalions were being raised, and found himself commanding a company in the Welsh Guards Training Battalion. Johnny Fass proved a natural trainer of War Emergency servicemen as well as Regulars, but he was posted to Staff College as a student in 1941, to the dismay of some Regimental officers. He emerged from Camberley with an appointment as Brigade Major 225th Infantry Brigade, defending the Northumberland coast but, after six months moved to become Brigade Major 33rd Independent (Guards) Brigade protecting North West London before being posted to Headquarters VIII Corps in Taunton as GSO2 Operations: he clearly 'made his name' in these appointments.

When the Anglo-American Chiefs of Staff Supreme Allied Commander (COSSAC) organisation was created to plan the long-awaited Second Front in Europe and set up Headquarters in Norfolk House, St James's Square, in May 1943, General Grasett (GOC VIII Corps) contrived Major Fass's posting as GSO1 Operations and Intelligence Liaison Staff, a key post. Acting Lieutenant Colonel Fass was in his element planning Operation OVERLORD but General Montgomery's arrival from Italy in January 1944 as Commander 21st Army Group meant that many in COSSAC were abruptly displaced by his experienced staff officers; Colonel Fass was sent to prepare the Poles for their part of the battle. Anxious to see action, in May 1944 Johnny Fass reverted to Major and took command of a rifle company in 1st Battalion Welsh Guards in their pre-invasion concentration area near Eastbourne.

Salute Me... should explain to the current generation of Fasses the achievements of a personable and capable soldier who was devoted to his wife Lisa: the War dominated their attempts at family life. Guardsmen and historians will also find aspects of historical interest here, the first of which includes the fine prose of David Niven and John Masters describing the Royal Military College Sandhurst and the Army in the 1930s, quoted from The Moon's a Balloon (published 1971) and Bugles and a Tiger (1956) both of which deserve re-reading, or discovering anew. Salute Me... also offers anecdotal descriptions of the desperate efforts made from 1939-43 to recruit soldiers, train them and generate new battalions and brigades that could be committed to battle against experienced German formations, with the contemporary comments of an intelligent Regular Officer on these endeavours.

This book is an enjoyable read, but transcription errors in quotations, typos and occasional howlers appear: the General Strike occurred in 1926 not 1931. The 6th Battalion Coldstream Guards existed from October 1941 until October 1943, and so did not serve in Normandy. Moreover, the author unfortunately 'quotes' Major Tim Sainthill of 3rd Coldstream stating 'The Coldstream Guards never surrender' at Tobruk (June 1942). Careful research into this incident in 1999 suggested that Major Sainthill's reply was that 'surrender is not an operation the Battalion has practised in peacetime and we do not intend to start now' or very similar words. The comment above about the value of editorial advice applies to this volume (as well as to the others under review).

Michael Fass's sketch of his father's life and achievements as a commander and staff officer will interest Guardsmen as well as the family. Johnny Fass lies in St Manvieu CWGC and has fine memorials elsewhere, but this volume should ensure that his name, charm, and soldierly virtues 'liveth for evermore'.

Hugh Boscawen

Salute Me When You See Me!, by Michael Fass, 204 pages and illustrations, published privately, is available from the author at The Coach House, Old Gore, Ross-on-Wye, HR9 7QT. Cheques for £12.99 (includes P+P) payable to 'M Fass', please.