Book Reviews
TUNISIA 1942-1943:
THE SECOND BATTALION COLDSTREAM GUARDS
by Adam Robson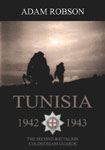 In November 1942, 2nd Battalion Coldstream Guards (in 1st Guards Brigade) landed at Algiers as part of Op TORCH, the Allied operation designed to seize Tunisia and the Afrika Corps' supply bases. Generals Nehring and von Arnim quickly blocked the routes to Tunis, however. 1st (British) Army, with American and French elements, then found themselves committed to nearly seven months of hard winter and spring fighting on rocky hills and in scrub and desert before Tunis itself was taken, and Cape Bon (North of the city) along with the capitulation of the Axis forces in Africa were secured on 12th May 1943.

Although five Coldstream battle honours (Longstop Hill 1942 - a double battle over Christmas - Sbiba, Steamroller Farm, Hamman Lif, and the blazon 'TUNIS' on the Colours) were gained in this campaign, many in the 2nd Battalion then, along with other '1st Army Djebel Veterans', felt somewhat eclipsed by those who fought the better-known battles in the Western Desert, in Italy (2nd Coldstream landed at Naples in February 1944) and North West Europe. Adam Robson has now (privately) published Tunisia 1942-1943: the Second Battalion Coldstream Guards which covers preparation for the campaign, operations that were planned but not executed and those that were, and the manoeuvre and hard fighting that eventually led to the German defeat. The author covers subsequent events: the Battalion trained, guarded Churchill, and remotely followed Allied progress in Sicily and Italy while anticipating involvement in that theatre before long. An immense amount of research has gone into this weighty volume, which runs to 717 pages overall: the author's Grandfather, Guardsman Douglas Robson served in the Battalion from late-1943.

The author provides a very full account, drawn from operation orders, War Diaries, the Battalion news-sheet ('Medjez Mail') personal journals, letters and memoirs as well as Regimental Histories, supported by numerous photographs (some taken recently). He explores related issues (e.g. equipment, doctrine, mapping) and balances his account with German perspectives. Adam Robson adds analysis and views about various failures on occasions.
The strength of Tunisia 1942-1943 is that it collects many primary sources into one volume, albeit a seriously large one, and puts the events experienced by individual platoons and companies in one battalion in a wider context. It complements Coldstream accounts with official and personal descriptions of actions by other regiments and formations, British, Allied and German. The research is prodigious and impressive: this book has clearly been assembled as a labour of love. The photographs and sketch-maps support the text well. Those interested in following the actions of forbears in Tunisia, or researching a campaign from which British and American troops learned vital lessons which later helped them defeat German forces in continental Europe, will find much of value here.

The limitations of this privately published volume lie in the plethora of detail in the 675 pages of text: accounts of the battles are in danger of being swamped by detail. Second to None: the Coldstream Guards, 1650-2000 (Pen and Sword; 2000) covered the Tunisian campaign in a few pages, but benefited from interviews and comments by non-officer veteran Coldstreamers, including Lance Sergeant Joe Nixon, who complemented the accounts of Lance Corporal John Elliott and Guardsman Bill Fitness: this testimony has not been included.

Dr Robson's book should interest the families of those who fought in 2nd Coldstream in Tunisia nearly 75 years ago, and offer historians studying both the Coldstream Guards and the campaign a compendium of accounts and documents, personal and official, relating to a small number of battalions in that campaign as well as general material. Readers (descendants at least) may, however, wish for a short executive summary perhaps, to guide them to information of interest to them, and to help them in their own research, capitalising on the wealth of detail offered in Tunisia 1942-1943.

Hugh Boscawen

Tunisia 1942-1943: The Second Battalion Coldstream Guards, by Adam Robson, 717 pages with maps and illustrations, published privately, is available in hardback format from the author at 4, Jupiter Court, 36, Holden Road, London, N12 7DN and from Amazon, £32.99.