Book Reviews
RUGBEIANS IN THE GREAT WAR
by Daniel J McLean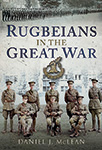 The famous quote 'The battle of Waterloo was won on the playing fields of Eton' is often ascribed to The Duke of Wellington, and while the actual quote may have been more prosaic, it could well be that the Iron Duke was referring not just to one school, but the whole public school ethos that underpinned the British Army's officer class for the last two centuries.

There were many Etonians who served in the Guards in the First World War, and many before and after that war. But not all Guards officers go to Eton; indeed, three of our most distinguished, two who served in both world wars (FM Gort and FM Alexander), and one who is today's senior Guardsman (FM Guthrie), were at Eton's arch rival: Harrow! So it's good, occasionally, to look beyond the gilded playing fields of just one famous school.

Rugbeians in the Great War, by Daniel J McLean, a former naval officer who was Head of Theology and Philosophy at Rugby School, and now a housemaster at Downside School, is very much about those former pupils of Rugby who served rather than about the school itself. For the record, 687 Old Rugbeians (including 12 Guardsmen) were killed in the First World War, a shocking number given the size of the school at the turn of the 20th century: some 570 pupils.

Many more Rugbeians served during the war. Included in this book, are short pen-pictures of some who were killed and some who thankfully survived. Those identified in the book, from the world of the arts, politics, religion, the military, and sport, all deserve to be remembered for their achievements, as indeed do the five holders of the Victoria Cross, who have their own chapter. There is also a comprehensive list of all Rugbeians killed during the war, and also a list of all general officers who served during the war.

Rupert Brooke was a Rugbeian, and the school was part of his life. When his father, a housemaster at Rugby, was dying in early 1910, Rupert returned from Cambridge to be with him, and was then asked to take over his father's house for a term. He found that being a housemaster was 'in a way [a] pleasant' experience, and it proved to be a cathartic one, since he was briefly back in his family home, doing a job his father had done before him for many years. It was a sad day when he left, while in other ways it was time to move on. 'I wept copiously last week in saying good-by to the three and fifty little boys whose Faith and Morals I had upheld for ten weeks' … but ….'I am glad I am not going to be a schoolmaster for ever. The tragedy would be too great'. He joined up immediately in August 1914, in the Royal Naval Division, and briefly saw service around Antwerp before sailing for Gallipoli in late February 1915. He was excited, but as his letter to Violet Asquith reveals, his feelings are subtly different to those that are so often quoted by writers (including this reviewer). So much so, that this passage deserves to be quoted in full: 'I've never been quite so happy in my life, I think. Not quite so perversely happy, like a stream flowing entirely to one end. I suddenly realise that the ambition of my life has been – since the age of two – to go on a military expedition against Constantinople. And when I thought I was hungry or sleepy or aching to write a poem – that is what I really, blindly wanted. This is nonsense. Good-night. I'm very tired with equipping my platoon'. Brooke never saw Gallipoli or Constantinople; he died of acute blood poisoning on a French hospital ship and was buried on the Aegean island of Skyros, just a few days before the Gallipoli landings in April 1915.

Maurice Hankey and Ernest Swinton, both Rugbeians, each had roles in the First World War that were to prove more important than the personal sacrifice of most who died on the Western Front or elsewhere. Maurice, who had served in the Royal Marine Artillery in the closing years of the 19th century, later became the assistant secretary of the Committee of Imperial Defence and, on the outbreak of war, the Secretary to the War Council. His advice was invariably sound although not always followed: he was almost certainly right about Gallipoli; it might even have succeeded if Asquith and Kitchener had listened to him. By 1916 he had become, in effect, the Cabinet Secretary, a position he was to hold until his retirement in 1938. Before Hankey, Cabinet minutes were not taken and did not exist, nor did agendas. Hankey 'forged the shape of modern cabinet government' by laying down very clear and sensible guidelines. For example, his dictum that 'individual opinions should not be recorded unless they were expressed by an expert on the subject matter'. One wonders to what extent that rule exists over a century on?!

Ernest Swinton must surely take the credit for identifying, in October 1914, the need for an armoured vehicle 'in the form of a power-driven, bullet-proof, armed engine, capable of destroying machine guns, of crossing country and trenches, of breaking through entanglements and of climbing earthworks'. Kitchener dismissed the idea, but Swinton, with the help of Hankey and Churchill pursued it, and eventually the tank was born, seeing service for the first time, on the Somme, in September 1916.

There were a number of distinguished academics from Rugby who served during the war. R H Tawney, an economic historian and author of the seminal Religion and the Rise of Capitalism (1926), was a sergeant in the Manchester Regiment, having refused a commission on the grounds of his political beliefs. Charles Cruttwell, a history lecturer at Oxford in 1914, applied for a commission on the outbreak of war, and served on the Western Front in 1915-16. The war had left a mental scar, but it was possibly the long-running vendetta orchestrated against him by Evelyn Waugh in the 1920s and 30s that tipped him over the edge. It began in 1922, when Waugh arrived at Hertford College, Oxford, where Cruttwell was to be his tutor. All of this sad story reflects extremely badly on Waugh, who conducted a spiteful campaign against Cruttwell, which included using his surname in many of his novels, invariably assigned to unpleasant or unsavoury characters, like Toby Cruttwell, the psychopathic burglar in Decline and Fall, and General Cruttwell, who appeared as the fake-tanned salesman in the Army & Navy Stores in Scoop (there were at least five other mischievous uses of the surname). Waugh's attacks finally ended in 1939, the year that Charles Cruttwell stood down as President of Hertford College. Shortly after, he was confined to a mental hospital, and died in 1941, aged 53. It appears that Waugh never expressed any remorse for his treatment of his old Oxford tutor, indeed he is quoted as saying 'one must have someone to persecute', and in his case it was Cruttwell, a fine academic and historian.

In a book of some 25 vignettes of Rugbeians there has been, inevitably, omissions that perhaps should have been included. For example, General Sir Ivor Maxse, who is at least listed in an appendix but surely deserves a page or two? Ivor Maxse, Coldstream Guards, was a divisional and later a corps commander during the First World War. At the Battle of the Somme, he commanded one of Kitchener's New Army divisions, consisting mostly of citizen soldiers. Maxse's approach was to encourage his junior commanders to exercise initiative and independence of mind, underpinned by thorough training and preparation and the adherence to well-practised procedures. He understood that 'drilling for initiative' helped commanders to see how they could contribute to success rather than blindly following orders that had been overtaken by events. He inspired what were later to become known as 'Battle Drills', a cornerstone of the British Army's approach to warfare. He deserves to be remembered as one of the most outstanding commanders of the First World War.

Rugbeians in the Great War is a testimony to the generation of Rugbeians who served in the First World War and those who had important roles at home. 3,252 Rugbeians served in the war; 21% of them were to die, and most of them were young men, with notably one exception, Lieutenant Colonel Jasper Richardson, the oldest soldier to be killed in the war, at very nearly 69 years of age. While the book is not an entirely even read, since it consists of short and separate pieces on just a few of the more prominent Rugbeians who served during the First World War, there is much of interest here. It is a reminder of the extraordinary contribution of just one medium-sized English public school, where the concept of service and sacrifice was so fundamental to its philosophy, and remains so to this day.
The Editor
Pen & Sword