Book Reviews
CRICKET IN THE SECOND WORLD WAR: THE GRIM TEST
by John Broom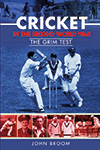 'It's not that cricket reflects life', exclaimed a colleague to me once, 'life reflects cricket'.

There was something behind the quip that tells of the reverential dedication associated with the game. With its unique mixture of team and individual endeavour, its drawn-out ebbs and flows, its appeal across social class and nationality, it would indeed seem of all games both to mirror life and somehow be mirrored by it too.

John Broom has, over the past seven years, deployed his impressive research and authorial skills in the writing of no fewer than six books, all but one of which (about cigarette cards of all things) relate to one of the two world wars. If there is a common thread in his work, it is perhaps the more detailed, human, individualistic and emotional aspects which he has sought to shine a light upon. He is clearly someone of great empathy. He has devoted books to 'voices of faith' in the wars, as well as to a study of conscientious objection and resistance, and a history of the RAMC. This book is dedicated to the 'noble…men and women' who kept cricket's spirit alive in the grievous and sacrificial years of 1939 to 1945.

Broom establishes that, as the shadow of war lengthened in the later 1930s, team sport was seen as entirely fitting for a nation galvanising itself for the supreme efforts which were about to be made. Cricket in particular was encouraged: it provided for refreshment, recreation, and physical and mental fitness. It encouraged team spirit. Cricket pitches and white flannels, whether on a village club green, or at Lord's or Old Trafford, embodied a sense of calm normality. Players and spectators held a feeling of defying Hitler simply by carrying on with a game that, in its essence, with its conventions of sportsmanship and courtesy, was the absolute opposite of the strident inhumanity of continental Fascism.

The Household Division has of course a long and distinguished involvement and association with the game, its home ground, Burton's Court, being the setting each year for so many fine matches. As might be expected, the book has a number of references to Household Division sides and individuals, including to a game at Lord's between 1st Battalion Scots Guards and 903 Squadron Balloon Barrage - though sadly no result of this match is recorded! There is a telling record of a young Coldstream officer, J F Boughey, who had captained Eton College a few years earlier. In early May 1940, just before the devastating shocks of the German advance across Belgium and Northern France, he played in a services match at Lewes, amidst the rumble of armoured formations hurriedly moving to the coast. It was to be his final game. He would shortly be lost in the Channel when his vessel was struck by a mine. This young Guards officer was a poet too: page 35 gives the sonnet he had written shortly beforehand, which seems to be a premonition of his impending death. It is most moving.

Many readers of this magazine will be aware of the tragic loss of life and damage caused on 18th June 1944, when the Guards' Chapel was hit by a V-1 rocket. There were 121 fatalities on that dreadful day; the rocket struck whilst a service was in progress. The cricketing distinction of two of them is recorded here: George Kemp-Welch, a Grenadier, who had played for Cambridge University and Warwickshire, and Lieutenant Harold Dod, Scots Guards, a fine Lincolnshire batsman.

The book contains some superb photographs, and, naturally, many cigarette card pictures too! These show many of the great players of the era, undertaking their military duties as well as playing as much cricket as their commanding officers could allow, almost always to very large crowds, with match receipts often devoted to service charities. There are wartime cricket scenes too: my own favourite is the picture on page 166 of a cricket net in the middle of Stalag VIIIB, the prisoner-of-war camp at Lamsdorf in Germany. Another is a remarkable scene of Australian soldiers who had set up a pitch in the ruins of Tobruk. There is a further Household Division link in a fine portrait of Major Maurice Turnbull, Welsh Guards, who lost his life during the Normandy campaign. He had been an England test cricketer, and captain of Glamorgan.

Broom has given his book a chronological structure, its chapters covering each year from 1939 until 1946. He has sought to examine every level of the game in Britain, as well as to encompass wartime cricketing life across the world. He includes services games in the Middle East (Archibald Wavell was a keen and effective player) and among prisoners after the fall of Singapore (including E W Swanton, who would become such an illustrious cricket writer and commentator). One can thus get a feel for the enormity of the task the author set himself: he has conducted wide-ranging research, using an extensive bibliography of cricket historical and biographical books, as well as newspaper and magazine reports, and club and services records.

Amidst the remarkable details of the endeavours of clubs all over the world, some fascinating aspects of wartime life emerge. One is the sheer boundless enthusiasm for the game shown by so many. Women's cricket thrived. Northern clubs showed the same gritty determination and seriousness by which they are still of course known today. Broom draws an interesting comparison with southern clubs, where it seems they tended to have a more, dare one say, laid-back approach, where stylishness and flair were seen as of a higher order than the striving for actual results. The classic Gower versus Gooch conundrum, or, earlier, Compton versus Hammond.

John Broom has given us much here. Amidst the impressive details, stories of great sporting endeavours shine through. One comes away with a great respect and affection for the way in which players at all levels, in Britain and around the cricketing world, just kept on going as much as possible with the game they loved. This book is an important portrait of the way in which, during those momentous years, cricket, with such fortitude and purpose, successfully re-moulded itself and blended into wartime life.
Nicholas Clements
Pen & Sword