Book Reviews
WALES' UNKNOWN HERO: SOLDIER, SPY, MONK
The Life of Henry Coombe-Tennant MC of Neath
by Bernard Lewis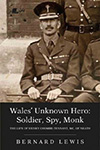 Most mothers have high expectations of their children, but few entertain the idea that a son will be 'The New Messiah'. Winifred Coombe-Tennant's hopes for her son, Henry, were never realised yet he went on to lead a life of extraordinary variety, courage, and palpable goodness.

Henry's experiences were not unusual for their time, but hard to imagine today. Henry was a Cambridge scholar, Welsh Guards officer, prisoner of war, escapee, MI6 agent, finally ending his days as a Benedictine monk. Blessed with good looks, a fine intellect and an independent purse, Henry could have chosen an agreeable life with little to trouble him. He chose instead the 'road less travelled.' Bernard Lewis has written an engaging biography of a man of great gifts which is of both historical and personal value to the reader.

Henry's mother, Winifred, lost her first two children. Her eldest son was killed in action serving with the Welsh Guards at Ypres in 1917; her daughter, Daphne, at the age of 18 months from pneumonia. Winifred turned to the services of a psychic medium to contact the spirits of her lost children. Winifred got into her head that if she were to have another child, the infant would grow up to become 'The New Messiah.'

Curiously, she did not choose her husband, Charles Coombe-Tennant to be the biological father but Gerald Balfour, the brother of the British Prime Minister, Arthur Balfour. She reputedly found him 'intensely attractive with a beautiful voice and the profile of a Greek God.'

Henry Coombe-Tennant's early years were carefree. The Coombe-Tennants were wealthy landowners and rich from their holdings in the Tennant Canal, transporting coal to the South Wales docks. Despite his gift for music, there were few early signs, however, of any 'new messiah' emerging until Henry came into his own at Cambridge where he took a double first in Moral Sciences. A life of attainment lay at his feet.

It was 1935 and Europe was filled with uncertainty. Henry was also drawn by the sacrifice of his elder brother in the Great War. After some soul searching, Henry chose to join the Welsh Guards, a Regiment only just embarking on its third decade but filled with officers of charm and character whose names still echo today: Billy Fox-Pitt, Jim Windsor-Lewis, Cyril Heber-Percy, Merton Beckwith-Smith, and Sammy Stanier.

At the war's outbreak, Henry was in the 2nd Battalion, part of 20th Guards Brigade tasked with the defence of Boulogne against the German blitzkrieg. He was captured and entered the prisoner-of-war camp at Laufen on 13th June 1940. Conditions were harsh, but two years later Henry's mother, Winifred, received a letter where he wrote, 'I have got myself more or less sorted and an inner peace and true balance that I have not hitherto known'. It was the first indication of his spiritual awakening.

This didn't prevent Henry attempting to escape and, after an ingenious plan cooked up by his fellow POWs, Henry was on the run. Escapes through occupied Europe were nothing but nerve-wracking. The author has researched this meticulously and tells the story of Henry's escape, eventually to Gibraltar, particularly well. Henry was awarded the Military Cross for his exploits.

Henry's war was far from over. Given Henry's character, temperament, and experience, he was an obvious choice for the Special Operations Executive (SOE) to set, in Churchill's colourful phrase, 'Europe Ablaze'. Just two months after D-Day, Henry parachuted into France with his team to link up with the French resistance. The mission, codenamed 'Citronelle', was the usual haphazard and frustrating affair. Once again, the author vividly narrates the sense of place and atmosphere. Henry's humanity becomes apparent when, just before a planned attack, he spots a truck with wounded German soldiers under the care of nurses. He calls the attack off although the decision is taken out of his hands by a trigger-happy resistance fighter.

Henry's war ended with the advance on Germany and his return to the Welsh Guards. The fighting was bitter as the Welsh Guards found themselves in the thick of it against a German army still determined to exact a heavy price. This account of the last six months account of the war, indeed with much of the biography, is a result of the author's research. Henry did not keep a war diary or much of a record. This is a pity as primary sources are what makes a biography resonate with the reader.

The war may have ended but Britain's worldwide commitments were still onerous and complex. The Regiment deployed to Palestine as peacekeepers between the Jews and Arabs. Henry, hitherto an agnostic, remarked in a letter to his mother, 'That if a man has not found himself he must lose and find himself anew, to be born again'. It was the first indication of his future calling to God.

With the ending of the British Mandate in Palestine in 1948, Henry began 'special employment' in the War Office until his retirement from the Army in 1956. Understandably, his personal diaries from this time reveal little.

Predictably, after his 'special employment' in the War Office, Henry joined MI6. A colleague wrote of him, 'He was a very private person and never spoke about his personal life, enigmatic but in the nicest possible way'.

Henry's posting to Baghdad irrevocably changed his life. We shall never know what happened there. As Henry wrote, 'Six years ago in Baghdad I became involved in a sequence of events and experiences whose significance seemed to me to transcend their actual content.....I don't want to be questioned about these events and experiences'.

Henry turned to the Catholic Church who, in Henry's words, 'seemed to know her own mind'. Not one for half measures, Henry became a Benedictine monk at Downside Abbey. Henry's life was largely one of contemplative solitude though he married and christened many of his Welsh Guards friends and their families, including the three Worrall girls (a Coldstream family) who all married Welsh Guards officers.

Henry died on 6th November 1989 while reciting prayers. He had been a Benedictine monk for thirty years. Like his mother, Winifred, he believed in the existence of an afterlife and that we are all spiritual beings, blessed for a brief time with a human existence. Henry never became, as his mother had hoped, 'The New Messiah' but his life was a true example of the best of Christian values.
Paul de Zulueta
Y Lolfa