HUMOUR? YOU MUST BE JOKING
and
LAUGHTER; THE BEST MEDICINE
by Tom Clifford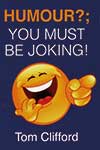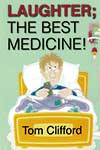 Tom Clifford, formerly Coldstream Guards, has compiled these two rather amusing and cheeky joke booklets, the only problem being that few, if any, of the jokes could be easily quoted in the pages of this magazine! They touch on pretty well all the subjects that in this 'p-c' compliant world we are encouraged to avoid - perfect for a rowdy party but not elsewhere. Many of them start innocuously: 'The bee sting', 'Air Traffic Control', 'Cheap Mercedes', 'Medical Advancements', etc., etc., but the punchlines are considerably less printable.
But now to the important bit. Tom Clifford is selling these booklets at £15 each, with all proceeds going to SSAFA, the Army Benevolent Fund, Blind Veterans, and Sense (Deafblind and Rubella Charity).  Humour?; You Must Be Joking! is in reasonably plentiful supply, however Laughter; The Best Medicine! is heading rapidly to being a rarity. So, order early for Christmas! And with a little encouragement, Tom is contemplating a third volume.
The Editor
Copies are available from Tom Clifford at: cabal@ugbrookestables.co.uk