Book Reviews
A Trilogy of Memoirs:
Albanian Assignment; Irregular Regular; Arabian Assignment
by David Smiley
'We read to know we are not alone'. CS Lewis's words have become an apt slogan for these bewildering times as we seek comfort in the pleasures of reading a good book. David Smiley's three memoirs are the perfect antidote to the longueurs of the pandemic.

David Smiley, who died in 2009 aged 92, commanded The Blues after the war. It was his wartime service in the Special Operations Executive (SOE) however, that enthralls the imagination as David met Churchill's dictum that irregular forces should 'Set Europe Ablaze'. David's obituary in the Telegraph suggested he was Ian Fleming's model for James Bond. Certainly, he was well qualified for such a title role having conducted operations behind enemy lines in Albania, Greece, Abyssinia, Japanese-controlled East Thailand, Poland and Yemen. David still had time to represent Kenya in the Commonwealth Winter Games, a rather fantastical leap of faith reminiscent of the Jamaican bobsleigh team immortalised in the film, Cool Runnings.

David Smiley was commissioned in The Blues in 1936 but along with his great friend and fellow saboteur, Billy McLean, decided they wanted to see 'as much action as possible with like-minded lunatics'. McLean's phrase does not do justice to their professionalism. They were tough but learnt their trade as irregular soldiers, becoming experts in explosives, sabotage, languages and looking after themselves in conditions that were often extreme.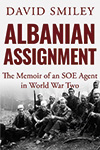 David's first memoir, Albanian Assignment, might seem a backwater in the war's overall scheme of things. But the Nazis had 30 divisions in the Balkans, Europe's 'Soft underbelly', a phrase attributed to Churchill, but which had Hitler flapping over his southern flank. Mayhem in the Balkans would tie down those 30 divisions which could easily have been redeployed to Russia or Normandy.

What is so compelling about David Smiley's memoirs is his sense of place and people. The initial parachute drop into Greece, the link up with the partisans, the extraordinary history and customs of Albania, successes, failures and the trials of supply, all of these David paints with unerring colour and detail. He even persuades Cairo HQ that copies of Tatler, Horse and Hound, and goodies from Fortnum and Mason, were essential to the overall mission's success.

Ambushes, mainly targeted against the Italians, were planned for days that struck a chord in any English gentleman's diary: August 12th, 'Let's bag some grouse' remarked Billy McLean to Smiley as they sought to take the fight to the enemy. There were moments in the memoirs, however, which require quiet reflection. The discovery of the grave of 65 Italian officers machine-gunned and bayoneted; no, not by the partisans, but by their former German allies, makes for grim reading.

What is also fascinating is David Smiley's analysis of the region's politics. Better the devil you know, in our case the partisans, all diehard communists but more or less united in their hatred of fascists (Italians, Germans, any Axis sidekick). Smiley meets and works with, at arm's length, Enver Hoxha, later to become Albania's ruthless and retrograde leader until his death in 1985. Amusingly, long after Hoxha's death, Smiley visited the Hoxha museum only to see his mugshot and that of McLean on the list of fascist traitors to be 'executed on sight'.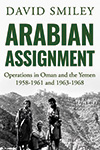 David's second memoir, Arabian Assignment is no less engaging though perhaps more well known to most as it captures the British involvement and painful retreat from South Arabia, and our support to the royalist guerrillas against the Egyptian and Soviet backed forces which ended with the overthrow of the Hamid ud Din family which had ruled for a 1000 years.

Rather more successful was Britain's involvement in Oman, where David Smiley had a key role to play, and the support we gave to Sultan Qaboos. Oman has remained a steadfast ally of ours and a beacon of moderation and stability in the world's most volatile region. I found myself skimming this particular memoir as I knew the history and the players on this stage reasonably well; others, less familiar with the region, will find the book just as engaging as Albanian Assignment. Still, if 'biffing the Germans' is more your scene, you'd do well to choose Albanian Assignment.

The third memoir, Irregular Regular 1936-1992 is the most far reaching of the trilogy. In that sense, if you wish to read just one memoir, this is the one to go for. I particularly enjoyed his early years at Sandhurst and in The Blues. At Sandhurst, he was top in map-reading and pistol shooting, and bottom in economics and military science, not difficult to see which skills would be of more relevance in the Balkans. In his first month in The Blues, he was given 14 days extra duties for wearing black tie rather than white tie and tails while dancing at the Café de Paris.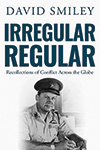 This third memoir is a great tour de force of David Smiley's life, not only in the Army but also the life he led after his service to his country. After such an irregular military service, despite commanding The Sovereign's Escort at the Coronation in 1953 and commanding The Blues, he was never going to end up selling life insurance after the Army. He married into the Buccleuch family, started a business selling olives, oranges and almonds, and like his great contemporaries, Paddy Leigh-Fermor, Fitzroy Maclean, Billy McLean, and Julian Amery, became a byword for all that was great and good about irregular soldiering. They may not have, in Churchill's words, 'Set Europe Ablaze', but they more than helped get the fire started.

David Smiley's one lasting regret was his involvement with Kim Philby who, unbeknownst to him in Albania, betrayed hundreds of people who ended up tortured and shot.
Paul de Zulueta

Published by Sapere Books
saperebooks.com