Book Reviews
AFTER THE WALL CAME DOWN
Soldiering through the transformation of the British Army 1990 to 2020
by Andrew Richards
Foreword by General the Lord Dannant GCB CBE MC DL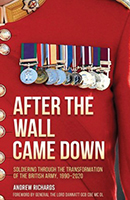 This fascinating book expertly covers the three decades since 1990 that have witnessed a New World Order emerging from the 'certainties' of the Cold War. It does so with definitive insight based on the impact that global strategic political decisions have had on British soldiers.
All British Army recruits swear allegiance to their Sovereign; yet democratically elected politicians determine their fates and affect their peacetime lives with initiatives such as Pay As You Dine and Whole Fleet Management. Currently the UK seems blessed to have former Scots Guardsman Ben Wallace as Defence Secretary, and someone who understands Duty of Care. For example, since October 2019 discharges from the Army as a result of compulsory drug-testing are made at Commanding Officers' discretion; and a credible All Arms' manoeuvre warfare capability has been preserved by the recent Defence Review. That said, it remains to be seen if the wheeled Boxer is an adequate replacement for the tracked Warrior, the infantry armoured fighting vehicle and personnel carrier first crewed by the Grenadier Guards and then proven in combat by them and the Scots Guards on Operation GRANBY in 1991, alongside The Life Guards, with their Challenger 1 tank fleet inherited from The Blues and Royals. The enduring versatility of the Household Division is proved by the fact that eight years earlier the Scots Guards and Welsh Guards had fought on Operation CORPORATE in the Falklands; and six-month Northern Ireland Operation BANNER tours were fundamental to Army battle-rhythm.
Witnesses cited by Andy Richards remind us of these facts: Despite post-operational report recommendations, Identify Friend or Foe equipment was not improved between 1991 and 2003. So, US pilots fatally engaged D Squadron Household Cavalry Regiment in 2003. 12 years earlier, A Squadron The Life Guards' leader had refused to engage until targets had been confirmed; thus avoiding a disastrous 'blue on blue' that might have killed, among many others, a UK Brigade Commander. While commanding the Welsh Guards in Afghanistan, Rupert Thorneloe tragically died because the vehicle in which he was travelling was inadequately protected. Robust combat equipment and uniforms are still not a high enough priority.
The future British Army, with the strength of 72,500 as envisaged by the latest Defence Review, is less than half its size in 1990. Yet recruiting contracted to Capita remains 'sub-optimal' and David Cameron's parting-shot of genderfree combat arms has yet to be fully tested on operations. So, since October 2018, soldiers are officially 'determined by ability not gender', is Colonel Tim Collins's wish that 'the physical bar for joining close combat units needs to be raised not lowered' feasible?
Lord Dannatt, as CGS, admitted the pressure of two simultaneous Division(-) operations in Iraq and Afghanistan. Is an Army of 72,500 capable of sustained high intensity operations at any more than Brigade strength? Or will the UK's future contribution to coalition operations prove to be a 'gesture'? As CDS, Field Marshal Lord Guthrie convinced Tony Blair not to introduce genderfree combat arms; and the Blair 'Doctrine of the International Community' was tested in Sierra Leone and the Balkans.
Areas of Africa, Iraq and Bosnia are now relatively safe and secure due to intrepid military leadership at the tactical level. It remains to be seen if the Good Friday Agreement provides permanent peace in Northern Ireland. Are there 'too many hardened folk indoctrinating their kids'?
President Reagan increased the arms' race to challenge the USSR and set the conditions, after perestroika and glasnost and the fall of the Berlin Wall, to launch Operation DESERT STORM to liberate Kuwait and guarantee what was then 65% of the global oil supply. 'If Kuwait grew carrots who would give a damn' to quote a US Congressman during Russia's Yeltsin era. A decade later the only member of the US Congress to vote against authorising the use of military force after '9/11' was Barbara Lee (a Californian Democrat) who wanted an expiry date. Twenty years later the USA is self-sufficient in oil, and President Biden has just announced America's longest war will end later this year. General Schwarzkopf refused to launch DESERT STORM's ground war until he was satisfied he had all advantages such as air superiority and a sufficient majority to achieve coalition victory without 'mission creep'. Donald Rumsfeld envisaged exit from Iraq in 2003 after installing Ahmed Chalabi. Colin Powell described the risks of post-regime change operations in Iraq as akin to shattering crystal. De-Ba'athification resulted in today's instability that may yet be exacerbated by Shia Iran attacking Saudi Arabia, some Gulf States, Jordan and Israel… The annual Haj pilgrimage seems vulnerable.
This riveting book's deft analysis of the main issues confronting the British Army since 1990 make it a 'must read' recommendation as invaluable for all promotion and staff course candidates and students. Its meticulous notes and cross-references underpin its detail and confirm its credibility as proved by the fact that General Lord Dannatt agreed to write the Foreword.
Tommy and Thomasina Atkins' articulate witness evidence confirms a resilience that must never be taken for granted, as immortalised so memorably by Rudyard Kipling in 1890:
For it's Tommy this, an' Tommy that, an' "Chuck him out, the brute!''
But it's "Saviour of 'is country,'' when the guns begin to shoot;
Yes it's Tommy this, an' Tommy that, an' anything you please;
But Tommy ain't a bloomin' fool - you bet that Tommy sees!
This book follows Andy Richards's earlier deserved success The Flag, a definitive study of the Reverend David Railton MC who, as a First World War padre, was the inspiration behind the Tomb of the Unknown Warrior. The Union flag that Railton used to drape over his makeshift altars and the bodies of soldiers killed in action was donated to Westminster Abbey where it still hangs close to the tomb that he inspired.
I must declare a personal interest: three decades ago, Andy Richards served in a Life Guards' tank squadron led by this magazine's editor then me. Andy exemplified versatility and expertise as a tank commander, PT instructor and clerk, and later on ceremonial mounted duty. In his tank crew during Operation GRANBY was the current Household Cavalry Regimental Second-in-Command; this is a role also previously filled by Simon Doughty and me!
Giles Stibbe

Casemate (2021)