Book Reviews
THE CHURCHILL GIRLS
The Story of Winston's Daughters
by Rachel Trethewey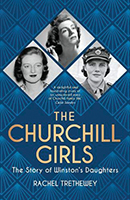 Few men or women achieve greatness without the love and steadfast support of their family and friends. Churchill was able to face down the almost unbearable pressures of the Second World War because of the loyalty, love and devotion of his wife and daughters.
There is a seemingly endless appetite for books on the great man. In recent years, however, authors have turned their pens to writing about Churchill's close family. Several books have been written on Churchill's wife, Clementine. There has been a biography of Winston's son, Randolph, who led a rather shabby life. There is also a book rather unfairly titled, Wayward Daughter on Sarah, Churchill's second daughter, by Miranda Brooke; but no book has examined the lives of all of Churchill's four daughters, Diana, Sarah, Marigold, and Mary and their effect on his life. Rachel Trethewey's book, The Churchill Girls, is a wonderful and enjoyable addition to the story of Britain's greatest son.
At the opening of his great novel, Anna Karenina, Tolstoy famously wrote, 'All happy families are alike, but each unhappy family is unhappy in its own way'. It is fair to say that very few families, however grand or ordinary, escape sadness, setbacks and reversals even over one generation. Churchill's immediate family was no exception. His daughter, Marigold, died in her infancy; his eldest daughter, Diana, committed suicide; his daughter, Sarah, married three times, died of ill health brought on by alcoholism; his only son, Randolph, died aged 57, again much the worse for wear. Only his youngest daughter, Mary led a life without reproach.
Human behaviour is both nature and nurture but there is little evidence to suggest one is more important than the other. Many men or women endure impossibly difficult childhoods only to make a great success of their lives; others, born with all the gifts that life can bring, make a complete hash of things. In reading the author's account of the lives of Churchill's daughters, one is drawn to feel that the youngest daughter, Mary, made the most of her chances. Mary's early adulthood allowed her to be side by side with her father as he faced his greatest test from 1939-1945. Mary had the right combination of temperament, character and opportunity to make a great success of her life.
Rachel Trethewey not only has great strengths as a trained Oxford historian, but she is also an engaging writer with an eye for vivid detail. Her previous book, Before Wallis, Edward VIII's Other Women (also reviewed in The Guards Magazine) was outstanding because the author also gave the reader an understanding of the social and political context of the time. This is equally true of The Churchill Girls. Although the author recounts the lives of the daughters that are sometimes sad and dispiriting, sometimes heroic and happy, the reader gets an intimate sense of the Churchills' family life and the times in which they lived.
Winston and his wife, Clementine, were of the Edwardian era. Daughters of upper-class families had few expectations in life except to marry well. This must have been frustrating to Churchill's daughters, particularly Sarah who was the one daughter who had inherited his touch of genius. But there is a fine line between genius and disaster. Circumstance, poor choice in men, and the inevitable disappointments of trying to be a top-level actress, all led to Sarah's vexatious life.
One of Winston's most important lessons to his daughters was to be tolerant of others and magnanimous. He himself had great generosity of spirit which made a great impression on all his children except perhaps Randolph where the burden of expectation as Churchill's only son became too much for him. They all tried to see the best in others although Churchill, like most fathers, could be pretty tricky with any of his daughters' suitors who he felt were not quite up to the mark. The author conveys family life at Chartwell, the Churchill family home, in a sympathetic and human way which any parent bringing up a brood of children would recognise. It is one of the author's best attributes; you really do feel as though you are present in the everyday life of the Churchill family.
The best part of the book is, understandably, the war years. Churchill did walk with destiny and one cannot help but feel that, if his career had ended before the outbreak of the war, he would have been a footnote in our island's history. It also begs the question whether Churchill would have been able to give more emotional support to Diana and Sarah in their struggles if he had not been weighed down by the trials of the war. It must have been oppressive for all the daughters to be in the public eye to such an extent. Churchill's wife, Clementine, a remarkable woman in her own right, was torn in all directions but her priority had to be the well-being of her husband. How much worse it would have been for all of them today in the suffocating lens of social media.
Mary, the youngest daughter, died in 2014. Her life was one of significant achievement recognised in her award of a Lady Companion of the Order of the Garter. She was a fine mother, a successful author, and a wonderful wife to her husband, Christopher Soames, a diplomat and much respected ambassador to France. The old biblical saying, 'by their fruits you shall know them' is particularly apt in describing Mary who brought up well-adjusted and successful children.
From their earliest days, all Churchill's children knew that their own lives came second to the great man's. It is to the author's credit that she portrays the history of their lives with sympathy and sensitivity. The book is an important insight into Churchill as a father, an aspect of his life which has not been touched upon in such a perceptive way before. Tolstoy was right: 'each unhappy family is unhappy in its own way'. Churchill's daughters had much joy in their lives but living in the shadow of a great man was bound to take its toll. Like the author's book on Edward VIII's other women (reviewed in the Winter 2018/19 edition), Rachel Trewethey has done justice to her subject.
Paul de Zulueta
The History Press (2021)