Book Reviews
THE BATTLE OF THE PEAKS
AND LONG STOP HILL
Tunisia, April-May 1943
by Ian Mitchell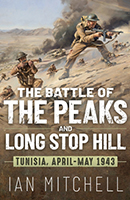 The Tunisian Campaign began in November 1942 and ended after seven months hard winter warfare amongst the mountains of Medjez el Bab that surround the western approaches to Tunis. It resulted in the surrender of a quarter of a million Axis troops including the much-vaunted Africa Korps and the final expulsion of the Germans from Africa in May 1943. These were fierce hard battles over difficult terrain that gave every advantage to the enemy. Yet the sacrifice and achievement that led to victory of this campaign remains largely forgotten and unrecognised. According to the author Ian Mitchell there are in excess of 250 books published on Market Garden and Arnhem compared with just eight on the Tunisian Campaign! For this reason alone, this book is a worthy addition as it describes in tremendous detail the events of the period. Huge amounts of dedicated research from a wide range of sources such as original battalion war diaries, personal letters and memoirs, have been assembled into one book. The book is well illustrated with both modern and old photographs, excellent maps, and an extensive bibliography.
For the most part Ian Mitchell's account focuses on the newly formed 78th 'Battleaxe' Division, its successes and failures during this period, and the tough fighting during Operations 'Sweep' and 'Vulcan' that took place on the rugged terrain of the western approaches to Tunis in the spring of 1943. It centres not only on the fighting but on some of the personalities and characters of the men who fought in this now almost forgotten campaign. It ends with a detailed account of the retaking of Longstop Hill by the Division on 23rd April 1943 and the Victoria Cross awarded to Major Jack Anderson of the 8th Argyll and Sutherland Highlanders.
It is in the opening chapters of the book that will be of interest to readers of this magazine. 1st Guards Brigade were initially part of the 78th Division. On 22nd December 1942, with little time for preparation or support, the 2nd Battalion Coldstream Guards were ordered to attack the vital high ground, the twin peaks of Djebels Ahmera and Rhar better known as Longstop Hill. His unvarnished description of the battle, drawn from several sources including both American and German, gives slightly different viewpoints that might be of interest to the reader. He recounts the Battalion's initial hard-fought achievement to take the hill, the hand over to inexperienced American troops, the stoicism of the exhausted Guardsmen in having to retake the feature a second time two days later, and ultimate disappointment in being unable to hold the hill, is described in detail.
It is perhaps the level of micro information that makes the book an excellent source for future researchers, those interested in following the footsteps of forbears and for the most dedicated military aficionados for whom this book will appeal. It is a valuable addition to an almost unremembered campaign.
James Kerr
Helion (2019)