Book Reviews
COLD WAR BERLIN: AN ISLAND CITY
by Andrew Long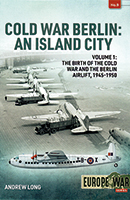 Much has been written about Berlin and the 10-month airlift that saved the city by forcing the Soviet Union to back down in May 1949 in the face of Allied resolve, but this new book by Andrew Long adds a new dimension to the study of this saga. The author has created a fascinating compendium of facts, figures and images, including specially commissioned maps and illustrations of aircraft types. In doing so, his slim A4-format paperback history has breathed new life into a topic that has traditionally been portrayed as a monochrome newsreel drama.
Generations of members of the Household Division were fortunate to be posted to Berlin, although, strangely, neither the Scots Guards nor the Irish Guards served there at battalion level. Hosts of individual Guardsmen served on the staff or visited the city on battlefield tours and enjoyed its extraordinary sports and leisure facilities. These opportunities would have been lost had it not been for the successful airbridge that the author describes clearly and in great detail.
This is the first of a series that Helion Books intends to publish that will chart the course of the Cold War in Europe all the way through to the Fall of the Berlin Wall in November 1989 and the final disintegration of the once mighty Soviet Union. This book and the follow-on volumes deserve to be welcomed by all readers with an interest in Berlin and the crises in which it played a starring role in the Cold War.
Peter Williams
Helion (2021)