Book Reviews
LAUGHTER IS THE BEST WEAPON
by Charles Ritchie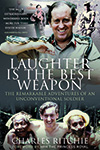 While it is perhaps unusual to be reviewing a book unrelated to the Household Division, Charles Ritchie's brushes with the Guards were probably of a similar frequency as his brushes with danger and his brushes with the law.

Laughter is the Best Weapon is the autobiography of Brigadier Charles Ritchie, Colonel of the Royal Scots, Officer in the Queen's Bodyguard for Scotland and, on retirement, Director of the Edinburgh Tattoo and Secretary of the New Club in Edinburgh. His career took him to Aden and the Radfan as a platoon commander, Melbourne as an ADC, Northern Ireland as a commanding officer of a UDR battalion, and Bosnia as UNPROFOR Chief of Staff. He instructed at Sandhurst and at Staff College; he earned an MBE careering round East Germany in BRIXMIS; and while in the MOD he oversaw all BMATT deployments, with extensive travel around Africa. A busy career, but not one entirely out of the ordinary for its time.

However, this book is, as it says on the cover, 'the remarkable adventures of an unconventional soldier'. Ritchie's time as an officer cadet at Sandhurst is a case in point: whereas most military autobiographies dedicate a handful of pages to the usual rehashed stories of Ironing Board Sunday, Colour Sergeants yip-yapping around the drill square, and cadets falling asleep in chapel, Ritchie's 13 pages on the subject include a duel on Barossa, a mutiny in Victory College, and a protest with French parachutists against General De Gaulle. It was no ordinary start to his career, and it continued in much the same vein until Charles's retirement in 1997 as the military attaché in Paris.

His encounters with the Household Division were frequent: he was replaced by a Guards officer after he was removed from post in BRIXMIS, for flouting the rules of the mission in East Germany; another former Guards officer and fellow Archer remarked somewhat understatedly that 'Charles was one of our louder officers'; and the Princess Royal, a lifelong friend, states in her foreword to the book that Charles's successful and remarkable career was due either to 'right place, right time or through a series of fortunate computer errors and mistaken identity'. The reader is left to judge which of these assessments is more plausible.

Sadly, Charles Ritchie died in December 2020, two days after his manuscript was accepted by Pen & Sword. For those lucky enough to have known him, the book is all the more amusing, imagining the great raconteur retelling his stories; but for those that never met him, this is still a wonderful, laugh-out-loud, rip-roaring adventure through a career that health and safety and political correctness would not dream of countenancing in the 21st century - and more's the pity.
Fred Wells
Published by Pen & Sword