Book Reviews
GEORGE JELLICOE:
SAS AND SBS COMMANDER
by Nicholas Jellicoe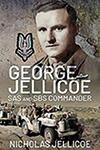 By anchoring George Jellicoe's remarkable wartime achievements in the story of the Special Air Service (SAS) and SBS (Special Boat Service), Nick Jellicoe has revealed the extraordinary influence his father had on the ethos and development of Special Forces. While much of the credit for the inception of the SAS rightly goes to David Stirling (Scots Guards), who was undoubtedly a visionary in his grasp of the tactical advantage of mounting raids on the exposed southern flank of the Axis armies in North Africa, the implementation of his ideas depended on men like Jock Lewis (Welsh Guards), Paddy Mayne and George Jellicoe (Coldstream Guards). Their combined military acumen created the pragmatism which characterizes today's Special Forces and it was their ability to learn from mistakes and adapt their tactics to new strategies and technologies that ensured a role for the SAS when the war moved to the European mainland.

After participating in several of the early raids mounted in conjunction with the LRDG, George oversaw the June 1942 raid on German airfields in Crete, the first seaborne operation of the SAS. It was a success although he was lucky to get away after his group had been surrounded by a company of Germans. He arrived back in time to take part in the raid on Sidi Haneish where Stirling tried out his new tactic of attacking airfields with a critical mass of heavily armed Jeeps. Forced to return to the UK when an old knee injury played up, Jellicoe returned to Egypt in late January 1943 and teamed up with Colonel Christodoulos Tsigantes and his Greek Sacred Squadron (GSR) which had been embedded with the SAS. It was the beginning of a powerful and enduring partnership which evolved when 1 SAS split that March into two separate units: Mayne formed the Special Raiding Squadron and Jellicoe the Special Boat Squadron working in tandem with the GSR.

The line-up of his detachment commanders was impressive, Fitzroy Maclean, David Sutherland and Tommy Langton (Irish Guards). Others like Jock Lapraik and Andy Lassen soon followed. That July the SBS paid a successful return visit to the German airfields in Crete but the L Detachment raid on Axis airfields in Sardinia ended in disaster with all members killed or captured. Waiting in a submarine off the island to pick up survivors, George ran out of time and had to return reluctantly to Algiers. It served to highlight how failure and success were bedfellows in the house of Dering Do.

Plans to make opportunistic raids in the Aegean were soon set aside when Operation ACCOLADE was launched to prise the Dodecanese Islands from Axis control after Italy had capitulated in September. It was the beginning of a series of extraordinary adventures for George, starting with a parachute drop into Rhodes to persuade the Italians to take control of the island and ending with the humiliating surrender of Leros and evacuation of Samos in November. For more than three months, he had been at the centre of the storm unleashed by the Germans, shepherding his men hither and thither around the islands, picking up survivors and engaging the enemy whenever possible. His performance was nothing less than an astonishing feat of arms, a display of consummate command allied to a steely determination and extraordinary endurance.

Undeterred by this ignominious defeat of British arms, George and Tsigantes divided up the Aegean between them to make life as uncomfortable as possible for the German and Fascist Italian garrisons. The SBS and GSR took to the high seas on the schooners and caiques of the Levant Schooner Flotilla and instigated a reign of terror throughout the Aegean. Using concealment and surprise to leverage their scant manpower resources, their results exceeded all expectations for as late as November 1944 nearly 33,500 enemy soldiers, the equivalent of three infantry divisions, were tied down in (by that stage of the war) a strategically unimportant area. Lying up in Turkish bays, from where they sallied forth to seek out the enemy, Jellicoe not only had the responsibility for planning and executing SBS operations but also for the intricate administration of his floating force. It is easy to take these problems for granted when armies roll forward supported by a sophisticated hierarchy of logistics; it is quite another to maintain operational momentum for months at a time in hostile territory hundreds of miles from one's base.

In September 1944, Jellicoe found himself back on terra firma, this time in charge of Bucketforce, a 450-strong scratch force which included L Detachment of the SBS, two companies of Highland Light Infantry and a LRDG patrol. Charged with the capture of the German airfield at Araxos, Bucketforce soon arrived outside Patras where Jellicoe experienced for the first time the reality of the vicious politics at work in a country poised on the verge of liberation and civil war. Suddenly his soldiering lost the simplicity of confronting a uniformed opponent and entered a political minefield of competing interests. As Peter McMullen, one of SOE's most experienced officers, said: 'Partisan warfare is political warfare. Partisan formations, that is, do not fight merely to win the war, they fight to win their particular war'. Nowhere was that truer than in Greece. Bucketforce morphed into Pompforce and after a dramatic entry into Athens, Jellicoe tenaciously pursued a fast-retreating German army up to the Bulgarian border.

Nick Jellicoe completes this biography of his father with a condensed account of George's time in the Foreign Office and later as a Parliamentarian and business man. What emerges is his compassion and genuine concern for the well-being of his fellow man, a trait which marked him out as a young man before the war. Although hardened in the crucible of six years of bloody conflict, George emerged from it determined to make the world a better and safer place.

George Jellicoe: SAS and SBS Commander is a most valuable addition to the canon of SAS history. Following on from Laura Almonds Windmill's A British Achilles, it provides a new set of insights into George's military achievements and furthermore offers readers a reliable compendium of the exploits of the SAS and SBS in North Africa and Greece. By way of a bonus, Nick Jellicoe adds colourful personal reminiscences and charming family vignettes to his portrait of his father. On such a large canvas, there are inevitably some errors and omissions. John Verney did not take over as the new team leader after the failure of the Sardinian raid as he had been captured and incarcerated in an Italian POW camp on the mainland: his subsequent escape is whimsically told in A Dinner of Herbs. Regrettably, the author omits Ian Patterson's July 1944 raid on Axis fuel dumps in Crete, definitely a feather in the SBS cap and an endorsement of Jellicoe's savvy choice of outstanding young officers.

The story of George's role in the liberation of Greece could have been expanded to include more about the activities of Special Operations Executive (SOE). British Liaison Officers like Major Eric Gray (Welsh Guards), who had been dropped into the Patras area in August 1943, proved an invaluable asset to George and Pompforce. Although Gray and Major Frank Macaskie deservedly get a mention, the latter for his dash to Skaramagas by sea with George and his men, Major Rufus Shepherd was already in Athens in touch with General Felmy, the German GOC, on 3 October, ten days before George arrived.
No mention is made by the author of fellow Wykehamist Colonel Chris Woodhouse joining up with George before Pompforce set off from Athens to harass the Germans. Surely to have the former head of the Allied Military Mission on the team must have been a windfall, particularly when the advance of Pompforce was halted twenty miles south of Lamia by a major demolition. Woodhouse famously got out of his Jeep and walked the remainder of the way to the town, meeting up with Jack Gage and his Raiding Support Regiment contingent which then linked up with George. The firepower of their heavy weapons was certainly appreciated during the battle for Rozani three days later.

These are but minor criticisms of an exceptionally informative and enjoyable tribute to an important pioneer of Britain's world-famous Special Forces and a stirring tale of a gallant young soldier who, through his strong sense of duty and obligation to society, went on to become a distinguished public servant in his quest to continue to serve his country.
Alan Ogden
Published by Pen & Sword 2021

Alan Ogden is the author of Sons of Odysseus, SOE in Greece, and editor of Terror by Night: the official history of Raiding Forces Aegean