Book Reviews
BOOTS ON THE GROUND - BRITAIN AND HER ARMY SINCE 1945
by Richard Dannatt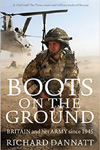 Boots on the Ground is the story of the years since 1945, following the British Army against the backdrop of Britain's shifting security and defence policies. From the decolonisation of India to the two interventions in Iraq, and of course Northern Ireland, the book tracks the key historical conflicts, big and small, of Britain's transformation from a leading nation with some two million troops in 1945, to a significantly reduced place on the world stage and fewer than 82,000 regular troops in 2016. Despite this apparent de-escalation, at no point since the Second World War has Britain not had 'boots on the ground' – and with current tensions in the Middle East, and the rise of terrorism, this situation in unlikely to change.

Richard Dannatt brings forty years of military service, cap-badged the Green Howards, including his time as Chief of the General Staff, to tell the fascinating story of how the British Army has shaped, and been shaped by, world events from the Cold War to the Good Friday Agreement to the EU Referendum. Whether examining the fallout of empire in the insurgencies of Malaya, Kenia, and Dhofar, the extraordinary battle for the Falklands, the long-standing conflict of Northern Ireland, Britain's relationship with NATO and experience of fighting with, or for, America in Iraq and Afghanistan, Dannatt examines the complexity of a great British institution.

This book should appeal to all members of the Household Division who have served in these different conflicts.
Hubert de Lisle

Profile Books Ltd (2016)