Book Reviews
SPOILS OF WAR
The Treasures, Trophies & Trivia
of the British Empire
By Christopher Joll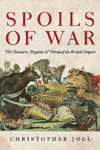 Given the lunacy prevalent in academia against 'incorrect free speech' or anything or anyone that might offend, few university or school libraries will be stocking this book. The book's tagline, The Treasures, Trophies & Trivia of the British Empire would ensure the author, Christopher Joll was 'no-platformed' without redress. The loss is theirs. Christopher has written a glorious book, superbly researched and beautifully illustrated. It brings to life some of the most fascinating periods of British history.

Christopher Joll is well known to readers of The Guards Magazine. He has written a best-selling illustrated book on The Household Cavalry and the much acclaimed The Drum Horse in the Fountain. Educated at Oxford, Christopher brings a trained historian's mind and meticulous research to the book which covers the principal British campaigns from 1337- 2014. If you had fought in all of them, your left breast would be weighed down by 81 campaign medals. Britain has never been a militaristic nation unlike the old Prussia, but 81 campaigns, some lasting many years, suggests we have always been up for a good scrap.

In a way, the book bears comparison with Michael Portillo's wonderful television series, Great Railway Journeys. The rail journey is of secondary interest to what you learn about a country, its history, peoples and culture. It's the same with Christopher's book. You learn a huge amount about history. The treasures, trophies and trivia are engaging; did you know that the musket ball that shot through Nelson's spine can be viewed at Windsor Castle, or the enduring myth that VCs are moulded from Russian cannons captured at Sevastopol is untrue? Probably not, but it's the whys and wherefores of these campaigns that the author describes so well that makes for such compelling reading. It's a terrific canter through British military history.

Wellington, our greatest general, loathed plundering by his men and would mete out a flogging or hanging for severe cases. But he was rewarded well enough with treasure by grateful nations as a trip around Apsley House in London will bear witness. Sir Garnet Wolseley, the 'very model of a modern major general' was granted £25,000 by Parliament (£2.7m in today's money) for his performance in the Third Anglo-Ashanti War. What is less pleasant reading, however, is the wanton destruction that some individuals, including Kitchener, carried out in blind revenge for any affront to British pride.
The photographs of the treasures and historical figures involved are excellent. The photograph of Colonel Sir Claude Hamilton, our man gripping the 'Boxer Rebellion' in Peking, is so redolent of the age of Empire at its zenith and the men at its forefront. A small part of the 'booty' from that particular campaign was a Pekinese dog called 'Looty' who found her way to Windsor Castle and Queen Victoria's affections.

Christopher is an accomplished writer who keeps the reader engaged. There are a few errors, largely of getting names spelt correctly. Colonel Hugh Bodington, a contemporary of mine in the Welsh Guards is referred to as Colonel Hugh Boddington, Grenadier Guards. The author does well not to get involved in any moral arguments about whether the spoils of war should be returned to their original owners. We were pretty good as a nation compared to say, Napoleonic France or Nazi Germany, the latter plundering 25% of Europe's art. And frankly what better place to show off these treasures for the world's benefit than Britain's beautifully curated and run museums. We have kept these artefacts safe. Isis supposedly destroyed thousands of antiquities and treasures as anti-Islamic. What we now know is they sold a great deal of them to wealthy 'collectors' to fund their murderous campaign. What may concern the author is that he has provided the world with a detailed catalogue of Britain's spoils of war and where most of them are kept!

This is a great book for dipping in and out of. A pair of silk knickers belonging to Eva Braun, Hitler's mistress, were sold in 2016 for £2900. An American GI found them whilst rummaging through Hitler's retreat the 'Berghof'. Just one of the many vignettes that make Joll's book such an original and vivid contribution to our national story.
Paul de Zulueta

Nine Elms Books (2020)