Book Reviews
THE QUEEN'S BIRTHDAY PARADE
TROOPING THE COLOUR
Foreword by His Royal Highness The Duke of Edinburgh
By Julian Calder, Mark Pigott,
Alastair Bruce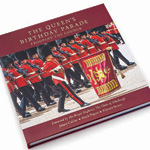 This is a sizeable and impressive book. The detailed narrative flows around some superb photographs by Julian Calder, who is no stranger to his subject matter, the Household Division. There are plenty of set-piece, large format images here, as one would expect in a book about the Queen's Birthday Parade, but it is also good to see some behind the scenes pictures as well, all part of what makes this a unique occasion.

This book has clearly been in the making for a while, but thankfully it did not go to press without recording the unique Queen's Birthday Parade that took place at Windsor this year during the Covid-19 lockdown, proving that certain events go on, regardless of the challenges.

The size of this book allows for some fine detail, and for those who like the minutiae of uniforms, there is much to enjoy here. I had not realised, for example, that the Drum Major's sash carries the badge of all seven regiments of the Household Division. I've never been that close!

Finally, the portraits are particularly impressive, although they will no doubt disappoint those who have spent years of service in London and never managed to get themselves into one of the many picture books published over the years! What is good here is that while there are some rather serious and formal photos, there are also more relaxed ones. For example, the photograph of the six Regimental Adjutants in The Guards & Cavalry Club; was it taken before or after lunch? Either way, they all look jolly happy!

This is a truly splendid book and a tribute to the professionalism to all those, both in front of and behind the scenes, who are involved in making the Queen's Birthday Parade happen every year, come what may.
The Editor
Published by Julian Calder Publishing juliancalderpublishing.com Special discounted price for readers of The Guards Magazine £40 including p&p (rrp £50). A percentage of the proceeds goes to the Household Division Charity.