Book Reviews
ACROSS AN ANGRY SEA
by Lieutenant General Sir Cedric Delves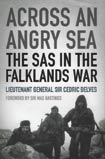 This first-hand account of SAS operations in the Falklands is a classic Special Forces page-turner. Cedric Delves whose D Squadron played a vital role during the conflict writes with pace, authority and great verve as he describes the extraordinary achievements of his men and the courageous aircrews of the Fleet Air Arm who ferried them about.

From the very beginning, there were two enemies in the Falklands, the Argentines and the weather. Of the two, the weather proved the more unpredictable and fiercest. 'Unaware…of a gathering storm of staggering proportions', the Squadron's Mountain Troop inserted on South Georgia. It took the loss of two helicopters to extract them. The Boat Troop fared little better with the crew of one Gemini being picked up 62 miles offshore! When Delves calls it 'one of the most inhospitable environments on the planet', he is not exaggerating.

After successful neutralizing an Argentine submarine and taking the surrender of the garrison at Gryhviken, D Squadron re-joined the main Task Force where it met up with G Squadron. There now comes a moment when Delves and Major Euan Houstoun (Grenadier Guards) of G Squadron perch like pet raptors on the shoulders of Admiral Sandy Woodward until they are despatched to hunt for prey. For D Squadron, this meant yet another hair-raising night-time lift by helicopter in the teeth of a ferocious gale, this time to Pebble Island. Fortunately, it went without incident and the Squadron carried out a daring attack on an enemy airfield in the legendary style of David Stirling and Paddy Mayne. On return, exhilaration turned to despondency when a Sea King helicopter ditched at night, killing 20 SAS soldiers.

Determined to remain in the field, Delves carved out a role for his Squadron in the final assault on Port Stanley. Now in contact with the Argentine main force, they worked closely with flanking units until Lt Col Michael Rose (Coldstream Guards), CO 22 SAS, dropped in by helicopter on his way to assist in the negotiations to surrender and told them that it was over. It was a poignant moment. Delves recalls that there was 'no cheering, no back-slapping, no bear hugs…little talk even. We simply stood up in silence mainly, hushed, half-whispered conversations'.

On a more elevated level, this is a book about the challenges of command and the inherent flaws of the decision-making process in war epitomised by the intrinsic tension between the pressure of time and imperfect information. As Delves bluntly puts it, the business of war is 90% about managing cock-ups. The ability to improvise as a plan unravels yet retain the intent is his key to best chance of success. Characterised by a complete lack of bravado and by an unusually frank self-examination, Across an Angry Sea not only enthrals us as a story of daring do but makes a significant contribution to the study of command and the management of risk.



Alan Ogden
Published by Hurst Publishers
www.hurstpublishers.com