Book Reviews
MILES BARNE'S DIARY
A SUFFOLK COUNTRYMAN AT WAR 1915-1917
by Randall Nicol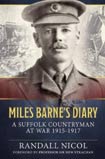 Major Miles Barne DSO, a most attractive, courageous and unassuming personality, wrote a straightforward account of life with the 1st Battalion Scots Guards during the First World War from July 1915 to September 1917. A veteran of the Boer War, he wrote in pencil in notebooks which went home with him to Sotterley, his home in Suffolk, when he went on leave. He described what he observed each day in a matter of fact style; and he wrote as one who was on several prolonged occasions in acting command of the 1st Battalion even though he was never given command formally. During one of these periods, he and a brother officer found themselves arraigned on a General Court Martial, the victims of the ignorance of senior officers who had adopted entrenched positions over what they believed had happened on Christmas Day 1915.

His description of the muddle, filth and confusion of war in the trenches was almost casual in its factual statement. He describes how they sought to pass the time in the quiet periods through inter-regimental and brigade football competitions, and even horse races. He describes his living conditions and the owners of the billets in which he found himself when out of the line.

Miles Barne happened to be a Scots Guardsman, but the nature of the man transcends that affiliation and he emerges as the most engaging and devoted of regimental officers. He can never have expected his diaries to be published, nor will he have known that he would be fortunate in having an equally devoted member of the Scots Guards in Major Randall Nicol to choose to edit and publish them.

Many will recall Randall Nicol's magnum opus on both battalions of the Scots Guards in the First World War, Till The Trumpet Sounds Again, published by Helion in 2016. He has used his encyclopaedic knowledge to give the full name, rank and appointment of everyone he can trace mentioned by Miles Barne, leaving but few exceptions, and helpful explanatory notes and clear maps to set particular events in context. The result is one man's contemporary account of two years in the middle of the Great War enhanced by Randall Nicol's additional facts, meticulously and accurately researched. It stands on its own, but it also adds dynamically to the huge body of what has already been written about the Great War in general and the Scots Guards in particular.
Hamon Massey
Published by Helion and Company www.helion.co.uk