Book Reviews
NEXT TO WELLINGTON:
GENERAL SIR GEORGE MURRAY
The Story of a Scottish Soldier
and Statesman, Wellington's Quartermaster General
by John Harding-Edgar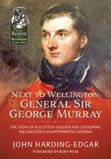 Commissioned into the Third Guards in 1790 at the age of eighteen, George Murray was to become the Duke of Wellington's principal staff officer in the Peninsular campaign, one of the most distinguished generals of his generation and a government minister. Just how instrumental he was in Wellington's success went largely unrecognised for many years, a result of his treatment at the hands of William Napier, author of the most famous contemporary history of the campaign, who viewed Murray as a rival and downplayed his role and contribution to victory. More recent historians, particularly those who have examined the mechanism of Wellington's headquarters, have acknowledged Murray's central position and role, and the trust in which Wellington held him, but, until now, no biography has been published.

Step forward, John Harding-Edgar, a distant relative of Murray, who has researched his life in depth. The picture that emerges is of a highly intelligent, articulate and committed officer – one of the new generation of 'scientifics' who studied their profession seriously and adopted the methodical approach to staff work favoured by the best continental armies. After regimental service with the Third Guards, including fighting the French in the Low Countries where he was wounded, Murray was given a number of staff appointments, notably in Egypt in 1801, before attending the staff college where he excelled. Further key, operational staff jobs followed - in Ireland, Germany, Denmark and Sweden - in which he made a name for himself not only as an effective planner and administrator, but also as a skilled diplomatic negotiator with both allies and enemies. Promoted to lieutenant-colonel, he was appointed acting Quartermaster General to Sir John Moore in Spain in 1808, was with Moore throughout the retreat to Corunna and, after Moore's death, organised the successful evacuation of the British force.

Within two months of his return to Britain, Murray's talents were to be further recognised when Arthur Wellesley, selected to command another expedition to the Peninsular, chose Murray as his Quartermaster General. As such, Murray was responsible for the provision of stores and equipment, as well as for all movements and quartering. Wellesley (Duke of Wellington from 1814) was a commander notably reluctant to delegate to his staff, but Murray earned his trust. As Harding-Edgar points out, so competent was Murray that Wellington gradually gave him considerable free rein. Murray developed the role of Quartermaster General to include reconnaissance, intelligence gathering, the positioning of defences, the writing of orders on his commander's behalf and, on occasions, control of their execution. One of the secrets of Murray's success was keeping his staff very small and employing only the most competent staff officers; another was producing superb standard operating procedures for his department. Just how much Wellington depended on him was shown when Murray temporarily left the appointment in 1812 and his successor failed to match his performance. 'Every day,' wrote Wellington, 'I have fresh reason to regret your departure.' Within a year, he had recalled Murray, now promoted major general, giving him even greater responsibilities. Murray effectively became Wellington's chief of staff in all but name.

With the campaign over, in December 1814 Murray was sent as Lieutenant-Governor of Upper Canada. It was to be a short stay. In May the following year, with Napoleon's escape from Elba, Murray was hurrying back to join Wellington, but arrived just too late for the battle of Waterloo. He was, however, to remain in France for three years with the Duke as chief of staff of the Army of Occupation.

Thereafter, Murray survived a scandalous love affair to become Governor of Sandhurst, Member of Parliament for Perthshire, and Commander-in-Chief, Ireland. When Wellington became Prime Minister, he appointed Murray as Secretary of State for the Colonies, although Murray's experience as a government minister was not entirely happy, not least because his political views were considerably more liberal than were the Duke's - for example, on the abolition of slavery. Nevertheless, the two men's friendship survived their political differences and their relationship remained close to the end of their lives.

Harding-Edgar's excellent biography is clearly the product of comprehensive research and captures both the importance of Murray as a historical figure and the complexity of his character. It demonstrates his significance as a superb staff officer, instrumental in Wellington's successes in the Peninsular; but it also shows Murray as an engaging personality and a thinking soldier with enlightened social attitudes and opinions on warfare that were well ahead of his time.
John Kiszely
Published by Helion and Company www.helion.co.uk