Book Reviews
The Easternmost House
A Year of Life on the Edge of England
By Juliet Blaxland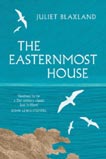 It is difficult to imagine what it must be like to live in a house that is literally on a crumbling cliff and destined, sometime in the near future, to disappear into the North Sea. In this charming book, Juliet Blaxland gives the reader a month-by-month account of a year in this perilous place, perched on the Suffolk coast, on the easternmost edge of England. And it really is a perilous place, as a succinct one-liner sent by the author to the BBC Radio 4 programme iPM makes clear. 'The house on the edge of the cliff was demolished this week, which means we are now on the edge of the cliff'. That was four years ago, when there were 'fifty paces'; now it's just 'twenty-five', so there can be no doubt that the erosive effects of wind and tide are determined not to disappoint.

As the author says to the iPM interviewer 'Everyone has a cliff coming towards them' sometime in the future, but the difference here 'is that we can see ours, pegged out in front of us, so we can say "When the cliff will be here, we will be about this age"'. It is this heightened sense of awareness of commonplace living, the surrounding landscape, the people, wildlife and domestic animals, that give this book its central theme and special quality. One day in the not too distant future, this modest little house will disappear forever. What will remain are the memories, so wonderfully rendered here by Juliet Blaxland.

Published by Sandstone Press and also available to purchase through The Household Cavalry Museum.