Book Reviews
Unlimited Overs
A Season of Midlife Cricket
By Roger Morgan Grenville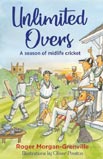 There are few things more tiresome, and palpably untrue, than a man who is half good at a particular game who says of his sport that 'It reflects a man's character like no other game'. I even heard a Surrey highlander say this of Scottish dancing, an anxious activity designed to make the uninitiated feel both graceless and gauche. Roger Morgan-Grenville, a former Green Jackets officer (his cousins Hugo and George Morgan-Grenville served in the Coldstream) makes no such claims about the game of cricket in this elegant and entertaining book, though he is right to point out that no other sport more reflects the uncertainties of life than cricket.

For the last 33 seasons, Roger has been playing for and sometimes captaining a team called The White Hunters: 386 games: won 135, lost 189; drawn 53, tied seven; and one death at the crease. If a game takes eight hours including a few post match drinks at the Hedgehog Arms, that's 120 days or a third of a year since 1986, plenty of time for self-reflection and observing your fellow man. And that's why cricket retains its enduring appeal because it meets those two tenets of a happy life, something to do or give outside work; and the gift of friendship borne out of winning and losing together. Roger portrays this period of his life with wit and humanity, not only through his own eyes, but also through the eyes of his fellow players who've stood at the crease with him.

If cricket is a mirror image to life's uncertainties, it also examines one's physical frailties. Most men have some sort of mid-life reckoning and Roger looks at his through the window of cricket, dreading the moment when he 'becomes an embarrassment to his team mates, put in a fielding position in the long grass behind the stumps'. He shouldn't worry. Perhaps Roger saw his cricket club, The White Hunters as a notch above village cricket, but most amateur cricketers see the game as a vehicle for friendship, to be part of a community, with players who have a love of the game from every walk of life. And to get 11 players to give up a good half-day of a precious weekend means that not everyone will be a ringer for CB Fry.

Where Roger strikes a real and often hilarious chord is his take on what you'd call the theatricals of cricket, the anecdotes and vignettes which make it such an enjoyable and perplexing game. Some examples: 'if you're choosing a fun opposition make sure they're free of players called Dave who swing their arms, bounce up and down as they come to the crease, bat out 35 overs, and take a fresh guard when they've scored a century;' and 'if you're captain for the day, remember the minute you move second slip out, a soft, slow and insultingly easy catch will present itself just where's he been standing'.

His ten golden rules for communication in the digital age include such truths as, 'the player who is about to let you down because his circumstances have mysteriously "changed" on the morning of the match will do so by text, and will then unaccountably lose signal for the rest of the day, possibly the rest of his life'. Roger wryly examines the hazards of the overseas tour where playing actual cricket is well down the batting order.

Roger could have had a few more changes of bowler in the book's structure. It may have been his purpose to record a season of cricket but a narrative of one match after another begins to pall. He touches upon the cricket tea, a ritual fraught with social pitfalls and worth a chapter in itself. I'll never forget when, as match manager for my local team in Turville, Oxfordshire, I asked my then girlfriend if she'd sort out the tea which she did willingly, courtesy of Waitrose. This apparently is social death. Everything has to be home made, sandwiches hand cut, and contain normal ingredients. My choice of anchovy paste and manchego cheese sandwiches and brandy snaps with creme fraiche didn't go down well. You have to play a straight bat and that means egg and watercress, ham and mustard and cheese and tomato.

Cricket, unlike football, has had to evolve to survive. Village or amateur cricket is in decline, as indeed is county cricket. Here, Roger could have usefully looked at the social headwinds that flurry around many a cricket ground. How many men with young families can get away with six or seven hours playing cricket and then quaff pints with the opposing team? Still, women's cricket is hugely on the increase, as indeed is the acceptance of women in a village team. The T20 game followed by a family barbecue is also becoming much more acceptable.

But for those 750,000 dedicated amateurs that play cricket, and for the many more who used to play the game but can no longer, and yet still listen avidly to Test Match Special in the uncertain hours to watch the Ashes in Australia, this is a book that bears affectionate witness to a noble game that continues to bewitch. After all, who would prefer to score a goal for England rather than hold his bat aloft after scoring a century at Lord's?
Paul de Zulueta
Published by Quiller Publishing