Book Reviews
Mad Mike Hoare 'The Legend'
A Biography By Chris Hoare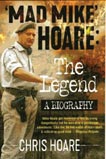 'Mad Mike' was neither mad, nor bad, but he was certainly dangerous to know.

There have been mercenaries throughout history, but it was Mike Hoare's escapades as the colonial world came to an end that captured the public imagination. The 1978 film The Wild Geese, about a crack team of mercenaries in Africa starring Richard Burton, Richard Harris, Stewart Granger and Roger Moore with their ill-fitting berets, was unerringly close to fact.

As Britain sought to extricate itself from its Empire, our army attracted their fair share of colourful mavericks. Sadly no more; today's officer corps has been beaten into submission by political correctness, a three star general is now the Army's LGBTQ champion, to conform is to get ahead, and the pattern of lacklustre leadership amongst senior officers, witness Basra and Afghanistan, is well established. This lively and vivid biography written by Chris Hoare, Mike's elder son, paints an engaging portrait of a man we'd all have liked to have met and befriended, and of an era in the British army lost forever.

Mike Hoare was born in Calcutta in 1919 to a life of adventure. The going down of the sun on the British Empire was still someway off and Mike's childhood followed a predictable and stoical path: the long voyage from Calcutta to Plymouth; prep school in the Home Counties at too young an age; and holidays spent at the school as his parents were away in India. Here, Mike was fortunate as his guardian during the holidays was his school's PT instructor, Sergeant Badcock, who had fought at Spion Kop in the Boer War. Badcock was reminiscent of Sergeant Peachy Carnehan in the glorious film, The Man Who Would Be King. Badcock's infectious enthusiasm for story-telling left the impressionable Mike itching to get to grips with the King's enemies as soon as he left school.

Mike's view of what made for a good soldier was one of simple clarity, 'A man who could walk 20 miles in a day and go to a dance the same evening was my idea of a good soldier'. His first brush with real soldiering, however, was at Kohima- Imphal with the Japanese pressing hand grenades to their torso rather than shame their Emperor in captivity. He was fortunate in his commanding officer, the redoubtable Bernard Fergusson, later Lord Ballantrae and Governor of New Zealand whose book Beyond the Chindwin is a classic. Mike was no gung-ho Green Beret. He took his soldiering seriously and the care of his men conscientiously. Although Chris writes with obvious affection for his father, he does so without undue reverence, aware that, like us all, he was any human heart.

Mike left the army in 1946. He got married and accountancy seemed an attractive avenue. But for Mike the sense of unfinished business, the summit unclimbed, gnawed away at him. Chris describes sympathetically how Mike, throughout his life, tried to slake his thirst for adventure: the motorcyclist, the explorer and safari leader, the yachtsman, the pilgrim, the Francophile, anything to keep at bay, 'The boom of the blood-lust song and a thigh bone beating on a tin pan gong'.

Harold Macmillan's Winds of Change and the inevitable decision to grant former colonies in Africa their independence was for Mike a Call to Arms. Any good biographer has to capture the context and spirit of the times in which his or her subject was alive; and here Chris Hoare paints an accurate and colourful portrait of The Great Game as Britain sought to extract itself from Africa. It was not an easy task. The Congo with its vast mineral resources really was, as Joseph Conrad wrote, the very Heart of Darkness. It was, of course, the Belgian Congo but its loss to the Chinese or Soviets would be a significant blow to Western interests, the fragility of South Africa and the sea-trade routes around the Cape.

If you have a taste for the worst of human behaviour and the goriest of details, then the account of Mad Mike's time in the Congo makes the Isis atrocities in Syria look pretty tame. There was no doubt Mike was a fine soldier and superb leader of men but the internecine politics, double crossing, ragbag of misfits and genuine soldiers that make up a mercenary army made Mike's efforts in the Congo look like, in the words of one observer, as though it was 'staged by the Marx Brothers'.

In 1981, Mike agreed to lead the South African orchestrated coup to topple the government in the Seychelles which South Africa considered within its sphere of influence and which, since independence from Britain in 1976, had become tiresome to South African and Western interests. It was another debacle. Mike was arrested, thrown into gaol, but eventually pardoned. Here I think the author could have examined his father's lack of political savvy. Mike Hoare might have been a fine soldier who led by example but sinister figures in the corridors of power, double dealing here and there, are invariably present to seal the fate of the politically naive.

Mercenary soldiers continue to play a role in the world's dirty work; arguably more than ever as Western governments weigh up the political and reputational risk of direct action. Former Scots Guards officers have form here, witness Tim Spicer whose company won a $293m contract in Iraq with the US Pentagon effectively commanding some 20,000 private soldiers. Spicer did a stint in a Papua New Guinea prison after a failed coup attempt. His fellow Scots Guards officer, Simon Mann, was not so fortunate winding up with a 34-year sentence (pardoned in 2009) after a failed coup, planned seemingly by the Marx Brothers, in Equatorial Guinea.

Mike, like all old soldiers, continues to fade away and reached his centenary on March 17th this year. Quite a life and brought to life in this evocative and affectionate biography by his son.
Paul de Zulueta
Available from Amazon