Book Reviews
Checkpoint Charlie
The Cold War, The Berlin Wall and
The Most Dangerous Place on Earth
by Iain MacGregor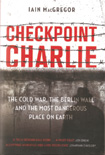 November 2019 saw numerous commemorations in Germany and across the world which marked the 30th anniversary of the Fall of the Berlin Wall and it was therefore no surprise that this historic event also prompted the production of a wide variety of books and documentaries. Iain MacGregor's book is a something of an 'omnium gatherum', seeking to include in one volume a broad spectrum of perspectives of East Berlin and of the German Democratic Republic between 1961 and 1990 under the eye-catching banner title 'Checkpoint Charlie'.

Telling a tale that deserves to be recalled, it is sure to appeal to readers for whom Cold War Berlin is something of an exotic novelty, certainly when compared to the vibrant and no longer divided Berlin of the 21st century. It will also do much to roll back the years for those of us who were fortunate enough to serve in Berlin during that extraordinary era or were just occasional visitors from 'the Zone'.

The last edition of this magazine included an article, extracted from MacGregor's book, about General Robert Corbett and his Mick platoon's dramatic involvement in the earliest days of the Wall in the summer of 1961. The book also gives him, as the last GOC Berlin, a starring role in the last act of the Allied Occupation of Berlin in the autumn of 1990. It was therefore entirely appropriate that he should have been there to introduce 'Checkpoint Charlie' when the book was launched in October at the National Army Museum.

My only criticism would be that the inclusion in the title of the claim that Berlin was 'The Most Dangerous Place on Earth' is hyperbole; I was lucky enough to serve there for six years and do not remember ever feeling that Berlin, or indeed East Germany, merited such a dramatic description. Perhaps it is a case of 'publisher's licence'?
Peter Williams