Book Reviews
Master of Deception
The Wartime Adventures of Peter Fleming
by Alan Ogden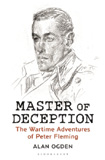 Peter Fleming was the less famous brother of Ian, and also a Grenadier, a most distinguished writer, adventurer and journalist, and the husband of the actress Celia Johnson; and that's all before his wartime career as a 'master of deception'. In the early 1930s, he was in the Brazilian jungle, searching for Colonel Percy Fawcett 'an irrepressible explorer' who was sadly never seen again, but Fleming's book about the expedition became a bestseller, receiving rave reviews from J B Priestley, and others. More books followed and by 1936 he had become one of the country's 'most glamourous literary lions'.

In the summer of 1939 he rejoined the Grenadiers, and on the outbreak of war was immediately recruited into the fledgling irregular warfare cadre that later became SOE; and as Alan Ogden suggests, he was probably already 'on the books of the SIS'. Fleming was immensely clever, wrote incisive papers, spent time in Norway with Carton de Wiart and, back home, developed 'stay behind parties' in the event of invasion (the idea of another Grenadier, Andrew Thorne). He also served for a short time with the London District School of Tactics, running the Street Fighting Wing in Battersea (the mind boggles!).

In early 1942, Fleming received a request from General Wavell to join him as an intelligence officer in the Far East, where the situation was 'little short of catastrophic' as the Japanese swept westwards towards India. It is here that he was in his element, hatching 'haversack ruses' whereby faked information is planted on the enemy, and masterminding strategic deception plans, like the inflating (or perhaps conflating?) of the British and Indian order of battle to deter the Japanese from invading India.

This is not a conventional biography, and a bit like Peter Fleming's extraordinarily fertile mind, it wends its way through an oblique and complex subject in a fascinating way. It does not rattle along like a Ben Macintyre book, but its style shows considerably more substance; we get real insights into the problems and challenges; this is an historian's book not a journalist's.

Fleming was a 'wheeler and dealer' in information, and although he was hampered by, to quote Professor Sir Michael Howard 'a total absence of any settled Allied strategic intentions in the Far East…' he still managed to build an impressive organisation for delivering deception at both the strategic and tactical levels.

He was a proud Grenadier who had two sides to him, the conventional and the entirely unconventional, with a brain and imagination ideally suited to his wartime role of deceiving the enemy. He rarely took the limelight and often left the plaudits to others. One gets the impression from this fascinating and well-written book that Peter Fleming was a modest man, a family man, a decent man in all respects, and perhaps not like his more famous brother, or indeed James Bond. He was cleverer than both.
The Editor
Published by Bloomsbury. www.bloomsbury.com