Book Reviews
Major & Mrs Holt's Definitive Battlefield Guide To D-Day,
Normandy Landing Beaches, GPS Edition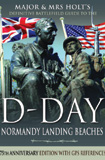 This well-known guidebook will be familiar to almost all those who have visited the Normandy battlefields. In this 75th year of the D Day landings, a new 8th edition has been produced, completely updated and expanded in its familiar format, packed with information this is as close as it is possible to be the definitive Baedeker of battlefields.

All the landing beaches are covered, American, British, and Canadian. Both Airborne operations on the flanks are also well described with maps and photographs. New to this edition are GPS coordinates to around 400 sites, including memorials, museums, batteries, bunkers and landing areas. All Allied and German Cemeteries are marked along with information about respective war grave associations. Cameos of famous personalities and characters are interspersed with veteran stories and anecdotes of sacrifice, courage as well as sadness and humour.

For those not familiar with Normandy, it is possible to follow six measured itineraries with a good map that comes with the book that is packed with detail and data. Just as a guidebook should be, the book can be dipped into or can provide the reader with detailed information about specific places. At 350 pages, it is a chunky but handy sized paperback, perfect for car glove compartment or coat pocket, a 'must have' book for both the inveterate explorer or casual visitor to the Normandy beaches and battlefield. Highly recommended.
James Kerr
Pen & Sword Books. www.pen-and-sword.co.uk