Book Reviews
The Great War Explained
by Philip Stevens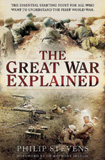 Philip Stevens, a former King's Shropshire Light Infantry officer and well-known First World War tour guide, has a particular interest is in the three great battlefields of the Western Front: The Ypres Salient, The Somme and Verdun, and was prompted to write this book as a result of questions asked during tours of these places. The book, which sets out to fill the gap, is written for the layman with some knowledge of The Great War but who wants to know more. This is a guide, not a guidebook; it is a story about people, but not a biography. It is well night impossible to visualize 20,000 men dying in a day on The Somme, but it is possible to look at the individual stories that come together to make up such a tragedy.

More than a century has passed and interest in The Great War could have faded and died. Yet, indisputably, interest is increasing, not failing. Families seek their own connection both with ancestors who fought, and all too often died, while those at home had to live and cope with unimaginable losses.

Philip Stevens finally ends the book on the subject of the War Poets: John McCrea, Wilfred Owen, Siegfried Sassoon, A P Herbert and Philip Johnstone (real name John Purvis).

This single volume history introduces the war in all its dimensions, and is written by someone who has served in the Army, 'with a profound knowledge of war and with the gift of communicating this complex knowledge for the general reader' (Sir Anthony Seldon).
Hubert de Lisle
Pen & Sword Books. www.pen-and-sword.co.uk