Book Reviews
War Gardens – A journey through conflict in search of calm
by Lalage Snow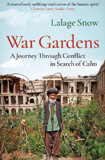 Lally Snow is a freelance war correspondent, award-winning photographer, filmmaker and writer, who has covered conflict and unrest since 2007. Her personal creative projects have been exhibited and published to critical acclaim around the world. Lally is the daughter of Martin Snow, former Scots Guards Officer and In-Pensioner Officer at the Royal Hospital Chelsea, and she also assisted the Scots Guards with their book on their Tour in Afghanistan.

This remarkable book, with photography by Lally's husband, Jon Rider, describes their migrant existence following in some cases the British Army. War Gardens is a surprising, tragic and beautiful journey, through the darkest places of the modern world, revealing the ways people make time and space for themselves and nature. A journey through the most unlikely of gardens: the oases of peace people create in the midst of war.

In Kabul, the royal gardens are tended by a centenarian gardener, though the king is long gone; in Helmand Province, soldiers improvised a garden to give themselves a moment's peace and remind them of home. On both sides of the dividing line in the West Bank and Gaza, families cultivate beautiful plants. From the unforgiving disputed landscape in Ukraine, gardeners tend their land in the middle of a surreal, frozen war.

This book will appeal to many members of the Household Division who have served in these difficult campaigns.
Hubert de Lisle
Quercus Books www.wargardens.org