Book Reviews
Combat Civilian
by Gilbert Greenall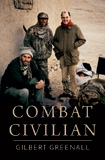 Of all the people I served with in The Life Guards during the first half of the 1970s, I can with some certainty say that Gilbert Greenall was, at the time, the least likely to go on to become one of Britain's leading hands-on facilitators of humanitarian aid. Perennially cheerful and with an infectious laugh, the young Greenall seemed infinitely more interested in fast cars and good living than with the victims of human conflict and natural disasters.

That his Damascene moment came whilst he was on holiday in Thailand, after completing a business degree in Paris, is surprising. This surprise is all the greater when he reveals that it happened in a war zone on the Thai-Cambodian border where he had gone out of curiosity and, one senses, boredom, only to find himself knee-deep in human excrement and decomposing bodies, surrounded by landmines and thousands of starving refugees.

In the three hundred pages that follow, Gilbert takes the reader on a page-turning and personal journey from the horrors of the Thai border in 1979 to the hell of Baghdad in 2016 via twenty-three other international humanitarian tragedies. This is a journey that exposes, in Gilbert's semi-detached style of narration, the appalling consequences of war and nature at its most brutal.
However, Combat Civilian is more than just a catalogue of disasters. It is also an exposure and an explanation of the limitations of the supra-national, national and non-governmental aid organisations tasked with dealing with these situations; an account of how, over forty years, these bodies have developed and honed their responses; and it is a first-hand record of Gilbert's direct involvement in that evolution.

Terse, tense and unemotionally written, the semi-detached narrative, which at times reads more like reportage than prose, is also laced and leavened with humour; but that is only when Gilbert recounts his personal involvement in the often highly dangerous events with which he is engaged. Life-threatening moments in the air or on the ground, with which the book is liberally littered, are described self-deprecatingly and then dismissed as of no consequence. Whether deliberately or not, the ever-cheerful former subaltern keeps shining through the surrounding gloom.

This is not, however, an autobiography: Gilbert's antecedents, his school, regiment, and his family business are either omitted or dismissed in a couple of words, and they are never referenced by name. Instead, Combat Civilian is a memoir of Gilbert's observation of, and involvement in, the aftermath of almost all of the great human tragedies with which the world has been beset over the past forty years. It is a thumping good read and should be on the bookshelves of everyone involved in humanitarian relief, from Heads of State downwards, and anyone with a conscience.
Christopher Joll
The hardback edition is available from bromesberrow.com/combat-civilian and the paperback is available from amazon.co.uk