Book Reviews
ON COURAGE
Stories of Victoria Cross and George Cross Heroes
The Sebastopol Project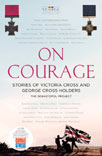 On Courage features 28 tales of extraordinary valour, determination and selflessness, displayed by those who have been awarded the Victoria Cross and George Cross. Each story is introduced by public figures such as Joanna Lumley, Derek Jacobi, Bear Grylls, Eddie Redmayne, Mary Berry, Alexander Armstrong, Dame Kelly Holmes, and Kate Adie, with detailed narratives by well-known historians Saul David, James Holland, and others. Proceeds from On Courage will be donated to two charities: Combat Stress and The Victoria Cross and George Cross Association.

There are many stories here of Victoria Cross winners, Charles Fitzmaurice of the Irish Guards, Private Henry Hook at Rorke's Drift, and Charles Upham, the New Zealander who won two VCs and should probably have won a third, are just of few of these quite extraordinary people.

They are all remarkable stories, and not just the stories of soldiers and battles - the stories that we most expect in such a book. Take, for example, Jane Harrison, a BOAC stewardess on board Flight 712 in 1968, who was awarded a posthumous George Cross for saving passengers on board a burning aircraft. Prince Philip recalled seeing the Boeing 707 from his desk in Windsor Castle, thinking at first that it was the sun that was reflecting from the aeroplane, but it was fire. Back on the ground, following an emergency landing, Jane Harrison stayed aboard, literally throwing passengers out as flames and smoke engulfed the superstructure. Going back into the aircraft for one last attempt, Jane never reappeared.

These are all, of course, very special people, because they faced the ultimate challenge and without hesitation did the right thing. We read these accounts with awe and admiration, wondering how we would have fared in the same situation.
The Editor
On Courage: Stories of Victoria Cross and George Cross Holders by The Sebastopol Project. Published by Constable as a hardback or e-book. Available on Amazon or at Waterstones.