Book Reviews
ESCAPING THE ORDINARY: How a Founder of the SAS Blazed a Trail at the End of Empire
by Lorna Almonds-Windmill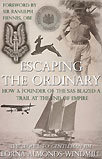 'Gentleman' Jim Almonds was a remarkable wartime soldier. First and foremost a Coldstreamer and proud to be so, he was one of the founding members of the Special Air Service, a story that is well-told by his daughter in her earlier book Gentleman Jim: The Wartime Story of a Founder of the SAS and Special Forces.

Following such a distinguished wartime career, Jim Almonds could have been excused for wanting to settle down and grow old gracefully away from war and conflict. But this was a tall, fit and strong man who thrived on action, as a member of the Eritrea Police Field Force, or later in the SAS in Malaya, where he parachuted into the jungle to pursue Communist terrorists. When he was not in the front-line, he was exploring unknown lands or sailing his ketch SS Kumasi. This part of the story is a book in itself, how Almonds designed the yacht during the Second World War while a prisoner of war in Italy, committing the design to memory, and then building the yacht after the war. He was a natural designer and builder, capable of improvising in all situations.

This is a most readable and well-written book. There is plenty of detail here about the post-war SAS, but most of this has come from the author's thorough research rather than Jim Almonds, who rarely talked about his military service. He was a modest man but a quite extraordinary one. Not only a supremely good soldier, but someone who could turn his hand to almost anything; a remarkable man and a remarkable story, well-told with much colourful material by Jim Almonds' daughter.


Escaping the Ordinary: How a Founder of the SAS Blazed a Trail at the End of Empire by Lorna Almonds-Windmill. E-Book available to download from Amazon, Apple, and Google Play.