Book Reviews
ZERO HOUR, 100 YEARS ON:
Views From the Parapet of the Somme
by Jolyon Fenwick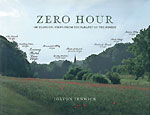 Zero Hour, 100 Years On: Views From the Parapet of the Somme, by Jolyon Fenwick is both a remarkable and original book. The idea is a simple one, and it has been realised splendidly. The author has created a series of photographic panoramas taken at the exact time of day and the exact positions from where fourteen battalions attacked on the morning of 1st July 1916. The panoramas show a moment in time, giving a view of the landscape as it is now. Overlaid on these modern-day photographs are the hand-written annotations showing topographical features, the positions of both friendly and enemy trenches, machine-gun posts and other important landmarks. The book has been beautifully put together, with panoramas that fold out both ways from the central spine. Each panorama is supported by a modern map that shows where the battalions were - exactly the information that would not have appeared on the original panoramas for fear of them falling into enemy hands. There is also a useful narrative that describes each battalion attack, with plenty of first-hand quotes and descriptions.

These are, of course, modern photographs, and the landscape looks very different to the bleak vista that would have confronted the soldiers peeking over the parapet prior to beginning their advance at 07.30am on 1st July 1916. In these photographs taken by the author, it's just before the harvest, the crops are standing proud and high, the hedgerows and grasslands are burgeoning, the cattle graze contentedly in the fields, and the occasional farmer sits seemingly motionless in his tractor cab. The only obvious traces of war are the occasional glimpses of a cemetery that appears to blend gently with the landscape, along with the black ink overlays. In 1916 there were no crops; they had been trampled over in the autumn of 1914 and never re-sown since most of the farmers and their workers were now soldiers. The trees and woods would have been stark and bare, giving little if any real cover to the soldiers sheltering there before Zero Hour. Everything looks different now, but these were battlefields once, and they will always be battlefields, as this book reminds us so well and so eloquently.

The Editor

Zero Hour, 100 Years On: Views From the Parapet of the Somme, by Jolyon Fenwick. Published by Profile Books.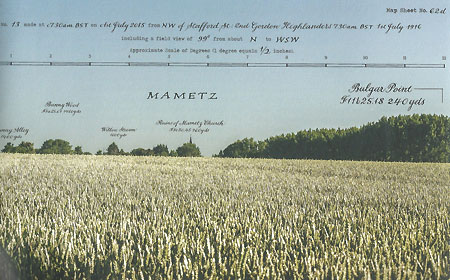 Looking towards Mametz from where 2nd Battalion Gordon Highlanders and 1st Battalion South Staffordshires began their advance at Zero Hour on 1st July 1916