Book Reviews
LIFE ON THE EDGE
Tristan Voorspuy's Fatal Love of Africa
by Adrian Dangar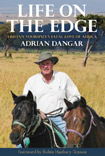 Tristan Voorspuy was an extraordinary and charismatic person, and both The Blues and Royals and the Army were lucky to have him for the five years that he served in the late 1970s and early 1980s. Charming, daring, and occasionally quite mischievous, his talent could easily have taken him somewhere else, as indeed it did after he left the Army, to Kenya and the edge of the Great Rift Valley, where his life was tragically cut short in March 2017. Unarmed, as he often was, he was shot dead by herders, as he tried to protect the land and the wildlife that he loved so much.

There have many tributes to Tristan. The actress Joanna Lumley once described him as 'the man with no fear', and this probably overstates the case. Tristan was undoubtedly brave, but with a bravado and engaging style that somehow concealed the fear that he must have experienced at times. Following his murder, the journalist Charles Moore, who had been on one of Tristan's safaris, wrote that he was much more than the 'typical gung-ho Englishman'. 'He was not only that. It was attractive, for example, that when we were just about to begin a wild gallop, he would stop to note an obscure wild flower and tell us about it. And it was a delight in camp, at evening, to hear him recite poetry by heart - The Fox's Prophecy was a favourite. He could be rude and angry; he was always funny; he was kind and interested and, in matters of nature, learned. All this was because he was passionate, filled with the fatal love of Africa'.
This book, which takes Charles Moore's words as a sub-title, is beautifully written and a most fitting tribute to a life well-lived, a life which left much that is both positive and enduring. The author, Adrian Dangar, knew Tristan well, and his understanding and insights into his character are well demonstrated by the narrative and the stories he tells. Tristan Voorspuy has left a real legacy in the land he loved, and this book tells his story extremely well.
The Editor
Published by Quiller Publishing. www.quillerpublishing.com