PPE
Farewell to Major Philip Wright
12th January 2022
It was with considerably sadness that the Editorial Committee said farewell to Major Philip Wright, formerly Grenadier Guards, who has been on the committee for many years, and a contributor for over 60 years. One of Philip's first submission to The Household Brigade Magazine was this cartoon, which appeared in 1961, before most of the committee were even born! The subject of the cartoon proved to be particularly appropriate, since the scheduled meeting at Horse Guards was moved at short notice to The Cavalry & Guards Club due to there being no heating in the building!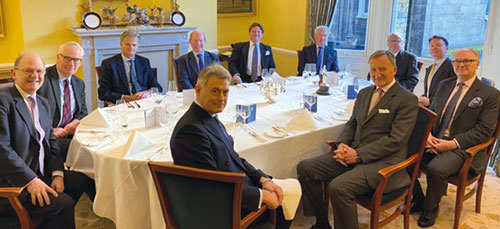 The Editorial Committee.
Left-to-right, clockwise: William Style, Ralph Griffin, Paul de Zulueta, Tom Bonas, James Kelly,
Simon Doughty, Philip Wright, Guy Stone, Niall Hall, Simon Vandeleur, James Gatehouse
The meeting was followed by a short reception at which The Editor, followed by The Major General, paid tribute to Philip Wright for all his considerable achievements and support over many years, in the Grenadier Guards, as Deputy Sergeant at Arms at the House of Commons, and as a Guards Magazine contributor and committee member. The reception was followed by a luncheon at the club. The very good news for all our readers is that Philip will be continuing as a contributor to magazine. An article, based on an informal conversation between Philip Wright and The Editor, appears on page 22 of this edition.