PPE
The Speaker's right-hand man retires following 52 years of public service
Warrant Officer Class 2 Ian Davis, formerly Scots Guards, recently took part in his last Speaker's procession before retiring from the House of Commons after 28 years' service.

MPs broke into a round of applause after The Speaker, Sir Lindsay Hoyle, credited his Assistant Secretary for helping him make the transition from Deputy Speaker to the top job and for his service to the country. 'It's not an easy job to become Speaker, but the one thing that was easy for me was knowing that Ian Davis was there to advise me and the Speaker's Secretary on the roles that we have', said The Speaker. 'Ian's military discipline, his can-do attitude, his friendship, sense of humour, and expertise will be sorely missed by my team, and particularly by me. He is a brilliant example of why we need more former military personnel serving in this House'.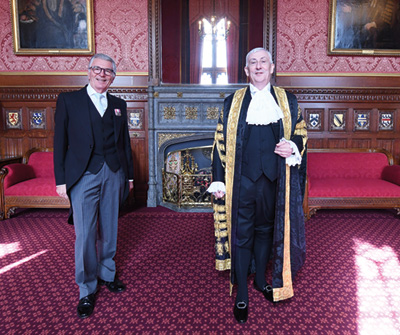 Ian Davis, Assistant Secretary to the Speaker and formerly Scots Guards, with the Speaker, Sir Lindsay Hoyle, at the State Opening of Parliament. 2021
© UK Parliament/Jessica Taylor
The Speaker's tributes were echoed by the Prime Minister, the Leader of the Opposition, and by Ian Blackford, the SNP's leader in Westminster.
Ian Davis served in the Army for 24 years before joining the House Service in October 1993, when John Major was Prime Minister. Ian served in 33 Field Hospital during the 1st Gulf War in 1991. As Band Sergeant Major in the Scots Guards, he performed many times on The Queen's Birthday Parade and other state occasions. He became a senior doorkeeper at the House of Commons in 1993, before joining Speaker Michael Martin's team in 2001 as the ceremonial Trainbearer. He was promoted to Assistant Secretary to the Speaker in 2011, a role he has held for the past 10 years.

Ian Davis taking part in his last Speaker's Procession
© UK Parliament/Jessica Taylor
The Speaker thanks Ian Davis for 52 years of
public service. © UK Parliament/Jessica Taylor
He has 'loved every minute of working in such a high-profile environment' and 'it's been fantastic getting to know the characters of politicians who pop up on people's TV screens'. He also enjoyed meeting the many celebrities who have visited the Palace of Westminster during the time he was there, including Sean Connery and Roger Moore. 'I can remember the look of surprise from staff when Sean Connery popped his head around the door of the Members' Library. They never expected to see such a famous actor in there', he said.

Now, following 52 years of public service, and with an MBE for services to Parliament, Ian says he is looking forward to taking a break from commuting from his home on the Isle of Wight, where he lives with his wife Linda. Together, they will now have more time to visit their daughter and two grandchildren in California. Ian will also be improving his golf handicap and is keen eager to do some voluntary work for a service charity.
With thanks to Jackie Storer
Press Secretary to the Speaker