PPE
Swimming the English Channel in Shorts!
In August of 2016 I was fortunate to be asked to help crew for a friend of mine who was attempting to swim the English Channel. Watching him successfully complete this iconic ultra-marathon swim was hugely inspiring and got me thinking. So, in January 2017 I booked my English Channel solo attempt. 22nd-28th August 2019 was my allocated window: Swimmer No 2 and on a neap tide.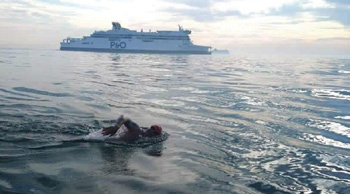 English Channel Swim. WO2 Wes Norton, Coldstream Guards,
trying to outpace a ferry
As well as a personal challenge and hopefully achievement, this was never going to be just about me. Mental health can affect civilians, serving soldiers or veterans in time, so doing this for MIND, the mental health charity, seemed very fitting. I know many who struggle with mental health who have never served, and I know many that have unfortunately lost their fight. Giving something back, be it awareness or charitable funds, to help as many people as possible was what I wanted to do.

With over two and a half years until my swim, I went back to basics. With the help from a master coach from Total Immersion swimming, changing my technique from questionable to efficient was first on the list. Lots of drills and time turning my arms over was key. This was done in the pool, countless hours of lake time, in warm water and extreme cold water through the winter to aid acclimatisation. To have the swim recognised, all training and preparation was done under the regulations of the Channel Swimming & Piloting Federation which meant no wet suits! For most of the preparation my training was up to three times per day, early morning before work, through my lunch, and in the evenings after work, concentrating initially on drills and technique. Undertaking marathon swimming events was also key to becoming an ultra-marathon swimmer. Some of these included: a 24 mile in 24-hour endurance event, swimming the length of Windermere (10.5 miles), swimming the Thames Marathon at 14,000m, regular 10,000m training swims and countless 6 to 7 hour and 7 to 8-hour back-to-back training swims.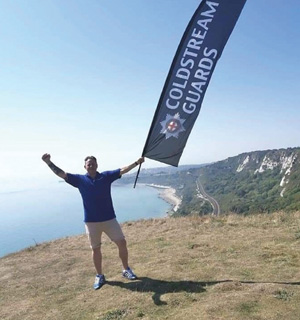 Flying the flag in France having completed the swim. Note the puffy face from the jellyfish stings!
The swim itself was hard but at no point did I feel I was not in control. Detailed and thorough preparation was key. It goes without saying my crew (Jai Evans, Lance Sergeant Paul Hydon, and Tab Cox) were exceptional throughout. They even managed to live stream the event on social media so people could follow my progress in live pictures as well as tracking it on a map. Jellyfish were my main enemy and became a problem just when I didn't need it. Stings in the face, mouth, neck, ribs, and legs 20 miles in were not pleasant, but mirroring that with the pain and suffering that people battling mental health go through daily buoyed me up. Stopping was never an option. Once I stepped onto the rocks in France, the feeling was unbelievable, maybe even a little emotional. I completed my English Channel solo swim in 12 hours and 13 minutes. The support that poured in before, during and after the event was incredible.
My original target of £3,000 has been blown out of the water and currently sits at just over £5,420. If the funding or the exposure this swim has on social media helps just one person, we will have achieved something great. Until the next one…. Onwards.