PPE
Household Cavalry Mounted Regiment - Covid Support Force
Activation and Testing
Within a couple of weeks of Covid-19 hitting the UK, most of the Household Cavalry horses were at grass and The Life Guards and The Blues and Royals Squadrons had a sort of second amalgamation. The Covid Support Force (CSF) Squadron was formed with mostly LG officers, all RHG/D senior non-commissioned officers and two of the three troops were RHG/D. To add to the confusion, the Mounted Regiment's CSF Squadron was placed under the command and control of our dismounted cousins, the Welsh Guards, now living in our old home at Combermere Barracks. The Squadron reorganised into platoons of 30, like an infantry company, while retaining the 'troop' and 'squadron' labels since the rebranding proved impossible to sustain without further unnecessary confusion. All were now identified as a group under the popular moniker of Mustang Four Zero.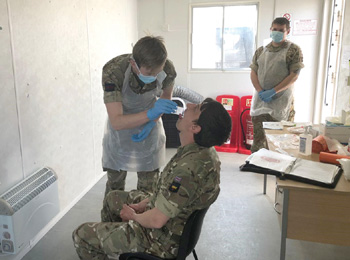 CSF Squadron Covid-19 testing in Wembley
Covid-19 has created huge problems for an organisation where personnel parade, work and learn in close physical proximity. Necessity is the mother of invention and it was the younger generation who were quick to offer new ideas and ways of working. Troops were organised so that soldiers that shared rooms were now in the same troop. Our vehicle fleet was designed around section sized teams and the nine-seater combi-van was chosen as the ideal vehicle. Mandatory Military Annual Training Tests were conducted so that every solider had the same start state for readiness and could be switched to our other Regimental commitment, Op TEMPERER, if the need arose.

The Squadron has been deployed to Regional Testing Centres at Wembley and Chessington, where they have been testing key workers and aiding the Government in achieving its 100,000 tests per day target. While not testing, the Squadron has kept itself busy with daily physical training. Mobile phone apps such as Strava and Map My Run have proved invaluable in recording an individual's performance and progress. Captain Bruce Leishman struck gold with the Doulingo language app; soldiers have been using it to learn a new language, with some even purchasing the more professional Babel language app, a real success. Military knowledge has been improved with a 3-week course on Armoured Vehicle Recognition. This subject usually has a poor performance at the Crew Commanders' Course at the Land Warfare Centre. The online test results show an average pass mark of 76%, which should cement the future knowledge of the next generation of crew commanders on AJAX.

Whilst Covid-19 has thrown up some challenges it has been a crucible of working from home and learning at a distance. The Squadron has been able to function, remain combat effective, and deliver on the tasks it has been set. It will continue to do so until it is stood down and the horses return from grass.