PPE
Old Etonian Remembrance Service
12th November 2018
Eton College Library includes letters and plans for a memorial for Second Lieutenant Geoffrey Gunther MC, Grenadier Guards, who left Eton in 1917. He was killed in action with 3rd Battalion near the village of Villers-Pol going to the assistance of a wounded officer on 4th November 1918, a week before the Armistice was proclaimed. He was an aspiring artist who had hoped to go to art college after the war. The papers, which include the Gunther Memorial Prize for art, still awarded to Etonian artists every year, were given by his mother, Alice Gunther, in 1919.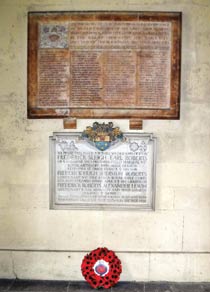 The plaque in memory of Old Etonians
of the Grenadier Guards
On Monday 12th November 2018, Eton College held a Remembrance Service for the 1,158 old boys and masters who died in the First World War. Of the 203 Grenadier officers who were killed or died of their wounds, 96 were Old Etonians. Their names are commemorated on a marble plaque erected 'To the Glory of God and in proud remembrance' by their Etonian brother officers on the wall of Lupton's Tower. Before the Service, three Old Etonians, Major Lord Valentine Cecil, Major Grant Baker, and Captain Alan Ogden laid a wreath in their memory on behalf of the Grenadier Guards.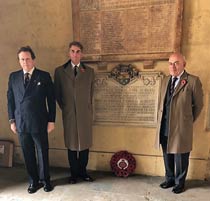 Major Lord Valentine Cecil, Major Grant Baker and Captain Alan Ogden
A Remembrance
Of all the most near, they crossed the bourn
and rest among their peers.
Then shall we mourn their youth,
when they live on in ageless day of fame undying?
Dead they showed the way to sacrifice and peace.
Their glorious end won love from fellow men;
but lost us friends.
Crucifixus etiam pro nobis.
The above text is taken from the First World War archive in Eton College Library.